Top Ten Most Successful LGBTQ+ Wrestlers of All Time
Happy Pride Month! Like any industry, pro wrestling is peppered with exceptional talents who identify with the LGBTQ+ community.
"They should stop shoving this " woke gay agenda" down our throats!" — Some close-minded bigot, probably. 
(There's not a 'gay agenda' for one, but I digress…)
As of this writing, there are 491 anti-LGBTQ+ bills floating around in the U.S. House and Senate. Last time I checked, there are currently zero bills aiming to attack your preferred way of life if you're a cisgender male or female.
In other words —  kindly shut up. The LGBTQ+ community, and its allies, are going to keep speaking out until we are no longer under attack. Hence why Pride Month is so important, and why this article exists.
Note: There are literally hundreds of individuals in this category. It's quite amazing to see such a large representation of the LGBTQ+ community in professional wrestling. So to narrow it all down, I based the the top ten wrestlers on accolades, influence, exposure, and title wins.
Bigots beware! Here are the top ten most successful LGBTQ+ wrestlers of all time.
–
Honorable Mentions
There are many mention-worthy names. However, it would fill this entire article if I listed them all. But here is a paragraph's worth of notable names before digging into the top spots.
Sonny Kiss, Cassandro, Diamante, Kiera Hogan, Edith Surreal, Sonya Deville, Leyla Hirsch, Ashley Vox, Tegan Nox, Chris Kanyon, Abadon, Anthony Bowens, Allie Katch, Aubrey Edwards, Solo Darling, Charlie Morgan, Ashton Starr, Jetta, Max the Impaler, Heidi Howitzer, Piper Niven, Jack Sexsmith, MV Young, Jai Vidal, Rosa Mendes, Veda Scott, Jake Atlas, Killian McMurphy, Gabbi Tuft, Orlando Jordan, Trish Adora, Sandra Moone, Jordan Blade, Laura Di Matteo, Vipress, Lindsay Snow, Kidd Bandit,  DARK Shiek, Kagetsu, Katarina Leigh Waters, Steph De Lander.
–
Controversial Mention: Pat Patterson
When it comes to accolades, Patterson could easily be at the top of this list. Unfortunately, his alleged involvement in the WWF's early 90s ring boy scandal (amidst other rumored misconduct) sheds some negative light on him.
In 1992, Tom Cole filed a lawsuit alleging that he and other ring boys were subjected to sexual harassment and abuse by company executives, including Terry Garvin and Mel Phillips. In addition, Wrestler Barry Orton and announcer Murray Hodgson, both alleged sexual misconduct from Patterson. However, Barry Orton would later walk back his allegations towards Patterson.
While Phillips, Garvin and Patterson all resigned from WWF in 1992 due to said lawsuit and allegations, Patterson was hired back. It was largely believed that Patterson was an innocent victim in all of this, and was targeted simply because he was openly gay.
But similar accusations have come from former wrestler Tom Hankins, as well as recently deceased "Superstar" Billy Graham — though both accounts have been put into question. In addition, former wrestlers Roddy Piper, Sid Vicious, Kamala, and Brickhouse Brown have all alluded to potential misconduct from Patterson in past interviews.
Whether innocent or guilty, Patterson's personal conduct in the locker room will forever be a source of debate among fans. On a professional level, Pat Patterson held nearly 20 different titles, including the WWF Intercontinental Championship. As the creator of the Royal Rumble, hall-of-famer Pat Patterson will go down as one of the most important names in professional wrestling history.
–
Historic Mention: Sandy Parker
Women's wrestling pioneer Sandy Parker debuted in 1969, and is considered the first LGBTQ+ women's world champion of any kind. Parker held the All Japan Women's Pro Wrestling World Championship, as well as the WWWA World Championship during the 1970s.
She also held the NWA Women's Tag Team Championships with Susan Green. In 2004, she was honored by the prestigious Cauliflower Alley Club for her contributions to the sport.
Parker, who was trained under the Fabulous Mololah during the early 70s, left her training due to "problems" with Moolah (imagine that). She would leave and work for wrestling legend Mildred Burke. Parker retired in 1986.
–
Super Honorable Mention: Effy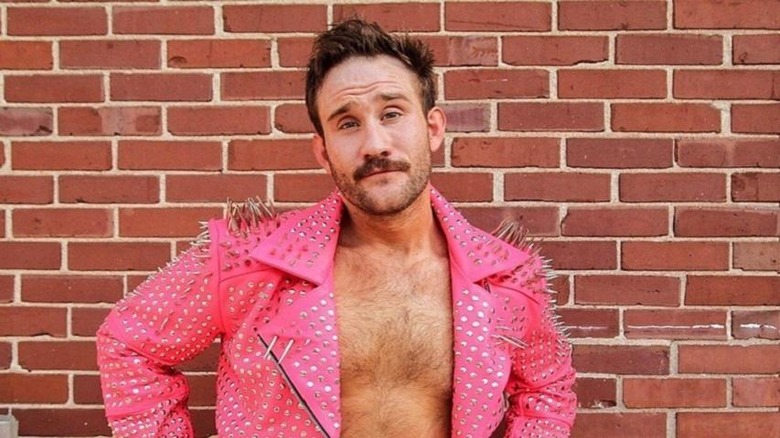 Internet darling Effy has had a successful career in the independent circuit. He currently holds the GCW Tag Team Championships with Allie Katch as 'BUSSY'. Effy has held 8 different championships, including an outstanding performance in GCW's 2021 Wargames match that is worth watching.
In addition, Effy has made the PWI top 100 the last three years running.
Most importantly,  Effy also hosts the annual Big Gay Brunch, which features the best wrestlers representing the LGBTQ+ community around the world. The Big Gay Brunch 6 was recently held from the Ukrainian Cultural Center in Los Angeles on April 1st to a sold out crowd.
Effy is one of the flag-bearers for this community, and deserves all the praise for his great work within the wrestling industry for LGBTQ+ talent.
–
#10 – Gisele Shaw
Making her way high on this list is none other than current Knockout Gisele Shaw. In her fairly short career, this Philippines-born talent made her debut in 2015 in Canada. With that, Shaw has found success in nearly every promotion she has worked for.
Holding women's championships in PROGRESS, and Revolution Pro Wrestling, she has tallied up 8 in total in just 4 years time. In Impact Wrestling, she has had classics with the likes of Jordynne Grace, Deonna Purazzo, and Hyan, and will likely one day hold the prestigious Knockouts Championship. Shaw has also found her way into the PWI Female 100 for the last five straight years.
Shaw transitioned from male to female at the age of 22, and came out as a transgender woman in 2022 at the age of 33.
–
#9 – A.C. Mack
A.C. Mack may be more of an unknown talent to the mainstream, but his influence has reached far into the LGBTQ+ wrestling community. Simply put, this is one of the hottest acts in pro wrestling that nobody knows about yet. Debuting in 2016, Mack would quickly rise through the ranks of the Independent scene to become the first out LGBTQ Male World Champion (ever) in 2022.
Mack would defeat Alex Shelley to capture the IWTV World Championship in a mat classic. Mack, who is openly gay, did make a brief appearance on NXT in 2018, losing in a squash match to Dominik Dijakovic.
His nine title reigns since 2016 has catapulted him into the PWI 500 for the last three years, climbing up to #25 in 2022.
–
#8 – "Speedball" Mike Bailey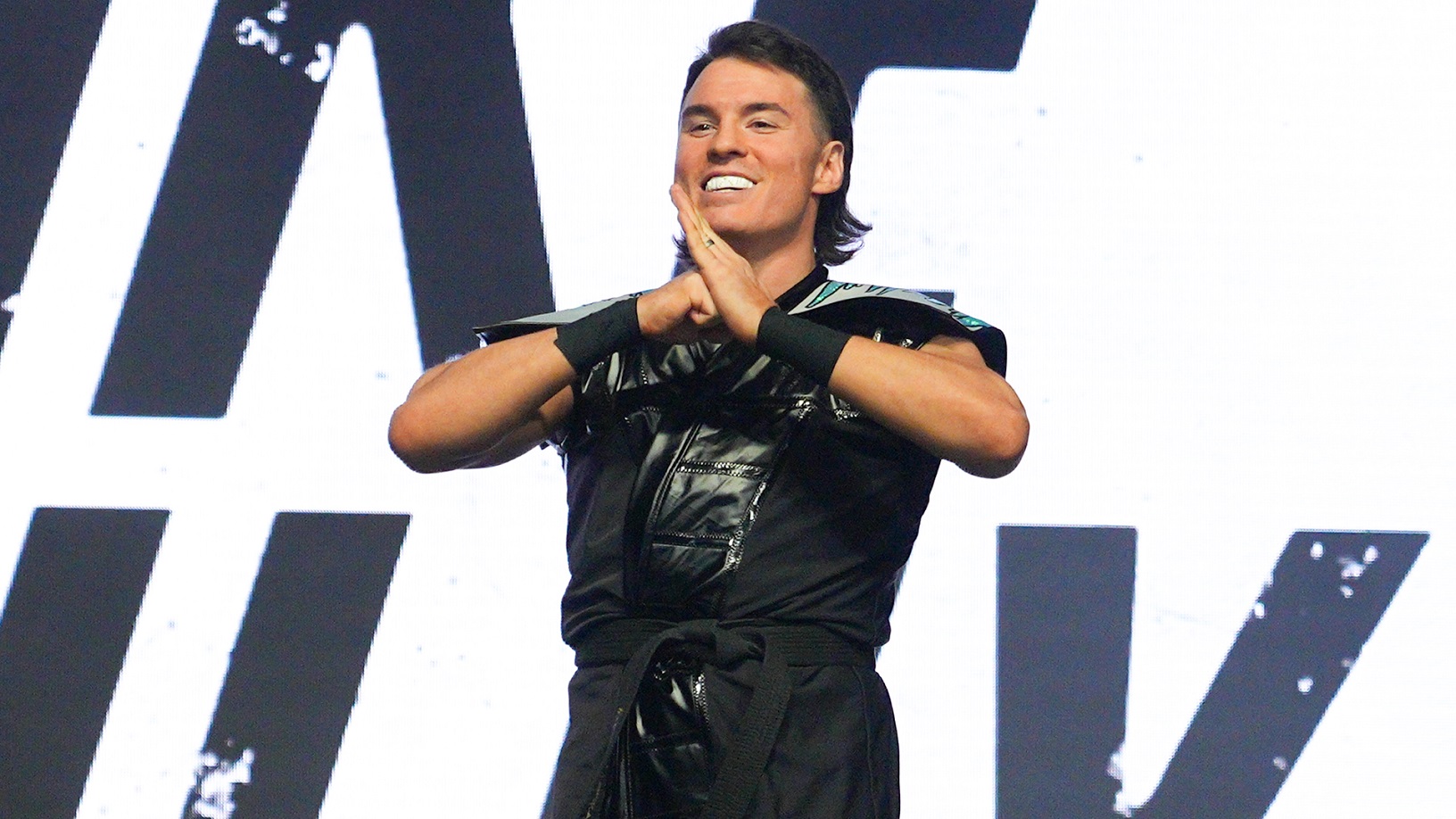 Making his debut in 2008, "Speedball" Mike Bailey has racked up an impressive 15 title reigns in his career. Bailey hails from Quebec, and is currently married to fellow on-air personality Veda Scott (who identifies as non-binary). The former X-Division champion still has a promising career ahead, even if already an in-ring veteran at this point.
Bailey has made 8 appearances in the PWI 500, ranking at #30 in 2022.
Bailey, like his wife Veda, identifies as non-binary.
–
#7 – Nyla Rose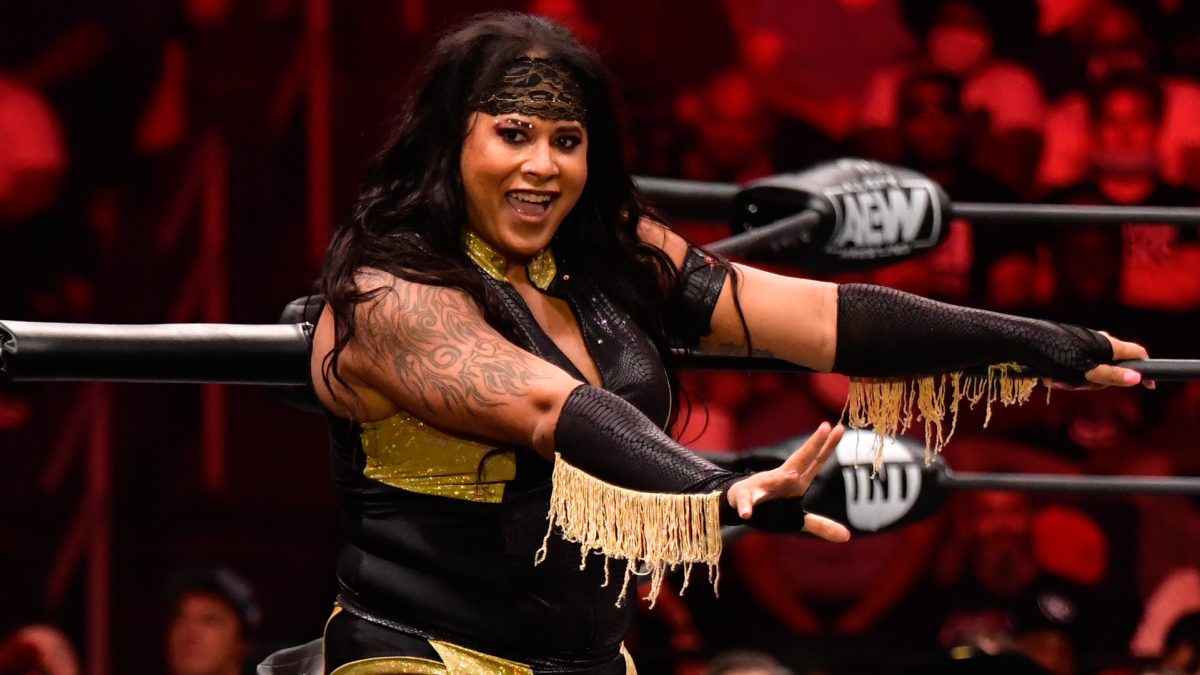 Nyla Rose is the first transgender world champion for any major U.S. wrestling promotion. Period. The D.C. native started her career in 2012 and appeared in WSU and Sendai Girls Pro Wrestling before AEW.
Rose made her way through the independent circuit capturing 5 championships before her big win as AEW Women's World Champion in 2020. She has also graced the PWI Female 100 for three years in a row (2019-21). Rose has often been fodder for desperate internet trolls who would rather not admit that the Native Beast is talented in-ring competitor and on-air personality.
The former actress is also a writer, and co-wrote the comic Giant-Size X-Men: Thunderbird #1 in 2022. She recently appeared on the 5/31/2023 Dynamite in a losing effort against TBS Champion Kris Statlander.
Love her or hate her, Rose will no doubt be a positive force within the LGBTQ+ community for years to come.
–
#6 – VENY (Asuka)
Asuka is the first known transgender wrestler from Japan, and one of the best women's wrestlers in the world right now.
Known as Asuka in Japan, VENY (In the U.S.) made her AEW debut in the 2021 AEW Women's Eliminator Tournament in a losing effort to Emi Sakura. In her native Japan, she has a long list of championships held in her short 7-year career; including the Regina Di WAVE Championship, now held by Hikaru Shida.
With 11 title reigns and two appearances in the PWI Top 150, this hot talent has many more championships to win in her career. VENY is current Sendai Girls World Champion, and one-half of the SEAdLINNNG Beyond The Sea Tag Team Champions. Trained by Ayako Hamada, this high-flyer should make her way back to the U.S. sooner than later.
In fact, Shida has recently called for VENY to come back to AEW, and it would be a welcome addition to a Forbidden Door PPV.
–
#5 – Shayna Baszler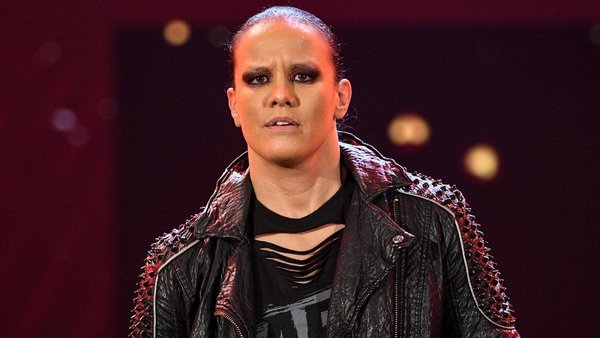 The "Queen of Spades" has paved quite a path for herself in her WWE career. The former Mixed Martial Artist made her pro wrestling debut in 2015. She has had 6 title reigns, including the NXT Women's Championship (twice), and a three-time WWE Women's Tag Team Championship where she currently holds the titles with Ronda Rousey.
She ranked #4 in Sports Illustrated Top 10 Women's Wrestlers in 2019, and #4 in the PWI Female 100 in that same year.
In 2013, Baszler admitted to dating a woman, and some have even speculated a past romantic relationship with fellow WWE superstar Dakota Kai.
–
#4 – Fred Rosser
Formerly known as Darren Young of WWE fame, Fred Rosser has long since made a name for himself in New Japan Pro Wrestling.
Rosser came out as gay in 2013, becoming the first WWE superstar ever to do so while on the active roster. He had a long career in WWE, jumping from the storied Nexus stable in 2011, to the prime Time Players with Titus O'Neal from 2012-2016. Rosser would head to New Japan in 2020 where he would capture the NJPW STRONG Openweight Championship.
Along with his 8 title reigns, his most notable mainstream success came in a Raw Tag Team Championship reign with Titus O'Neal. Rosser was also awarded Most Inspirational Wrestler of the Year in 2013 by the Wrestling Observer, and has made 11 appearances in the PWI 500.
–
#3 – Mercedes Martinez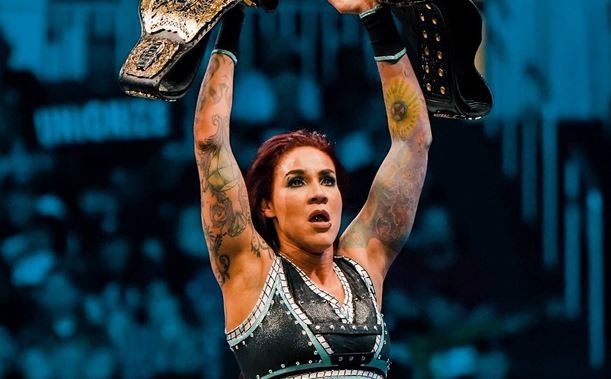 Martinez is largely seen by her peers as one of the best to ever do it.
If you're wondering how she ranks above Shayna Baszler, it's because she trained Shayna Baszler. But in addition, has a slew of championships in her 20+ year career. Her 21 titles include the Ring of Honor Women's Champion, two-time SHIMMER World Champion, and the NWA Midwest Women's Champion.
Martinez has made appearances in two WWE Mae Young Classic tournaments, making it to the semifinals in 2017. In 2019, she appeared for AEW, but headed back to WWE for a brief 2020-21 stint. She made her return to AEW in 2021, where she remains to this day, where she also works for Ring of Honor. She has graced the top 10 of the PWI Female 100 multiple times, as well as other various "women's wrestler of the year" awards.
Martinez publicly came out as a lesbian in 2019, and at 42, the veteran shows no signs of slowing down.
–
#2 – Saraya
This may be a controversial #2, as Saraya only briefly mentioned that she had been with a woman on a 2015 episode of Total Divas. However, it is widely accepted that Saraya identifies as bisexual, and is a part of the LGBTQ+ community.
Whether it's Britani Knight or Paige, Saraya has held 11 championships in her career. Most notable is a two-time WWE Divas Championship, and a former NXT Women's Champion. However, one of her more important successes was being at the center of the #givedivasachance hashtag in 2015, which trended after a pathetically short tag team match between Paige, Emma, and the Bella Twins, which went only 26 seconds.
The online backlash against WWE would catapult the women into what would be known as the "Women's Revolution" and in more featured spots on the card. Alongside Becky Lynch and Charlotte Flair (PCB), the trio would help kickstart a new era in women's wrestling in WWE.
Saraya has appeared in multiple movie roles, and even has a movie made about her (Fighting With My Family). After being forced to retire in 2018 due to a neck injury suffered in late 2017, Saraya would take a non-wrestling role with WWE until her departure in 2022. Months later, she made her debut for AEW, now medically cleared for in-ring competition, where she returned to face Britt Baker at Full Gear (2022).
It's hard to believe that Saraya is only 30-years-old. With all that she has accomplished, and all she has yet to accomplish, she is deserving of the #2 spot on this list.
–
#1 – Toni Storm
Storm has been much more open with her sexuality than her Outcasts counterpart, coming out as bisexual in 2021. However, her string of accomplishments at the ripe age of 27 is a sight to see.
Not only is the she first ever two-time AEW Women's World Champion, but she has also held Stardom's top prize in the World of Stardom Championship. A former NXT:UK Women's Champion, Storm has collected 9 belts in total. She has won multiple tournaments in Stardom, as well as WWE's Mae Young Classic in 2018.
She has graced the PWI Female 100 multiple times, including her #25 spot in 2022. Wrestling since the age of 13, Storm is hands down one of the best in the world — and she's also a proud card carrying member of the LGBTQ+ community.
–
Going Home
The LBGTQ+ community is live and well in the pro wrestling community. Out Sports released their top 200 LGBTQ+ wrestlers of 2022 in December. The number is actually closer to 500 strong of athletes who identify as LGBTQ+.
I will hope for a time where articles like this won't necessarily have to be written. However, this community continues to be under fire from hundreds of groups and social media influencers simply for living their life.
This serves as a reminder of how far professional wrestling reaches, and how many wonderful and unique individuals help make it up. In other words: "We're here, we're queer, get a Fire Thunder Piledriver, bigot!"
-T5W
t5wrestling@yahoo.com