Sammy Guevara Needs to Leave the JAS
Sammy Guevara desperately needs to leave the Jericho Appreciation Society.
I could just leave the article as that and move on. Tonight is Dynamite, after all. It's a good night to put your feet up and enjoy the best damn two hours of pure pro wresting on television. But instead, I'm going to state a likely unpopular opinion.
Sammy Guevara could be the next Shawn Michaels.
Of course if you ask Sammy, he'd probably tell you he would rather just be the next Sammy Guevara. But part of our human condition is to compare, so this comes with the territory.
With that, Guevara has not reached his full potential. He's being held back in the JAS, and I'll give you a few reasons why this is the case – and why he needs to leave the JAS ASAP.
–
Sammy Has "Red Heat"
There are four types of heat in this industry:
-Red Heat
-White Heat
-Silent Heat
-Go Away Heat
Go Away Heat was at one point synonymous with X-Pac. A heel in which fans don't even care to actively hate. They just want them to go away. It may even cause fans to change the channel — not what you want as a network. No disrespect to Sean Waltman — he's a legend in this industry.
Silent Heat was seen mostly in the territory days — as the type of heat so full of hatred that the fans have lost interest in the babyface putting the heel in their place. In essence, the fans are taking the heel's presence personally — and may actually physically act on it.  Luckily, this doesn't really happen anymore.
White Heat is the lesser version of Silent Heat. It's when Red Heat just goes a bit too far, but it's not on the level of Silent Heat yet. The crowd may actively want to kill the heel, but they're on the edge of their seats waiting for the babyface to take action.
Red Heat is the best. It's when a heel can do their job so well that fans will tune in to either see the heel get their comeuppance, or enjoy the visceral reaction of actively hating on said character. MJF does this brilliantly and can get under the skin of most casual to even hardcore fans.
Sammy truly has 'red heat'. Yes, he's been a face plenty of times in his career, but his entire cocky persona just screams 'heel'. He just has an easily aggravating presence that a casual fan loves to hate. He's not on MJF levels (nobody is), but to the second point…
–
AEW Needs More Heels
The Jericho Appreciation Society comes off more of a joke than anything. They're barely heels, and mostly just mildly entertaining and silly. They don't deliver any of the four heats, and are currently serving as a way for Ricky Starks and Action Andretti to get over — which is perfectly fine.
However, this isn't doing Guevara any favors.
Aside from MJF, there aren't many top-tier heels in AEW, and this is a hidden issue within the promotion. Swerve Strickland has potential not yet seen, Ethan Page is in the early stages of a possible ascension, and while presented as heels, I don't think the House of Black are getting anything but cheers from fans.
On the women's side, top "heel" Britt Baker has been cheered for some time now. If anything, Saraya is slowly becoming the top heel of that division. Either way, there aren't many options.
It's a loaded roster, but it could use a few more heels to balance things out. Enter a cocky Sammy Guevara.
–
His Talent Only Draws More Heat
Shawn Michaels was extremely talented in the ring. There was a level of flash to his move set that gained both respect and irritation all at once. It's easy to mildly dislike a heel with a limited number of moves, but when they actually impress you — that mild dislike turns to exasperation.
With the despised PDA between Sammy and his wife Tay Melo, along with an exceedingly cocky attitude, it's easy for any fans to immediately feel disdain for Guevara. But then you watch him wrestle and see what he can do in a ring — and you hate him a little more now.
He's cocky; he's got the girl, and he's got the moves. He's a show-off. Nobody likes a show-off.
In my opinion, the greatest of wrestlers have all five of these traits: Technical ability, promo prowess, emotional storytelling, great presence, and recognizable music. (Yes that last one is a bit odd, but it deserves another article entirely).
Sammy has all of these. It's time for him to break away.
–
Sammy's Break With the JAS
Simply put: He's too good for the JAS.
Now this could come as a face turn as well. There is potential for Sammy ultimately turning heel down the line in that scenario. But a turn on Hager or Garcia; who have both have had comedic elements to their characters as of late, would have minimal effect.
But the real solution? (Warning: Fantasy Booking ahead)
A beat down of Chris Jericho so bad, and so realistic, that it nears White Heat levels. An attack that actually gains sympathy for the heel Jericho. The lead up to this attack (without specifics) would involve the gang either directly, or indirectly mistreating his wife, Tay. This could be a series of ringside miscommunications that costs JAS members matches, an incidental bump involving Tay, or both. This builds for weeks and weeks…
When Sammy has to make the decision: It's Tay or JAS; the choice is clear. Guevara rips off his JAS jacket, as well as any remembrance of the Inner Circle, and burns it into oblivion. After Jericho returns as a face weeks after the attack, it sets up an ultimate showdown between Sammy and Chris — to which Sammy easily wins; almost without trying — which cements his status as a top-tier player in AEW. With such an easy and cocky win, it leaves fans without any satisfaction of Jericho's revenge; and keeps the heat on Sammy as a major player on the rise. This would also effectively kill JAS as a whole with Jericho retreating into the shadows.
If the JAS serves no other purpose than to benefit Ricky Starks, it must be to put over Sammy Guevara.
–
Going Home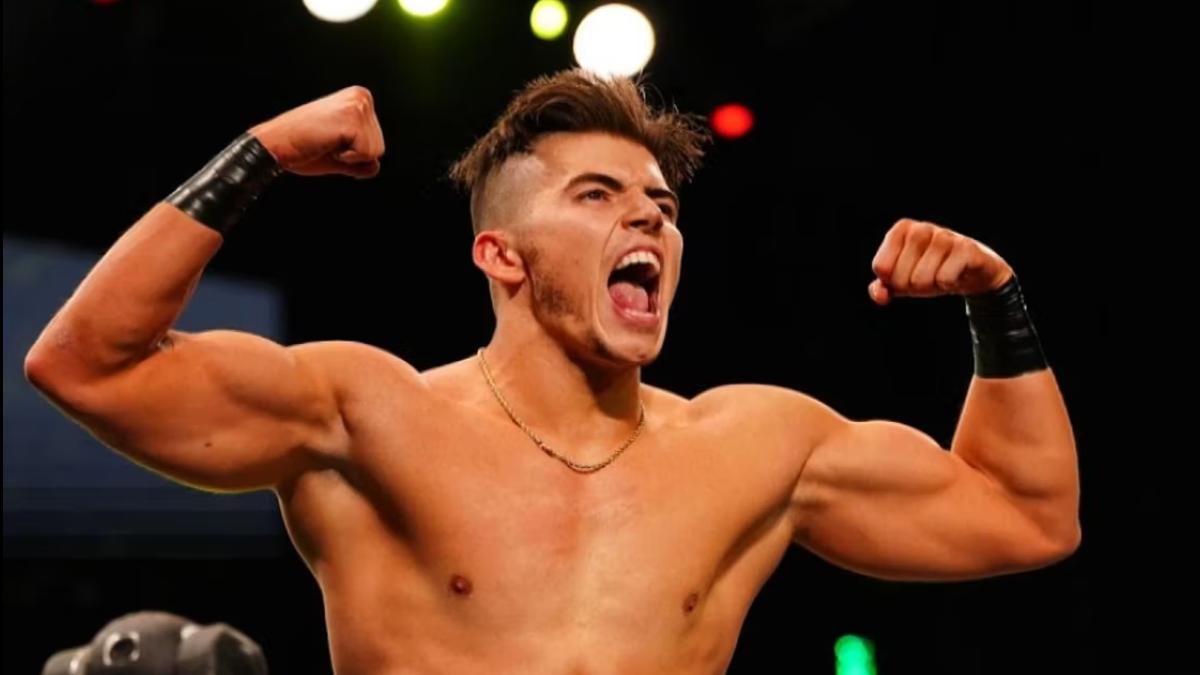 Shawn Michaels won his first WWF Championship when he was 30. Three-time TNT Champion Sammy Guevara is only 29. The two aren't the same, but they aren't too different, either. between early maturity issues, dirtsheet controversies, and a flashy move set, one could draw a few parallels.
Now I'm not advocating for Guevara to win a World Championship just yet — but the time for that slow elevation needs to start now. In my opinion, while I enjoy Strickland and Page, I believe the ceiling is much higher for Sammy Guevara as a top-tier talent. MJF may remain the top AEW heel for years to come; but you still need more than that as a wrestling promotion overall.
As the lyrics in his own notable theme song suggests:
"This is moment to this shine This is my time for flight,I've been grinding forever just for this very night"
-T5W
t5wrestling@proton.me