Roman's Not So "Legendary" Reign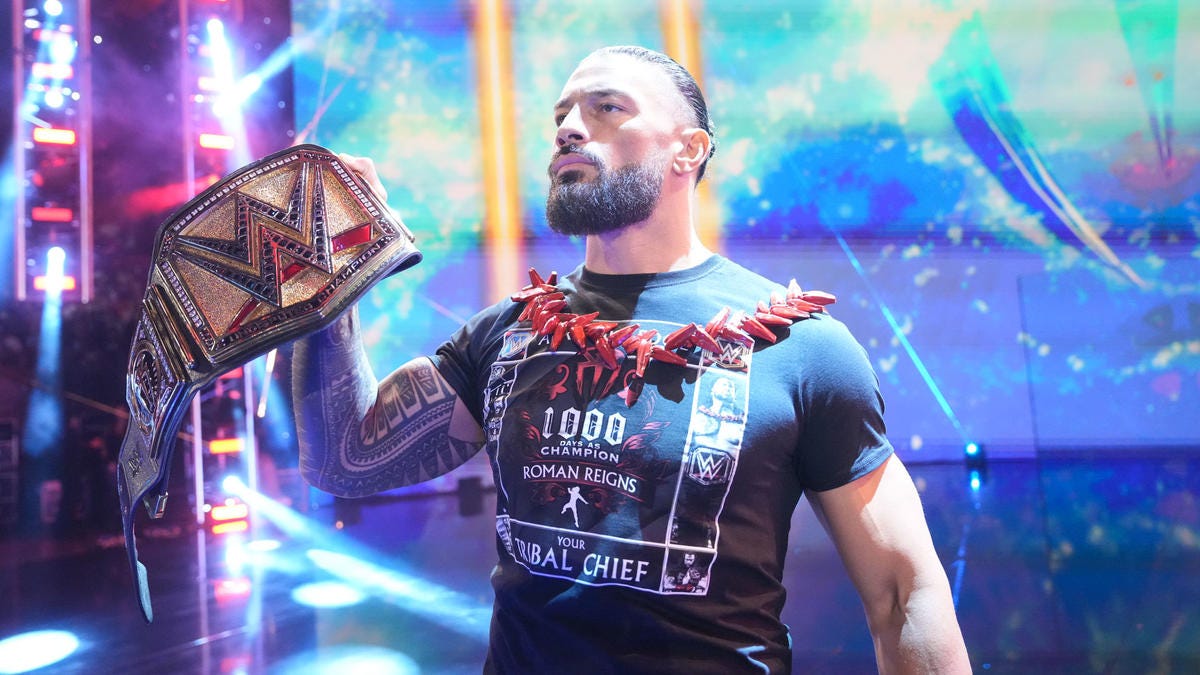 Roman Reigns has been Universal Champion for 1141 days. Undisputed WWE Universal Champion for 559 days. Legendary right? WWE tells us it's legendary; so does the WWE announce team, the media, the internet wrestling community and Paul Heyman.
Normally, I would be inclined to agree with the legendary status. Quality over quantity is my opinion on title reigns. I value a lengthy championship run, rather than multiple shorter reigns like Charlotte Flair and John Cena. A single day, a single week or a single month of being champion can easily pad that number, and we have seen that happen already. Most recently, think back to the Charlotte Flair/Sasha Banks feud a few years ago where they took turns unsuccessfully defending the title against each other.
Quality. A legendary title reign should be lengthy and it should also be regularly defended. While the number of days Roman has been champion reaches that first status, his amount of title defenses leaves the WWE Universe desiring more. In the 1140 days Roman has been champion, Roman has defended the title 53 total times during this time. The amount of title defenses have been tallied from all defenses, non-televised, televised and premium live events. Compared to the likes of similar length runs by WWE legends like Bruno Sammartino, Hulk Hogan and Bob Backlund, is 53 title defenses worthy of "legendary" status? Take a look at the statistics below and decide for yourself.
Roman Reigns

Days: 1141
Matches: 53
21.5 days between defenses

Bruno Sammartino

Days: 1237
Matches: 248
4.9 days between defenses

Hulk Hogan

Days: 1474
Matches: 553
2.7 days between defenses

Bob Backlund

Days: 1481
Matches: 712
2.08 days between defenses
In contrast, you can compare Roman's counterpart over on Raw. Seth "Freaking" Rollins has defended the World Heavyweight Championship almost as many times as Roman has in just a tenth of the timeframe, giving the nickname of the "workhorse championship" validation.
Seth "Freaking" Rollins

Days: 141
Matches: 35
4.03 days between defenses
As of the current writing, the last time Roman defended his title was at Summerslam. Not only did he not defend during that time, he also went over 2 months since even being on WWE television, before finally reappearing on WWE Smackdown's season premiere. I remember a time when a champion was made to forfeit the title if they didn't defend it within 30 days. In fact, we have recently seen that happen with the women's tag team championships, however, Roman Reigns and Rhea Ripley seem to be immune to that rule.
Do I think Roman needs to be present on every Smackdown? No. Do I think Roman Reigns should defend his title on Smackdown regularly? No. However, I do think Roman should at the very least, be defending his championship at every PLE and should be somewhat regularly appearing on Smackdown, as it is "his show".