Judgment Day has lost their "Edge"
*pun intended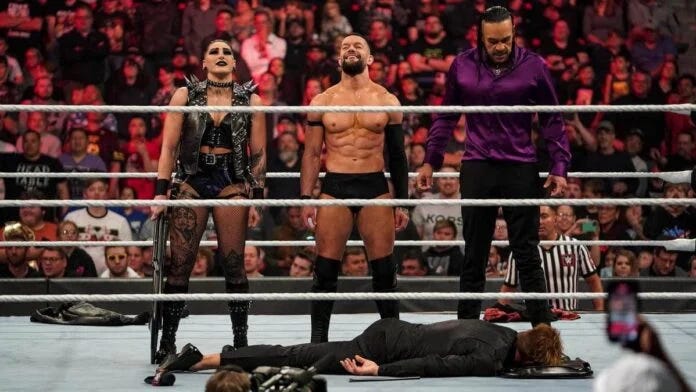 It has been several months since Finn Balor joined The Judgment Day. The same day, two of the original members joined Finn and turned on their founding leader, Edge. They removed Edge as their leader and installed Finn in his place. This came as a surprise to many, as there was absolutely no build up to this betrayal. There was no previous tension, nor any hint there of. As far as I can recall, there was no mention of secret conspiring between the three remaining members in any explanation. Simply the reason, he was "holding them back". I believe that is the opposite of the truth.
The Judgment Day with Edge
When The Judgment Day was formed by Edge, the promos delivered backstage and in the ring were interesting, theatrical, powerful and could even be interpreted as intimidating. Not only were the promos all of these aforementioned things, they were also filled with volumes of ego and confidence as he spoke to the WWE Universe and locker room from his "Mountain of Omnipotence". The experience of Edge mixed with his newfound "edge" (please forgive the pun) on the fresh heel turn made the group dominant and one to fear. The creative storyline building Edge's heel character, to the addition of first Damian Priest and then Rhea Ripley. The brutal attacks, the menacing quest to find new members, the quality of the matches. They were on the path of defining a new group that could one day be considered in the conversation of top stables of all time.
The Judgment Day with Finn
Fast forward to the present Judgment Day. Finn in charge, two unloyal members in Damian Priest and Rhea Ripley. (I state "unloyal" because of their turn on Edge.) The intensity of the group, that Edge brought in promos and in ring is long gone. While they recently have been booked winning matches, the domination is just not there. The "IT" factor is gone. Their Edge, in name and adjective are gone.
Now add to the already lackluster stable, a still very "green" and unconfident Dominik Mysterio. A group is only as strong as it's weakest member. Dominik, in my opinion, still has a long, long way to go before being considered any type of real superstar. He lacks intensity and is nowhere near a "force to be reckoned with" nor is he intimidating by any means. Dominik needed to step into his own, away from Daddy Rey's shadow, but I don't think this is the answer for him.
Final Thoughts
In my opinion, this stable is now just a bunch of misfits without any creative direction, so they were mashed together to give them something to do. That's also how it feels watching them on Raw every week. That's not the original feeling this menacing group had when it began.
What are your thoughts on The Judgment Day? Better with Edge or with Finn? With or without Dominik Mysterio?