AEW Revolution Predictions: Who Should (and will) Win
AEW Revolution is just around the corner. And while this unabashed AEW mark will no doubt throw $50 at Tony Khan this Sunday for what should be a great show — I have to admit — the build has been lacking compared to past shows. With a heavy focus on the MJF/Danielson match (and Page/Moxley), there hasn't been much room for anything else on the shortened card.
However, last night's go-home show DID deliver on a few much needed segments to help build some of Sunday's card. We have promising matchups from top to bottom, but with little to no build.
However, with that comes opportunity. Said opportunity is to lay the groundwork for Double or Nothing, Forbidden Door, and All Out. While we shouldn't expect this show to out-buzz Wrestlemania next month, a banger could rise from the ashes with the right booking.
With that, let's get into some predictions (and some odds) for AEW Revolution.
–
Pre-Show Matches
At the time of this writing, there have only been 8 matches announced. However, with Rampage on Friday night, there's room for more announcements for the pre-show. While I can only speculate, here's a few possibilities of some potential matchups:
-Jade Cargill vs. [insert jobber here] | TBS Championship
While her reign is getting long and rather boring, I can see her in a quick squash match against some random opponent to fluff her record. Should Tony consider just retiring the TBS Championship in favor of a women's tag team championship? Jade certainly doesn't need this belt anymore — and no top stars like Baker, Hayter, Storm or Shida has any reason for wanting this championship. Just a thought…
-HOOK vs. Ethan Page
This match deserves more than a pre-show, but Page vs. HOOK is the next logical step in his feud with Stokley. HOOK would get the win here, of course.
-Lucha Bros. & Komander vs. Varsity Athletes (Tony Nese, Josh Woods, Ari Daivari)
You have Komander in town. Why not use him? Interference from Nese last night kind of set this up. It's a great pre-show match to get the blood flowing before the main show. The super over babyface luchadores pick up the win.
–
MAIN SHOW
–
Chris Jericho vs. Ricky Starks (JAS is Banned from Ringside)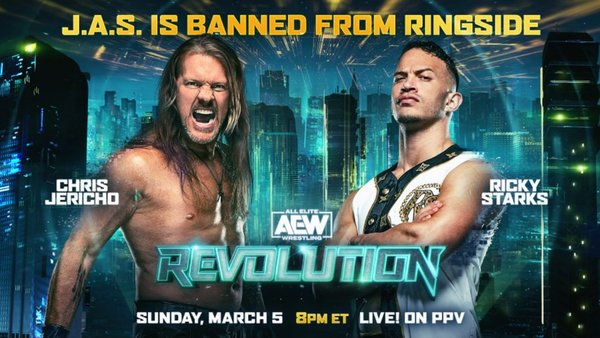 Please let this feud end after Revolution.
There is no doubt that a Jericho/Starks match will be a quality contest. There is also no doubt that Starks will face interference from JAS in some form, only to overcome them with that classic babyface shine.
However, it would be interesting to have Starks sneak some interference in the match, unbeknownst to the official, to cost Jericho the match. This makes Starks look like the smart babyface that he is in a stipulation that he asked for.
Who interferes on Starks' behalf? This man, is the man they call Sting. 
(Hear me out) This would set up a dream match between two icons for Double or Nothing (or All Out), and a possible send-off to Sting's legendary career. Will this happen? Eh, probably not. But Starks will find a way pull out a victory here, saving us all from this feud going any farther, right? My gut is telling me otherwise…
Let's just not have Action Andretti show up to turn on Starks. Andretti has the face of a natural heel, but still, NO. Stop it. It's almost too predictable…
Odds: Starks -300 | Jericho +200
Who Should Win: Ricky Starks
Who Will Win: Chris Jericho
–
Samoa Joe (c) vs. Wardlow | TNT Championship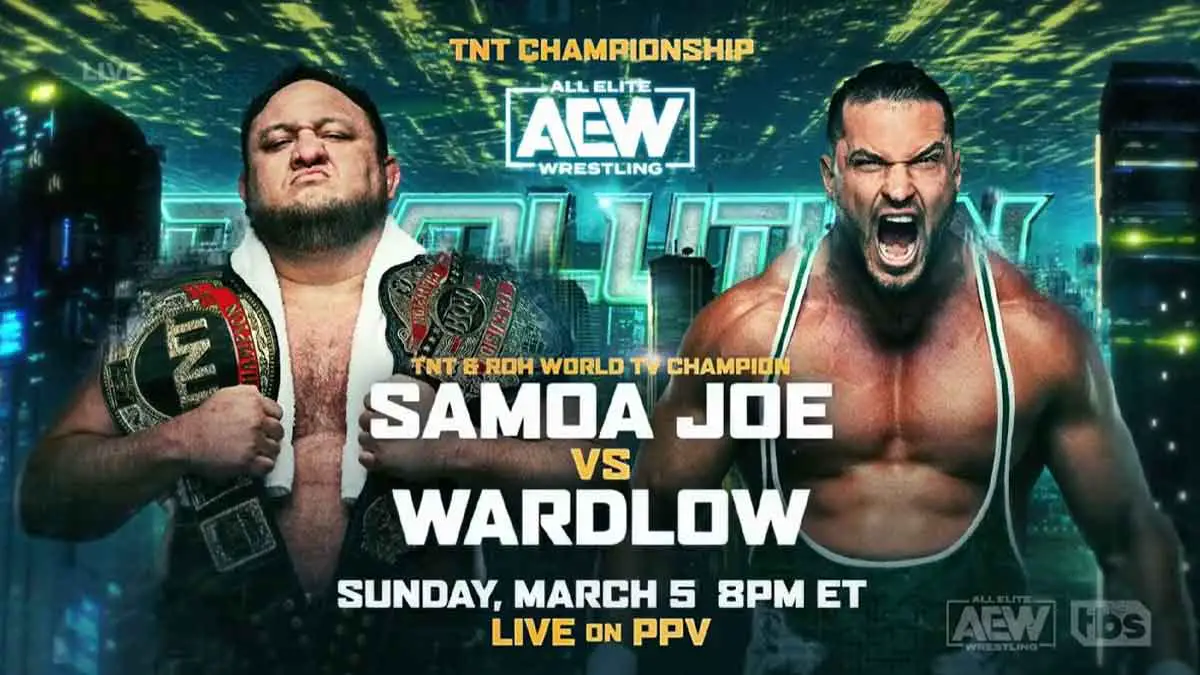 When we think of lackluster builds for this PPV, this is one example. I know that Khan rushed a story for this bout regarding Wardlow's hair as holding symbolic significance to pay tribute to his father. Samoa Joe, of course, cut off some of Wardlow's locks after their last match.
But this is about as far as it goes aside from the classic "I don't like you, let's fight" type of feud. The match itself should deliver a powerful match between two beefy, yet athletic boys, slapping meat. But this serves little more than having Wardlow reignite his lost push while Joe carries the Ring of Honor TV Championship back to Ring of Honor before their new era begins.
It'll be fine. Wardlow's monster push: take two.
Odds: Wardlow -1000 | Joe: +500
Who Will Win: Wardlow
Who Should Win: Wardlow
–
Jungle Boy vs. Christian Cage | No Holds Barred
This has been ongoing since 2021.
I'm all for long-term storytelling, but please let this be it. I have literally nothing else more to say about it.
Put "Jungle Boy" Jack Perry over. Christian Cage rides off into the sunset in what was a banner career. Moving on…
Luchasaurus, STAY HOME. 
Who Should Win: Jungle Boy
Who Will Win: Jungle Boy
–
The Elite (c) vs. House of Black | AEW Trios Championship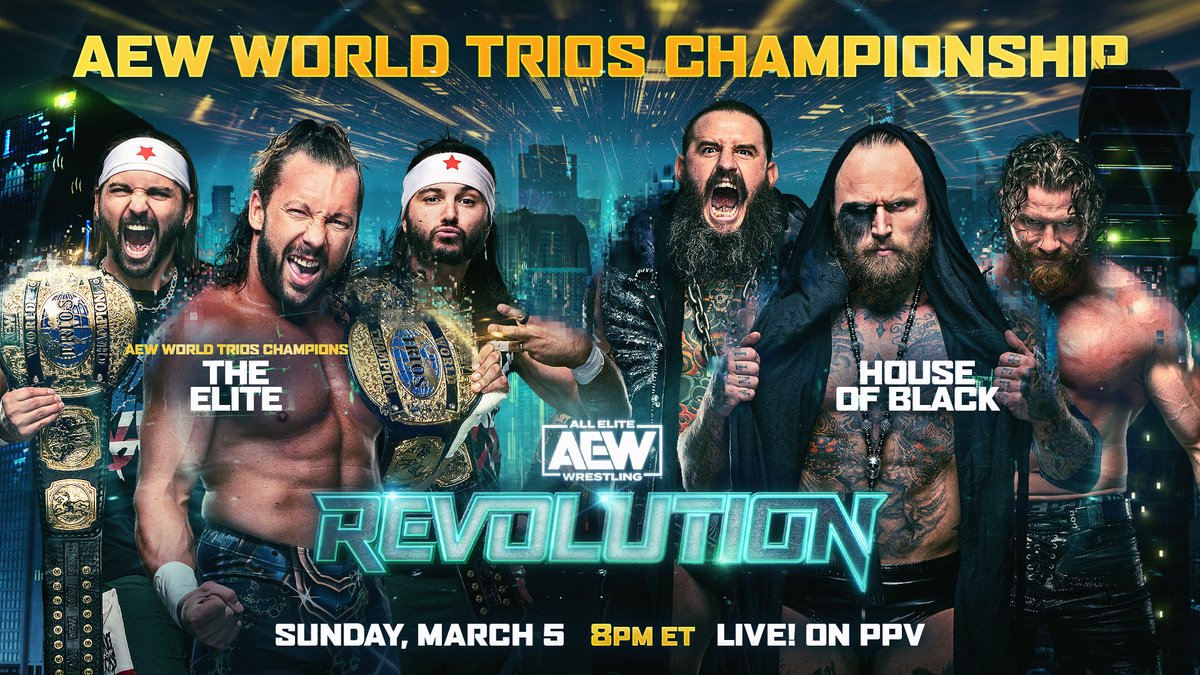 One of the matches on the card with the smallest build could have the greatest potential. How can Khan book this match in a way to keep both teams looking strong?
A clean win by The Elite really halts any momentum by the House of Black in its tracks. It's as simple as that. If The Elite can't lose cleanly (which they SHOULD), then at least turn this into a bigger story, right?
If it's up to me, I have the simple distraction of "Cult of Personality" blaring over the arena's P.A. mid-match to distract The Elite (which would cost them the match and championships). Punk would never show face, but it starts the path to the Punk/Omega match at All Out that we all want and would make buttloads of money.
However, I don't see this happening. Even if it's just a Punk/FTR vs. The Elite feud.
But Tony has to realize that House of Black are the overwhelming faces in just about any match they're in due to their sheer undeniable presence. That, and who is realistically left for The Elite to face off with already?
Sure, you could throw Best Friends or Stokley Hathaway's group at them, but these are very "meh" matchups. You could set up a Forbidden Door match between The Elite and current 6-Man Openweight New Japan champions Strong Style (Narita, Suzuki, Desperado) — or former champions House of Torture (EVIL, Sho, Yujiro).
…but you can do that with the House of Black as well. In fact, the House of Black fits better right now up against almost every trios team out there when it comes to fresh matchups. That, and House of Black vs. House of Torture at Forbidden Door? IT WRITES ITSELF.
My confidence in Khan's booking right now is lower than usual. So I unfortunately predict that The Elite keep their championships while the House unceremoniously fades to black.
For the record, I am a huge Kenny Omega fan. But it's the House's time. I hope I'm wrong here.
Odds: The Elite: -210 | HoB: +160
Who Should Win: House of Black
Who Will Win: The Elite
–
Jon Moxley vs. "Hangman" Adam Page | Texas Deathmatch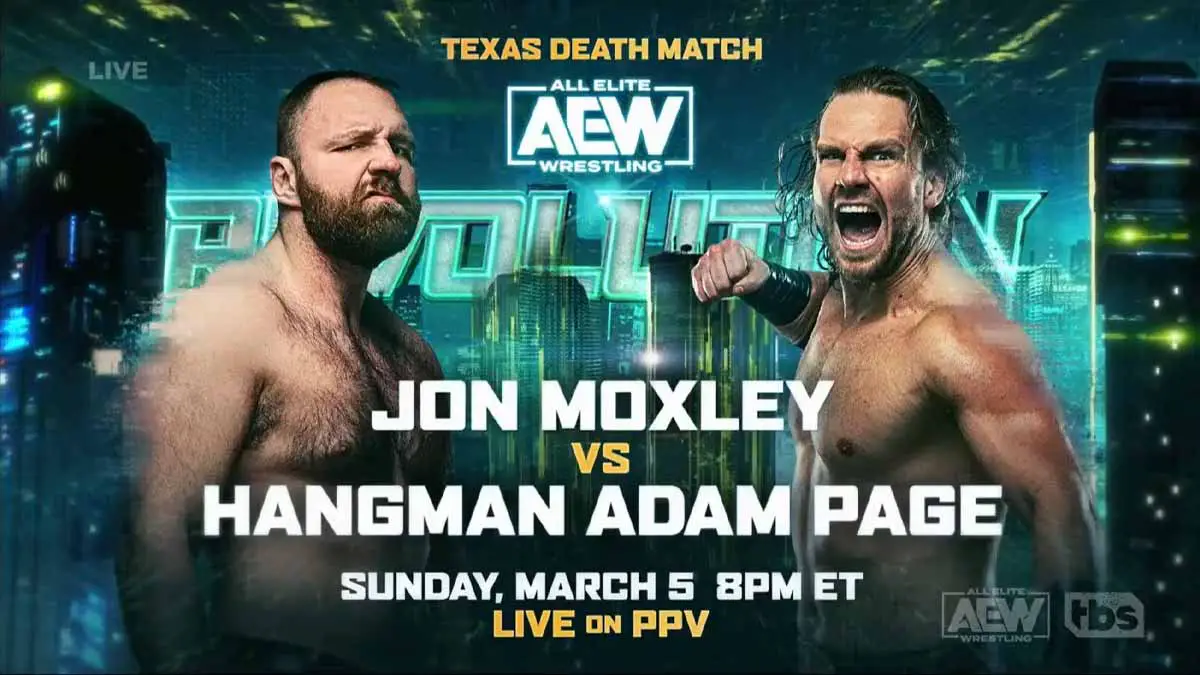 If this match was a breakfast menu from Monty Python's classic 'SPAM' sketch, it would look like this…
Jon Moxley vs. Adam Page *MENU*
Egg and blood.
Egg, sausage, barbed wire and blood.
Egg, bacon and blood.
Egg, bacon, barbed wire, chairs and blood.
Egg, bacon, sausage, barbed wire, chairs, tables, thumbtacks, and blood.
Blood, bacon, sausage, glass, thumbtacks and blood.
Blood, egg, blood, blood, bacon and blood.
Blood, blood, blood, egg, barbed wire, thumbtacks, and blood.
Blood, blood, blood, blood, blood, blood, blood, baked beans, blood, blood, blood, blood, blood.
*Lobster Thermidor au Crevettes with a mornay sauce served in a Provencale manner with shallots and aubergines garnished with truffle pate, brandy and with a fried egg on top and BLOOD.
…
*cue casual viewer* "I DON'T LIKE BLOOD!"
Random Vikings: ♪Blood, blood, blood, blood, blood…♪
–
With a solid build and base of matches between the pair, we know this will meet or exceed expectations. These are two of the best workers in the business.
But I'm getting somewhat tired of blood, blood, and more blood…
I'm an ECW kid. I have no aversion to blood in wrestling matches. In fact, you can argue it's pretty realistic for wrestlers to bleed more often than not, given the very nature of the violence that happens in the ring. But I'm just growing tired of it happening SO MUCH. It's like a running joke at this point.
Ugh. I don't care who wins, but it should be Page. But I'll bet against sensibility here; unless Moxley is finally getting that vacation.
I'm somewhat nervous for this match. Let's not have any unprompted rushes to the hospital after it ends.
Odds: Page: -600 | Moxley: +350
Who Should Win: "Hangman" Adam Page
Who Will Win: Jon Moxley
–
The Gunns (c) vs. The Acclaimed vs. Jeff Jarrett & Jay Lethal vs. Orange Cassidy & Danhausen | AEW Tag Team Championship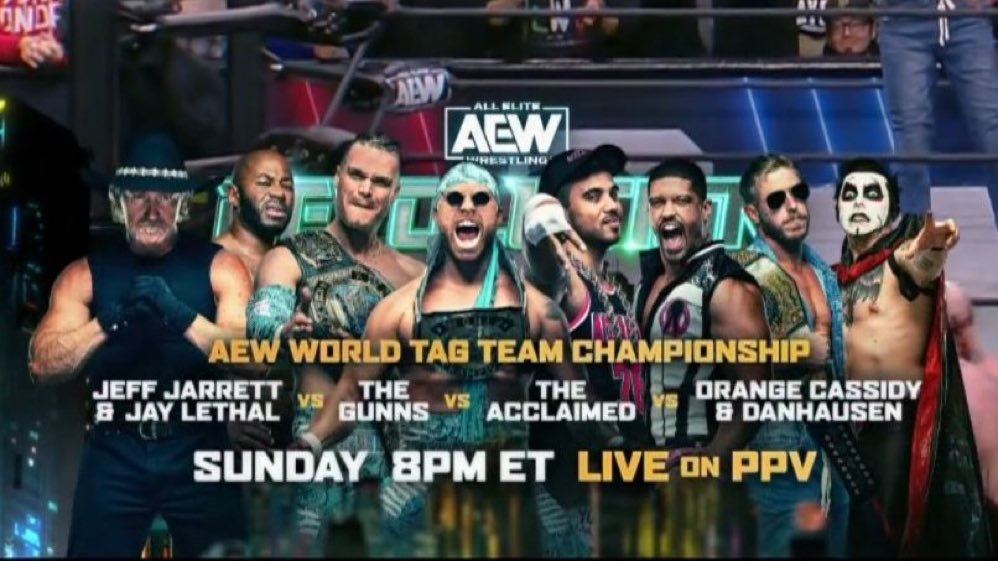 This is the most randomly booked tag team match in quite some time. However, it does accomplish a few things of note:
It keeps the heat on The Gunns. Danhausen is likely taking the pinfall in this match.
Protects The Acclaimed, as they will not get pinned.
Gives the younger teams experience with in-ring veterans in Jarrett and Lethal
When you view it from that lens, it makes sense. You don't want The Gunns to lose the straps just yet. In fact, if FTR does come back, they would likely have to go through The Gunns first given their history. So it seems like Khan is saving The Acclaimed's championship revenge win over Colten and Austin for Double or Nothing, setting up FTR vs. The Acclaimed at All Out.
I'm just speculating, though. Don't read too much into this match, otherwise. It's not the result I particularly want, but it's the result I will understand (if that makes sense).
Or…"Daddy Ass" costs The Acclaimed the match in a kind of stupid heel turn that would deflate the crowd a little. Though in story, it makes some sense. Billy Gunn IS Colten & Austin's father. Then Max and Anthony would need to find a new 'Daddy Ass'…
Who Should Win: The Acclaimed (They ARE still AEW's most over duo)
Who Will Win: The Gunns
–
Jamie Hayter (c) vs. Saraya vs. Ruby Soho | AEW Women's Championship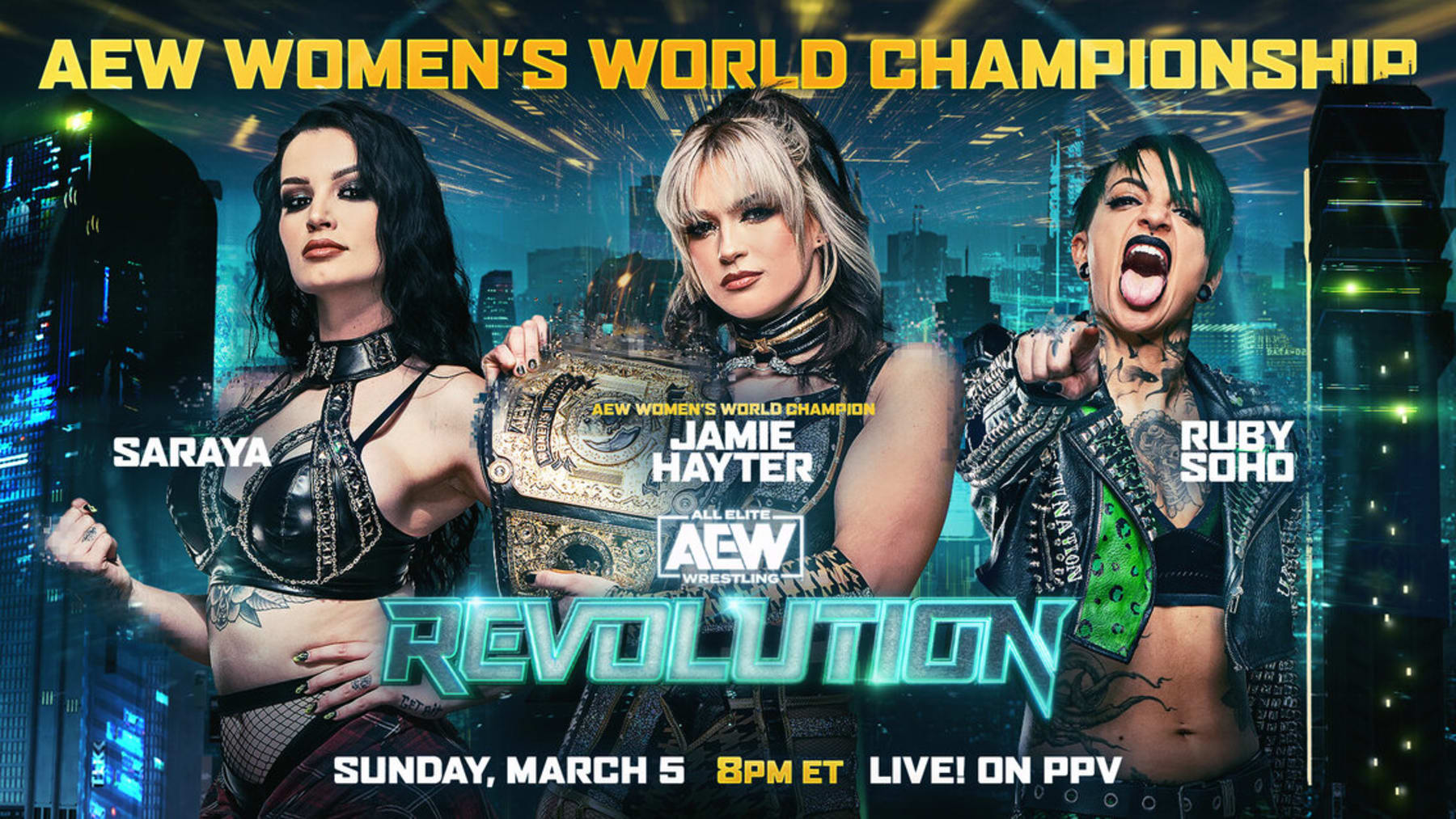 This is the only women's match on the card.
🙁
But better than bringing Jade Cargill out to squash a random opponent to keep her streak going, right?
That being said, I don't mind the story here. Saraya and Storm ("ex WWE talents") trying to take over the AEW "originals" in the division. It's not the most original concept, but if booked right, you can save this.
We've been building to Ruby "taking a side" for weeks now. The symbolic message to all wrestling fans in this case is to STOP TAKING SIDES — which could lead to a Ruby Soho victory. In fact, this is how I would personally fantasy book it.
If available, as she only has two Stardom dates left, this is where I bring in Mercedes Moné to take out Saraya. They have past "beef", and it allows Soho to get the pinfall, a well deserved championship run (even if brief), and protects Hayter at the same time. You could continue a separate Hayter/Soho feud moving forward.
None of this will probably happen, though.
While Soho could get the pinfall if the clear message sent is "all is welcome in AEW", I am also a card-carrying member of the Hayter section and would be a sad panda if she lost the championship so soon.
My gut is sticking with Hayter somehow retaining here. Which is fine, but probably uninspiring from a story standpoint. So I am expecting an overbooked but entertaining match that I hope at least showcases the talents of everyone involved here.
But seriously, Hayter wins or we all riot.
Odds: Hayter: -1250 | Soho: +400 | Saraya: +500
Who Should Win: Jamie Hayter
Who Will Win: Jamie Hayter
–
MJF (c) vs. Bryan Danielson – 60 Minute Ironman Match | AEW World Championship
Upon further thought, this match brings a bit of a conundrum:
Heels usually don't win Ironman matches to close out the show. 
I can think back to WWF Judgement Day 2000 between The Rock and Triple H in their 60-minute Ironman match. While the heel Triple H did win on a disqualification giving him the final  deciding point, the match was incredibly overbooked (yet entertaining somehow).
This also came at a time where Triple H had a certain swagger about his persona which drew some adoration from fans, even as a heel — even if The Rock was the clear over babyface.
Beyond that?
You don't want your crowd deflated after a long-winded Ironman match; especially when you sort of know MJF isn't losing by any means. I have zero doubt that these two could put on a 5-star wrestling classic. My concern is with the finish.
How do you book this match so the crowd goes home happy after such a long contest where the heel goes over? Unless you have C.M. Punk appear post-match, perhaps? He can still stake a claim at the AEW World Championship he never officially lost.
Otherwise, a swerve would be for MJF to lose the championship to Danielson, and I don't think anyone would really complain. But this doesn't make a lot of sense booking-wise, as MJF deserves a lengthy championship reign.
The feud has been booked well. A great story has been told. We have two great wrestlers that will put on a clinic. But man, good luck booking the finish…
Odds: MJF: -5000 | Danielson +900
Who Should Win: MJF
Who Will Win: MJF
–
And there you have it. Most AEW PPVs deliver without question. But something about this card almost seems too simple in the booking and presentation. You'd have to think something much bigger is coming to generate a lot of buzz for the promotion — especially with a video game coming out soon, a new weekly TV show, as well as Wrestlemania looming from Khan's competitor.
But we often hold AEW to a much higher and unfair standard compared to WWE. The latter can get away with a poor PLE, as long as the main event delivers. It seems as if (for some reason) AEW simply always has to deliver on every single match or fear the wrath of the Twittersphere.
So keep that in mind, as it's the honest truth when you really think about it. But no matter how you watch, just kick back and enjoy the show, and enjoy professional wrestling.
What are your predictions? Post them in the comments below!
-T5W
t5wrestling@proton.me