Why The Outcasts Could be the Catalyst for AEW's Best Storyline
"You ALL created this monster." – Ruby Soho
She's right, you know. While many fans will simplify this angle into just another "nWo takeover" — it's anything but. This story has the potential to become a meta-narrative on the state of professional wrestling if well-written.
Of course, there will be challenges. While Khan is doing his best with what little time he has to feature more women on his shows given the gigantic roster — excecutiion is crucial. Some of the best wrestling stories have historically been centered around real-life issues. This should be no different.
So how can they accomplish this — and more importantly — overshadow the "4 pillars" World Championship angle, as well as the growing Elite/Adam Page tease? First, we must understand why this group is such a big deal.
–
Then. Now. Forever. Sort of.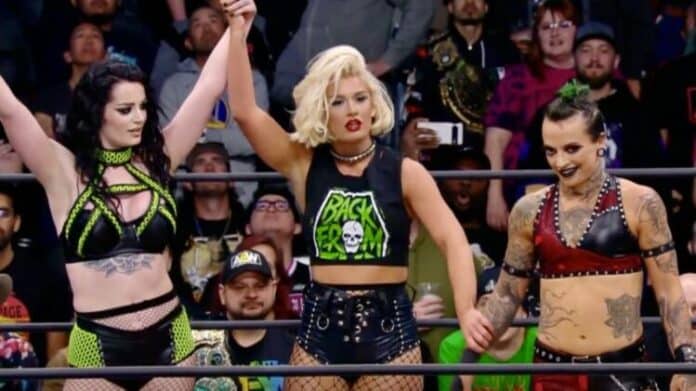 Set aside their label as 'outcasts'. Let's focus on the untouched part of this angle so far: WWE fans.
What do I mean by WWE fans?
I have often heard sentiment from WWE fans that AEW feels "exclusive". The fans are elitist and snobbish, and will shame an average casual fan for not living outside of the WWE box. And let's face it; while it's arguably smart booking, most former WWE talents have not had great success in AEW.
Storm  captured the AEW Women's World Championship — as an Interim champion. Ruby Soho has fallen short on her title opportunities on multiple occasions. Miro's run as TNT Champion was short-lived and is now M.I.A. Even the heavy-hitters like Danielson, Cole, Andrade, and others — have failed to capture an AEW Championship. Until most recently, Malakai Black was in that group before winning the Trios championships.
Again, this is smart booking. You don't want to hot-shot your championships to free agent signings over your originals. But it adds to a certain sentiment possibly felt by WWE fans from AEW fans. As if WWE talents aren't "good enough" to compete in AEW. It's a ridiculous notion — but for the sake of this story, it would work.
"You're not smart enough to be a fan." "You're not cool enough to understand." "You live comfortably in your WWE bubble; what do you know about pro wrestling?"
And let's face it — if you actually carry this mentality, you're a douchebag. I've long been jaded with the WWE product, and haven't watched for years. But I won't tell a fan how to enjoy their wrestling. As long as we're all having fun, who cares what brand of wrestling we prefer?
But The Outcasts should outwardly reflect how a number of WWE fans might feel. That AEW just "isn't" for them; and any WWE fans aren't smart enough to be welcomed into this exclusive elitist club.
–
The Fat Neckbeard Mouthbreathing Trolls
"You all begged (Saraya) to come out of retirement and then you fat, neck-bearded, mouth-breathing trolls came at her!" – Ruby Soho
We all know that internet trolls are nothing more than walking dumpster fires with thumbs. But this group needs to be more than insults. Pointing out the hypocrisy of said trolls can be done in a way that would be effective.
Example: Ruby Soho's booking.
You can't on one hand call her a "WWE-reject", then on the other hand voice that she's being "wasted". You can't criticize Khan for having her on AEW Dark for a few months, but then get angry when she went over Kris Statlander for the Owen Hart tournament.
If she won a championship, it would be "hot-shotting". If she doesn't, then she's being "wasted". She gets utilized as a major mouth-piece of a heel women's faction; and it's "too nWo".
Are you seeing why everyone hates the internet (if we're being honest)? Nobody is happy with anything. The psychology of this story is that no matter what this group does, the fans will not be happy anyway. This is especially true for Saraya, who came back to large applause and support — only for trolls to turn on her almost immediately.
She was even fined for saying the word "twat". Good. Keep doing it. Lean into the bad-bitch mentality that Saraya can present. Her controversial past only plays into the entire character as a whole, and if presented right, can be a huge heat magnet.
Furthermore, the group could call out "wrestling experts" that look down on how modern-day wrestling is presented. This not only riles up the trolls, but possibly leads to a larger conversation (outside of the angle) of what a modern-day pro wrestling show should realistically look like in 2023.
If The Outcasts create segments where they speak truth, but in a way that creates the necessary heel heat, the story would gain an unstoppable momentum that would keep fans talking.
–
Blood & Guts
Isn't it time for an all-female Blood & Guts match?
The annual affair takes place every May or June. That gives this story another 6+ weeks to play out. This ongoing story between The Outcasts and AEW Originals seem logical to culminate in a Blood and Guts match.
Last year it was held at the Dynamite 3 days following Forbidden Door. I believe in this case, Blood & Guts should take place well before Forbidden Door.
But we need to increase the numbers from both sides, first.
The Outcasts could easily pick up Athena while keeping a "spot open" for a yet unnamed 5th teammate for the match. This is the "tease" for Mercedes — though the mystery 5th member in this scenario would be Impact Wrestling's Mickie James.
Britt and Jamie could stick with Riho, Willow Nightingale, and Skye Blue to max out their five. However, every good story needs a sacrificial and sympathetic hero. So let's have The Outcasts demolish Skye Blue in an injury angle and replace her with Hikaru Shida.
Note: Kris Statlander is perfect for this spot, but I believe she could still be injured at this point. 
You can do your own fantasy booking here, but a Blood & Guts match would be next on the radar for this ongoing feud. It legitimizes the women's division and features them in a much needed marquee spot.
And yes, now enter Mercedes Moné…
–
Time is Moné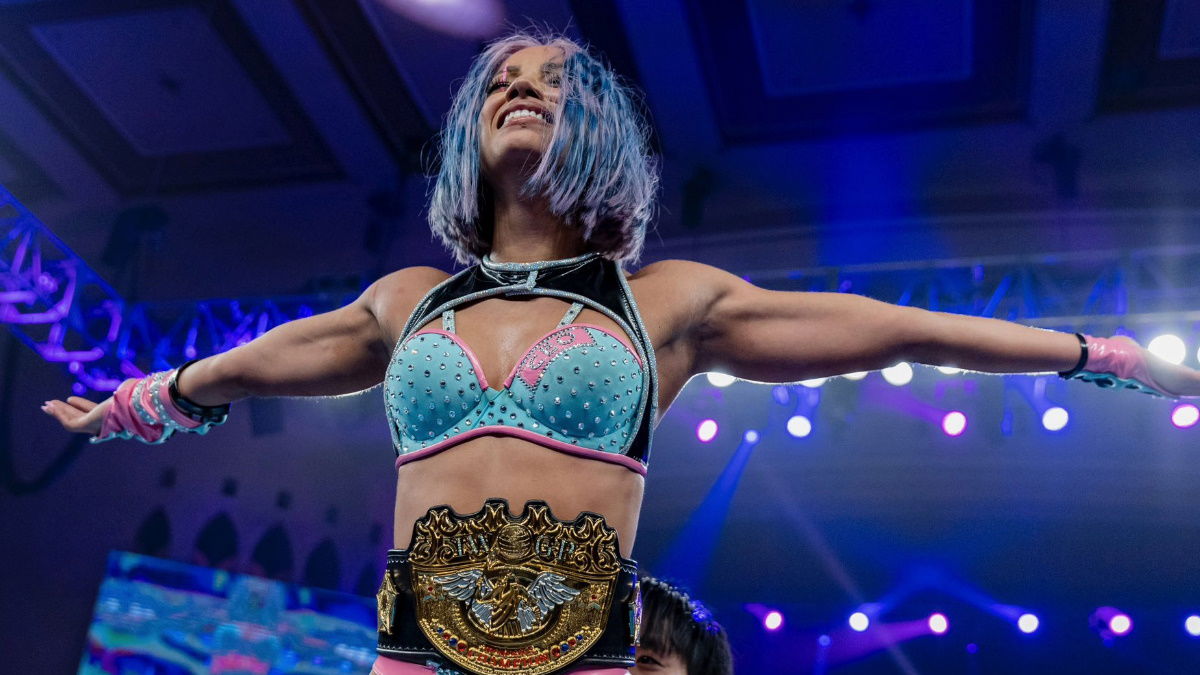 Why wouldn't I want Mercedes Moné as part of Blood & Guts? Because Tony Khan should utilize her as a featured attraction.
After Team AEW Originals squeeze out a hard-fought victory at Blood & Guts, THEN I bring in Mercedes after the match to survey the damage inflicted on one another by both teams. This is symbolic of the constant bickering between WWE and AEW fans…
Moné doesn't "choose" a side. She didn't jump to AEW after leaving WWE, but went to Japan. She doesn't care about being on a "team" — she just wants gold around her waist and to have fun doing what she loves. So instead of taking sides, she instead eyes down Jamie Hayter and challenges her for a shot at her AEW Women's Championship at Forbidden Door II.  As current IWGP Women's World Champion, Moné could offer up her strap to make it a double-title match.
This potential match could headline the show, let's be honest. 
Mercedes has multiple dates lined up in Stardom through April, but her schedule seems to clear up afterwards. While an appearance at May's Double or Nothing seems plausible, it wouldn't be necessary (though welcomed).
Mercedes becomes the moral compass of the story. A reminder that there is no need to take sides, but to simply enjoy professional wrestling; and do it on your own terms and preference.
–
Going Home
Whether or not Hayter wins in this spot is up to New Japan Pro Wrestling, really. Of course, this is all one gigantic fantasy booking scenario. But as mentioned, the potential for a larger storyline is right in front of Tony Khan's face. You have multiple marquee match-ups down the line for these ladies, and it truly legitimizes and puts this division on the map for 2023.
I would also recommend adding new AEW Women's Tag Team Championships so that The Outcasts (I'd go Soho and Saraya) could hold an AEW championship and keep their stable relevant.
Overall, this story has the potential to accomplish two things:
-A meta-narrative on the unnecessary divisiveness of the fan bases.
-Completing a large-scale women's storyline — something much needed for the division.
And if that third new wrestling show that was recently green-lit by WBD is an all-women's show? Hey, now we're making progress.
Time will tell how this story plays out. I would hope that Khan would see the huge potential in this angle for many reasons. But expectation often doesn't meet reality — and this is something wrestling fans have largely forgotten over the years.
No matter how this ultimately plays out, can we all just have fun with it? Professional wrestling is supposed to be an escape, after all. So why are we trapping ourselves in a toxic social media bubble?
-T5W