We Need to Talk About Jade Cargill
Let's get something out of the way before digging in: Jade Cargill has all the potential in the world. She has an "it" factor that few in the industry hold: a great look, great presence; a bona fide superstar. However, there is a glaring problem with Jade Cargill in AEW, and we need to address it. That, and why Jade Cargill should drop the TBS Championship to none other than Abadon. 
But first…
–
Hot Takes
-Stop complaining about Saraya's in-ring promo last week. It was her first in 3 years, so I don't care if she flubbed a few lines here and there. What's important is a notable conscious effort to put the women's division on display. Is it there, yet? No. Should there still be two women's matches on Dynamite per week, as many fans have called for? Yes.
But let's see if this leads to the above. We have multiple potential feuds brewing and lots of possibilities with the 8 women that have been carved out and recently featured. Let's see where it goes…
-Sammy Guevera is right. Yes, he's outspoken, and probably a bit immature at times. But he's right in regards to recent comments made on twitter about Andrade. Is Andrade an amazing wrestling talent? Yes. Has he failed to get over in both WWE and AEW when given the opportunity? Also, unfortunately, yes. Perhaps Andrade is best in New Japan or back under Papa H's new regime.
–Dan Lambert has left AEW. Good. Whether it's an act or not, we don't need misogynistic pieces of trash on television in any form.
-C.J. Perry needs to become ELITE. Miro has lost faith in his god. Why not bring in the love of his life to help catapult him into the main event picture in AEW where he fucking belongs. 
–
Now onto Jade…
–
Jade Cargill is Not Goldberg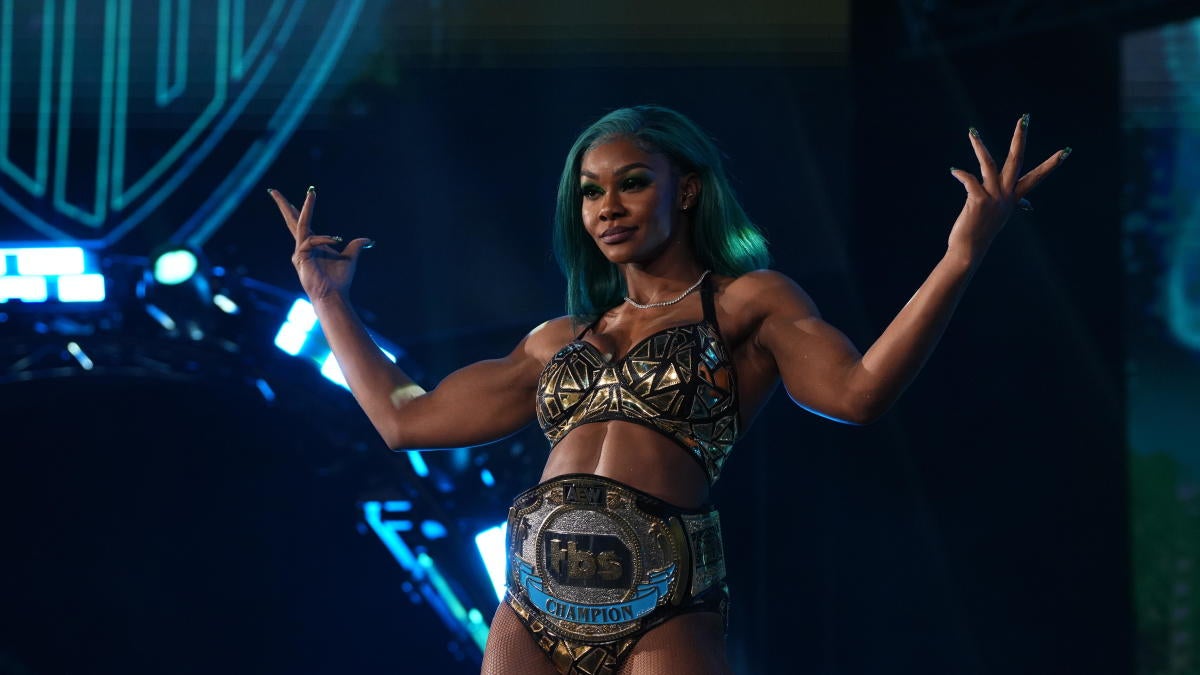 I may be stating the obvious, but it needs to be said. Now I absolutely hated Goldberg's undefeated streak storyline. As a young fan of WCW Jericho, Guerrero, and even Alex Wright — big beefy men who knew no more than four moves was not impressive to me. However, I do understand the appeal Goldberg had with the WCW audience.
Show up. Kick ass. Leave.
It's very similar to how HOOK is booked, which the fans show up for. Jade, on the other hand, doesn't have the same effect. Why is that?
Because she's a heel. It's not the only reason, but it's the main reason. It's fun to get behind a babyface like HOOK, and I can see why folks loved Goldberg — but Jade is presented as a heel. At some point, fans start to lose interest in this dominant heel that keeps winning in a very mediocre fashion.
Jade has all the tools to be a superstar — but her in-ring just isn't there yet. Booking a dominant undefeated heel champion with few moves to her name, and the inability to truly call a match, is just not going work. Which leads me to the next point:
–
Cargill's Reign Has Been Forgettable
Quick, name your favorite Jade Cargill match in her title reign. 
…
Exactly. Some rip on "Hangman" Adam Page for his uneventful title reign, but he had absolute bangers with Bryan Danielson, Lance Archer, and Adam Cole. Cargill, unfortunately, has nothing to show for her championship reign. She's had decent encounters with Anna Jay and Tay Melo (you know, the infamous "kiss" spot) — but even her match with Athena, a seasoned vet, was just, well, *meh*.
When you have a dominant heel champion who simply just needs more time and experience to grow in the industry, you'll never get great matches out of them. The fans simply need more; and they especially need a solid in-ring performer to do it.
Again, Jade has all the tools to be a major player in AEW. But she's just not there, yet, and her title reign shows.
–
The Schtick is Getting Old
So let's cut the shit — Cargill's gimmick has been getting stale for some time now.
And this isn't so much on her, but it's on Tony Khan to book her in a way to make fans care about her. But every time we see Jade, we know what to expect:
-"Cut the shit*
-"I have no challengers left in AEW"
-"Look at my Baddies"
Lather. Rinse. Repeat.
Jade deserves to have an experienced hand work with her character to revitalize it a little. There's never any shame in needing a character tweak. Having your gimmick grow stale happens to even the best wrestlers in history — and it's time for Jade to do so.
–
There's Nobody Left
Jade's dominance has created a bit of a conundrum: There's really no one left to face her. Any opponent thrown at her is never done so through a lengthy program. It's usually a one-and-done, where the fans KNOW she's not losing.
We've even resorted to pulling talent not even on the official roster so that Trina (who most haven't listened to since the year 2000) could turn on said talent in Diamante.
Diamante deserves so much better than that…
So we're in a scenario where Cargill has basically defeated everyone that wouldn't be considered world champion material. We know she wouldn't beat someone like Britt Baker or Toni Storm — so we're talking about a level just a tad lower than the AEW Women's World Championship.
This dominance would have worked, had Jade been booked to a point where she has had legitimate challengers, along with massive crowd support.
But as mentioned, she's a heel. With minimal crowd support, no legitimate challengers, and a somewhat inexperienced ability in the ring — the result is a scenario where Tony Khan has sort of booked Jade into a difficult corner.
But there is a devilish solution…
–
Jade Cargill Needs to Drop the TBS Championship to Abadon
This is a bit of fantasy booking, but this is one way Jade can drop the TBS Championship while looking strong.
It's October. Halloween month. Who hasn't jade faced?
Abadon. 
This is different for Jade. Abadon frightens Jade; as she comes across as almost inhuman. For weeks, Abadon could stalk Jade, leading up to a Halloween-themed episode of Dynamite where the two match up.
No matter how much power is thrown her way, Jade cannot keep Abadon down. In fact, two of Abadon's finishing moves; the Headshot, and the Black Dahlia are both delivered while the opponent is on their knees. All it would take is to chop Jade down to her knees, hit one move after the other, and have a believable victory for Abadon.
The loss doesn't hurt jade, as losing to a supernatural-like gimmick rarely hurts other talents. It's Abadon —  the Living Dead Girl. She's a zombae. It's safe for Jade to drop the title to her without looking weak.
As for Abadon, she has only lost to two wrestlers in her entire time in AEW; Britt Baker and Hikaru Shida. Now she gets a deserving run with the TBS Championship.
As for Cargill; it gives her time to regroup, repackage, and start chasing after the AEW Women's World Championship through 2023.
–
Going Home
Again, none of this article is meant to bring down Jade Cargill. She is a superstar in the making. She has a fantastic look, is well enough on the mic, and has time to improve in-ring with some experienced veteran coaches on the AEW roster.
But her current championship reign, and current character — have all grown stale and forgettable. At the moment, Jade just serves as a way to mindlessly bury other women's talent since Khan seems complacent with leaving the TBS Championship on Cargill, seemingly forever.
Let's be honest; the fans deserve better, the TBS Championship deserves better, Abadon deserves better; and for that matter, Jade herself deserves better.
-OMC