ViRTUE's RAGE: WWE Needs to Push Charlotte to the Moon
April 26, 2021
Twitter: @NoDQ_Virtue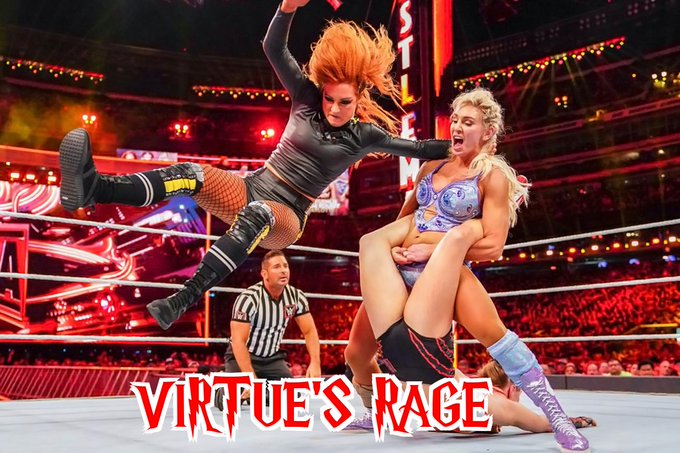 WWE needs to push Charlotte to the moon, effective immediately. Here is why…
Becky Lynch is still out indefinitely since becoming a mother. Ronda Rousey is now four months pregnant and her possible return is indefinitely on pause. However, the third participant from the WrestleMania 35 Main Event, Charlotte Flair, is active and currently on my television screen on Monday Night Raw and getting pyros. The pro wrestling business has always been based on the here and the now. Along with being "The Opportunity", Charlotte is also the HERE and the NOW! Sure, SmackDown has the emergence of Bianca Belair as Champion, and Raw has the emergence of Rhea Ripley as Champion, but the diehard fans will love both no matter what. That is all fine and dandy. However, Charlotte is the true female villainess of not just WWE, but of the entire wrestling business. She is chasing her father's and John Cena's 16x marker for being a World Champion, which makes her even more valuable as the top villainess to me.
It is fair to say that Charlotte is the female version of Roman Reigns, especially regarding how the diehard fans loathe and despise her for being heavily pushed by WWE. This is exactly why I want WWE to push her to the moon. Not only do I hope they push Charlotte back to the Raw Women's Championship, I hope they do it relatively soon and make Rhea Ripley chase it all the way to WrestleMania next year. That is when it will be the perfect storm for Charlotte to put Ripley over as the Champion. Wrestling is desperately missing proper torch passing in the modern era. Sorry (not sorry), but neither Ripley beating Asuka or Belair beating Banks are considered torch passing matches to me. Fans can feel good about the results of those matches, but a true torch passing is built up for a lengthy amount of time. Charlotte is in that very position to do so, and when she calls herself "The Opportunity", "The Queen", and "Flair", she sets herself up to have one hell of a heel run. Fans are supposed to hate heels. Remember?
Call me selfish, but I am glad that Lacey Evans got pregnant and it abruptly ended the program with Charlotte and Ric Flair. Charlotte does not need Ric on television with her and she hasn't for quite some time. Although it was a bummer that Charlotte was pulled from WrestleMania this year for whatever reason, it will be worth it to me if everything after the fact comes to fruition with her like I believe it will. Just like Reigns is the top heel and Universal Champion on SmackDown, I want Charlotte to become the top heel and Raw Women's Champion on Monday nights. I would be somewhat excited to watch Raw each Monday night in the same fashion I am to catch SmackDown on Friday nights with Reigns at the top. Strong (hated) heels are what makes pro wrestling tick. Need more proof? Roddy Piper heading into WrestleMania I, Andre the Giant with Bobby Heenan heading into WrestleMania III, and Macho Man Randy Savage heading into WrestleMania V.
As I mentioned earlier, Charlotte is the last of the trio of women that headlined the historic WrestleMania 35 to still be on WWE television. Sure, it may seem Becky Lynch could return in the next several months, but what if she wanted to have a second child right away? As for Rousey, she may never return to WWE, at least on a full-time basis. But meanwhile, Charlotte is still there, even despite having Covid-19, a false pregnancy, and being Andrade's fiancé, which all meddled with her not appearing at WrestleMania this year. There really is no better way to use her than for the office to make the diehard fans despise her even more than they already do because of her constant push o the top. I hope she becomes Raw Women's Champion by no later than SummerSlam and holds it all the way until WrestleMania before Ripley wins it back from her in a true torch passing moment.
Perhaps WWE will book a triple threat with Charlotte, Asuka, and Ripley to get the title back on Charlotte (again) and thus make Ripley chase her for it, which is what is best for business. For those of you who will be appalled at my stance on Charlotte, stop and take an actual breath or two and look at the bigger picture I just laid out. You're welcome. And you're welcome even more if WWE heads in this direction. Make the fans angry now in order to make them satisfied later.
Thank you for reading this mini edition of ViRTUE's RAGE! Feel free to comment below or Tweet me because I know some of you want to call me an idiot for my take on Charlotte. But I also know some of you will agree with me and we will all tiptoe through the tulips together. See you soon…
Twitter: @NoDQ_Virtue