ViRTUE's RAGE: Roman Reigns needs to retain at WWE Wrestlemania 37
March 27, 2021
Twitter: @NoDQ_Virtue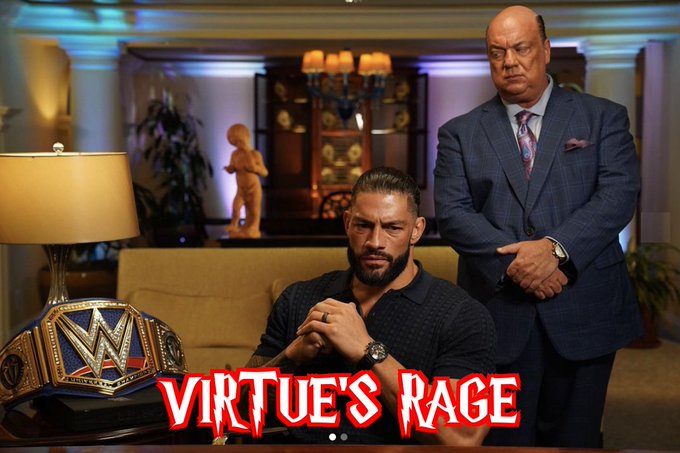 Perhaps this is an all new State of the Roman Empire, but since Roman Reigns now refers to himself as the Tribal Chief, Head of the Table, I might officially retire that slogan.
It does not matter who is in the Main Event at WrestleMania, just so Roman Reigns is in it. Before I share the premise of this article with you, let me point out some numbers I dug up. Here are the average weekly overall ratings (not smaller demo numbers) so far for 2021 for WWE SmackDown, WWE Raw, and AEW Dynamite: SD is 2.18 million, Raw is 1.87 million, and Dynamite is a whopping 0.781 million. SmackDown does about 310,000 more than Raw which does about 1.09 million more than Dynamite. The difference from SmackDown to Dynamite is 1.40 million viewers. What show is Roman Reigns on again? Oh yeah, SmackDown. Just within the scope of these three shows, not comparing any of them with the past, SmackDown is the clear-cut head of the table. The difference alone from SmackDown to Dynamite is about double what Dynamite does by itself. I am sure the AEW sympathizers will try and point out that Fox is available in more households than TNT; however, just go back and look at what pro wrestling drew on cable television during the Attitude Era back in the late 1990s when WWE battled WCW on Monday nights. Networks are surely no excuse. If the product is good, people will watch it. If stars are present, people will watch them.
We have now officially learned that Roman Reigns will defend the WWE Universal Championship in a triple threat match against Edge and Daniel Bryan at WrestleMania. So much for the Royal Rumble match meaning anything this year for the men. Honestly, that has kind of been an issue with me ever since the brand split era began. With two major titles to always compete for regarding both the men and women, if someone misses out on winning the Royal Rumble match, no worries, there are always a few other routes to go to headline WrestleMania. However, that is another discussion for another time. This article is about Roman Reigns damn it! After this year's WrestleMania is all said and done, Reigns will have faced the following opponents in main events on the grand stage: Brock Lesnar (twice), Triple H, Undertaker, Edge, Daniel Bryan, and you can even throw Seth Rollins in the mix since he cashed in the MITB contract at WM31 halfway through the match between Reigns and Lesnar. Pretty impressive resume for a so-called John Cena 2.0!
It is inevitable that Reigns' match will be closing out night two of WrestleMania. Regarding the previous four WrestleMania (show-closing) main events Reigns has been in from WM31 through WM34, he is just 2-2 in those matches. With that said, I feel WWE should book Reigns to retain the Universal Championship against Edge and Bryan. For the people saying Reigns can lose the title without really losing it if Edge pins Bryan or vice versa, well, here is what I think about that. Bullshit! Perhaps Bryan is in the match now so Edge does not have to eat a pin and Reigns can pin Bryan to retain the title. This is exactly what should and needs to happen. The feel-good story to end WrestleMania has been done way too many times. The real feel-good story here is not Edge or Bryan returning from lengthy injury retirements and winning a major title on the grand stage, but rather it is Reigns returning from Leukemia and once again getting a clean and decisive victory on the grand stage by successfully defending the Universal Championship. He should not lose that title for a long, long time, especially if WWE wants to properly build him even stronger as the Tribal Chief and Head of the Table in case a match against the Rock could ever happen in the future. If Reigns does lose the title, perhaps it is because he tries and bends the rules and the Rock himself shows up to make things right, ultimately creating the potential showdown for the battle of the Samoan Dynasty.
I want to reiterate that whether it is Vs Edge, Vs Daniel Bryan, or Vs Edge & Bryan, all it takes is Roman Reigns to be featured in the Main Event of WrestleMania and I am content. But what will make me sick to my stomach is if WWE has Reigns drop the Universal Championship to either an aging Edge or a B+ player like Daniel Bryan. Before some of you pull out your torches and pitchforks, I am referring to Edge's and Bryan's on-screen personas and not them as human beings. There is no reason for Reigns to put either one of them over at this stage of the game, especially with the possibility that Reigns could one day face the Rock like I previously mentioned, or even John Cena or Brock Lesnar. Dropping the title to either Edge or Bryan, even if it is indirectly by Edge or Bryan pinning the opposite guy so Reigns does not take the pin, well, that will do the Head of the Table, aka Tribal Chief, no favors in regards to continuing to build up his current character. Reigns needs a clean and decisive victory here so he can start looking dominant, Brock Lesnar style.
In a past article I posted on NoDQ about Reigns from October 2020, I noted that once he started appearing on SmackDown on Fox that the average overall ratings increased by about 200,000 viewers when comparing the 8 episodes' average before his return Vs the 7 episodes' average after his return. Fast forward to all the 2021 episodes of SmackDown and that increase has went up to almost 240,000 viewers when comparing to those SmackDown episodes just before Reigns' return. He not only stopped the bleeding that was caused by the Pandemic because SmackDown did consistently dip below 2 million viewers for a period of time before his return, he actually has helped the show gain almost a quarter of a million more viewers on average. Cauterizing a flesh wound and slowly regenerating the skin is exactly what I said Reigns would do once he returned, and he has done exactly that. All the while this has happened, Reigns has been a heel. I find it sad that the villain moves the needle in the right direction, but the so-called babyface heroes cannot. Therefore, he must be the one WWE chooses to go over in the Main Event of this year's WrestleMania. Anything else would be a total disservice to not just his character, but to WWE overall. If you do not agree with me then debate me!
Thanks for reading Virtue's Rage.
Twitter: @NoDQ_Virtue