ViRTUE's RAGE: Reigns' WrestleMania Main Events Ranked
April 19, 2021
Twitter: @NoDQ_Virtue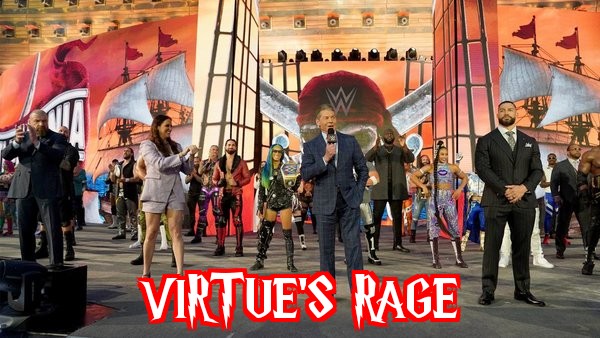 Since Roman Reigns has now been in five show-closing WrestleMania main events where he was booked to win three of them, I decided I want to rank them in order from my least favorite to my most favorite. Let me know your rankings in the comment section below, or you can always Tweet me. What is your favorite of the bunch? What is your least favorite of the bunch? Enjoy this mini edition of ViRTUE's RAGE!
5) Vs Brock Lesnar from WrestleMania 34: I was in New Orleans at the Superdome for this one. I thought for sure this was going to fit the typical Reigns' match mold where he got beat up most of the match, only to make the comeback near the end and defeat Lesnar for the Universal Championship. However, that never happened as Lesnar was booked super strong in this match and retained. Reigns did go on to win the title at SummerSlam that year, which makes this WrestleMania match feel even less to me because it was dragged out for an entire summer.
4) Vs Triple H from WrestleMania 32: This was the match where Reigns was heavily being scrutinized as being Vince McMahon's John Cena 2.0. Everyone knew Triple H was going to drop the WWE World Heavyweight Championship to him in an obvious outcome, which is exactly what happened. The fact this match went well over twenty minutes to get to that highly predicable outcome did Reigns no favors for being the new top guy in WWE. At least we all got to see Stephanie McMahon soak up some more WrestleMania main event time with her hubby, Trips (sarcasm).
3) Vs The Undertaker from WrestleMania 33: This was a hard one to rank because this was Undertaker at perhaps his oldest and slowest regarding all of his live, full length WrestleMania matches. His match against Cena at WM34 was a complete joke. The Boneyard Match at WM36 Vs AJ Styles was well done, but let's face it, it was a pre-recorded cinematic match at the infamous "Pandemic" PC WrestleMania. With that said, Reigns got the Undertaker leftovers on the big stage and it was obvious Undertaker was laboring through the match, but somehow Reigns got through it and was booked as only the second man to ever defeat Undertaker at WrestleMania. The Raw after this WrestleMania is when Reigns got booed like no other has ever been booed before. That alone made this match feel even more special to me in hindsight.
2) Vs Brock Lesnar (& Seth Rollins) from WrestleMania 31: This was already a damn good match between a bloodied and battered Reigns and Lesnar before Rollins shocked everyone and decided to cash in the Money in the Bank contract midway through. Because Rollins was a heel, it did not feel as special of a cash in for me, even though Rollins losing to Orton with a great RKO finish in the opener was a nice decoy to the actual cash in and win for Rollins. Part of me does wish WWE just booked Reigns to go over Lesnar to win the WWE World Heavyweight Championship for the first time and get it out of the way here, but they were trying to protect him from the boo birds. Call me crazy, but this might have very well been my favorite of the five main events with Reigns if the Rollins' cash in did not happen. If you disagree with that take, bite me!
1) Vs Edge & Daniel Bryan from WrestleMania 37: I ran a poll in the private NoDQ Review chat and this match won unanimously. This was the match I felt was Reigns' best WrestleMania main event performance and subsequently my favorite of the five. This was the match where Reigns finally was able to portray the villain on the big stage, even though to many people he was always the villain in the sense he was Vince McMahon's force fed top babyface that many fans did not want. The confidence Reigns showed from his slow, methodical entrance to his victory formation while holding up the Universal Championship after the match showed how far Reigns has come since his first WrestleMania main event six years prior. Props to both Edge and Bryan in this match as well for being in this elite spot when at one point neither of them seemed like they would be able to wrestle again because of their injuries. Although I am still not keen on how Bryan was inserted into the match, I have grown to accept it because of how WWE ended up booking the dominate finish for Reigns. He smashed them, stacked them, and pinned them 1-2-3. Just in case you already have not, it's okay for y'all to acknowledge him now.
Thank you for reading this edition of ViRTUE's RAGE! Again, feel free to comment below or Tweet me…
Twitter: @NoDQ_Virtue