The Case For Turning AEW Rampage Into an All-Women's Show
Before you go all "bUt WomEn'S WrEsTLiNg  caN'T dRaW!"...just hear me out…
AEW Rampage is in a bit of ratings conundrum, eh? Last week's show dipped to 360,000 viewers with its lowest demo rating ever. Now this isn't cause for alarm for All Elite Wrestling. Overall, they are in good standing with WarnerMedia, do well in their Wednesday night timeslot, have a AAA video game on the way, and do well enough for attendance.
Wednesday's super hot Austin crowd can prove as such.
But Rampage? It really comes off as the C-show that you don't really need to watch, let's be honest. And who can blame Tony Khan? The timeslot is pretty bad, and there's no reason to go head-to-head- against Smackdown. Sans C.M. Punk's debut in August of 2021, Rampage has never even hovered in the million viewers number compared to Dynamite, which has done so many times, even in 2022.
Rampage has slowly bled viewers for well over a year now. And it's not the matchups that are doing it. The show still offers solid talent, and features of some AEW's biggest stars (Moxley, Cassidy, Danielson, etc.). But it's never been given that "must-see" dynamic, and anything worth anything in AEW tends to happen on Dynamite.
And I have to drive this point home again, a 10PM/9C timeslot on a Friday is awful. 
So what do you do? Simply book it better? That doesn't always work, and there's a reason why. Let's dig in…
–
Wrestling Fans Are Getting Older
Wrestling fans are getting older. As of right now, Raw's median age is a whopping 54-years-old. Smackdown is even older at an median of 56. NXT, oddly enough, is even older than that at 57. Rampage holds at 53, with Dynamite the lowest at 51.
Look, when I said last week that booking for casual wrestling fans isn't growing the product (a point YET to be refuted by literally anyone), I wasn't making it up. Wrestling fans are becoming less and less, and who's left are only getting older. 
So we have a number of Gen Z fans that likely tuned in and tuned out of pro wrestling at younger ages over the decade. Perhaps they drifted to MMA, or out of combat sports entirely. Or, in case of most teenagers and young adults — they probably have better things to do than watch professional wrestling.
As someone in the center of the 18-49 demo, I can tell you that being home on a Friday night to catch a TV show is simply not one of my top priorities. I know that I'm definitely not alone, here. If I happen to be home and I remember Rampage is on, I'll probably watch. However, it's not really destination television for me, and I'm a fairly diehard AEW fan.
Note: I WILL be tuning in tonight to catch Shida/Bunny and the other two women's segments…
Aside from my own tastes, let's pose a question: How does AEW do in race/women demographics?
–
AEW Struggles for POC/Women Viewership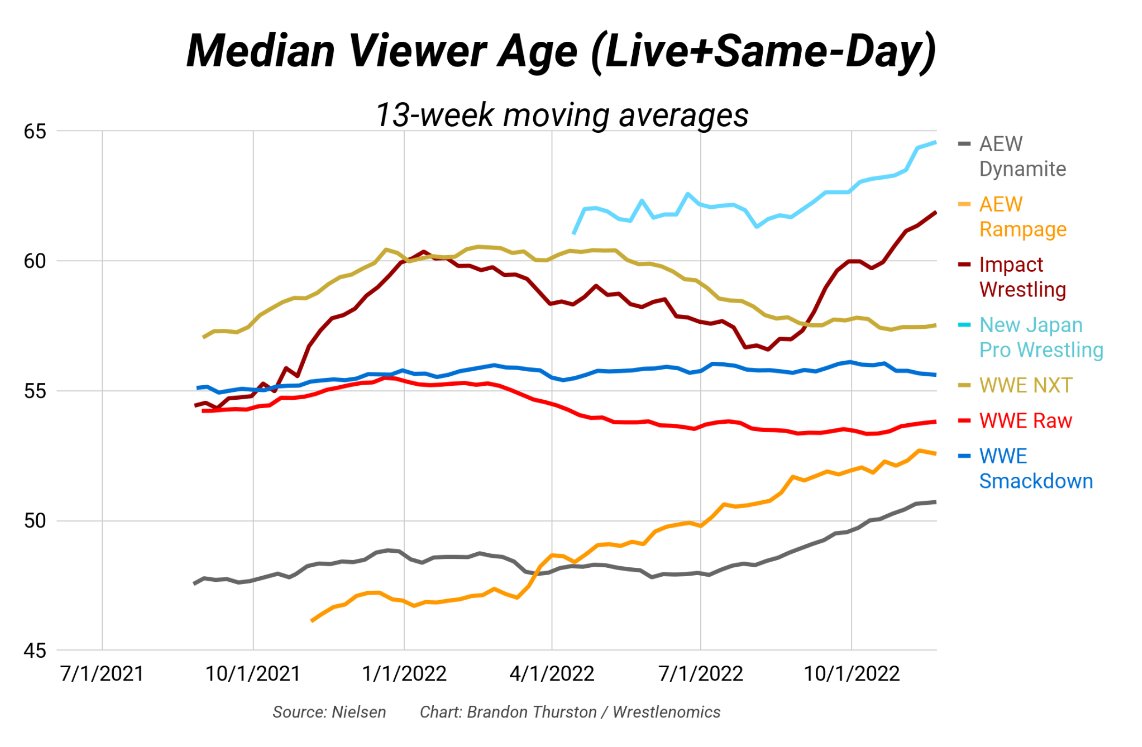 It's fairly detailed that AEW struggles when it comes to viewership for women and POC. As of the latest figures, only 13% of AEW Dynamite viewers are Black-American, while 12% are Hispanic. This, compared to 25% (Black) and 14% (Hispanic) for Smackdown viewers.
In fact, over 2021, both sets of viewership increase for Raw and Smackdown. Even if AEW scores higher in an overall favorability rating, they aren't hitting a nerve with POC.
Source: 
Race demographics in TV wrestling viewership: AEW is still behind WWE with Black viewers
It's a similar story for women's wrestling fans. When it comes to women, WWE still owns AEW. According to WWE's own figures, women make up roughly 40% of their viewing audience. When it comes to AEW, ratings demographics have women at a much lower 31% on average. Yet AEW scores higher overall in favorability ratings for women as well.
So what does this tell you? What could we possibly do to drive in more viewers in regard to people of color, and women of color? Perhaps a dedicated show?
–
Branding is More Important Than the Ratings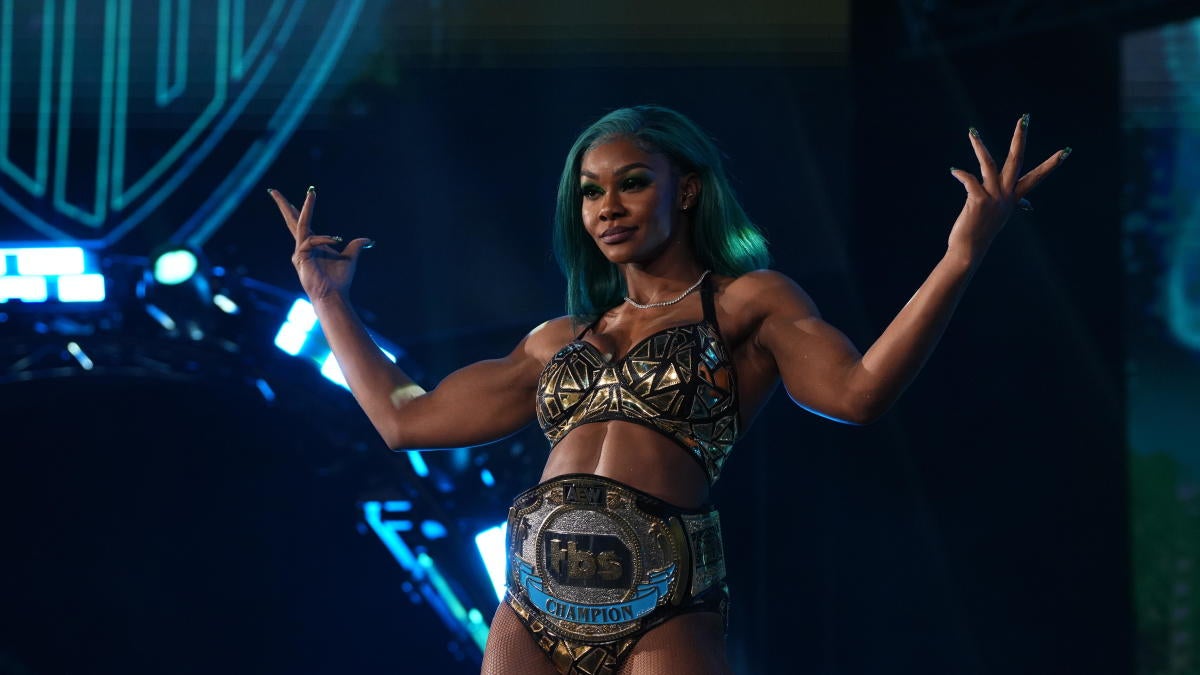 If Rampage sits right where its at, it's very likely they average that wide 300-500k window when it comes to ratings. Not bad for the timeslot, but also not impressive. At this point, you're likely not grabbing a new viewers with the show as it is. So how do you grow the audience?
How to you attract women's wresting fans and possibly POC?
You do something that NO OTHER major wrestling promotion has ever done; a weekly all-women's show.
And I'm not referring to SHIMMER, MPW, or even Women of Wrestling. I'm talking about a major wrestling promotion that is setting side an entire wrestling show strictly for women on a major network.
It's 2023 soon. Messages of inclusivity and women empowerment are not going away (nor should they). Turning AEW Rampage into an all-women show draws in more potential sponsors, great press, and overall, makes a statement on women's wrestling in 2023. The optics alone will print money when it comes to advertisers. 
We've been conditioned to believe that women's wrestling isn't important in AEW. This changes that narrative, and then some. Booking one women's match per Dynamite isn't going away; but that wouldn't be as bad if you're also promoting a few matches on a legitimately all-women show two nights later.
Ratings may drop a little — (there are a lot of gullible, misogynistic fans out there that look down at women's wrestling) — but to the contrary, I believe ratings actually might RISE.
Here's how:
–
Yes, We Can Book an Hour of Great Women's Wrestling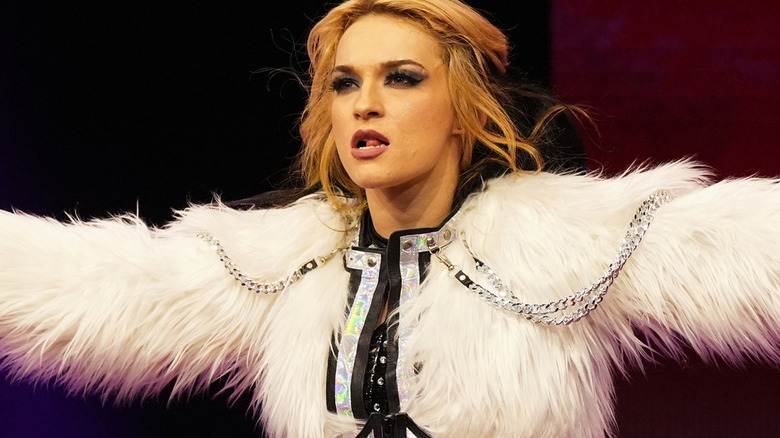 An argument against this might be some questionable fans might leave after a live Dynamite if they know it's all women coming up afterwards.
That's a load of crap for a few reasons:
There are still a generous amount of women in attendance at AEW shows.
Baker, Hayter, and Cargill are still high merchandise movers for AEW. The fans are there.
AEW fans are loyal as hell.
It's HOW you book the show is what matters.
Example Show:
-Main Event: Jamie Hayter (c) vs. Hikaru Shida (AEW Women's Championship)
-Penelope Ford & The Bunny vs. Willow Nightingale & Skye Blue (AEW Women's Tag Team Championships)
-Jade Cargill (c) vs. Ruby Soho (TBS Championship)
And this is without the likes of Britt Baker, Saraya, Kris Statlander, Athena, Thunder Rosa, Tay Conti, Anna Jay, Serena Deeb, Julia Hart, and recent former AEW Women's World Champion Toni Storm.
And while I'm skeptical, can you imagine if Mercedes Varnado (Sasha Banks) DID show up to AEW? 
With segments featuring other ladies sewn in throughout, does this show not look better, or even at the same level as an average Rampage?
This not only gives AEW women a true chance to shine on a weekly basis and grow their popularity with the fans — but makes a statement: women's wrestling deserves its own show on a major network in the United States. 
If Women of Wrestling can pull in over 200,000 viewers on AXSTV, then surely All Elite Women can do much, much more. The women's wrestling fans are there — both men and women — they just need a reason to tune in.
–
This is the Future of Women's Wrestling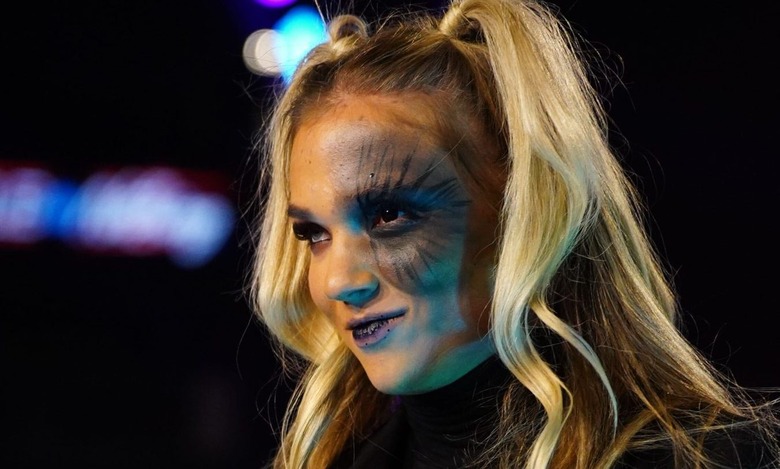 An all-women's show gives AEW an opportunity:
Not only to trailblaze the industry once again, but to possibly go after the lacking women's demographic, as well as a needed boost for viewership among other demographics. (Jade Cargill, Willow Nightingale, Kiera Hogan, Diamante, Red Velvet, Thunder Rosa, just to name a few…)
If word spreads that a major promotion has dedicated an entire timeslot for their women's division, I believe many will tune in. Having this exist in 2023 would be a true milestone in women's wrestling.
And also, why not try something different? So much has already been done in professional wrestling; so why not a weekly show dedicated to women's wrestling on a major network? And why not have it be AEW and Tony Khan that does it first?
Is it a gamble? Potentially, yes. But why not take a very low risk on something that could have a huge payoff?
AEW can single-handedly push women's wresting to the moon and create history while they do it. I know for a fact that I would go out of my way to tune into an all-women's Rampage on a weekly basis, much like I do with Dynamite. And I'm sure I'm not alone in that sentiment.
There are many women's wrestling fans out there — let's give them a place to go beyond waiting for a few short segments and one match per night.
-T5W
Hate mail: t5wrestling@proton.me