T5W: Having Fun With Predictions for AEW Full Gear
–
After a very weird 2022, AEW has the chance to gain some momentum going into 2023. Saturday's Full Gear is a truly stacked card from top to bottom, with the potential to be the show of the year. Let's just not do any media scrums this time, eh, Tony?
From the return of Saraya to a main event that could go a plethora of ways, wrestling fans should be in for an entertaining (yet long) night. That being said, why do the usual predictions as everyone else does?
Let's change it up and have some fun with it. Contrary to those miserable wrestling fans who enjoy trolling others more than the product itself, you CAN actually have fun with professional wrestling. Who knew? I won't just throw out my predictions, but alternate finishes, finishes nobody wants to see, and if Vince Russo booked this show…
So let's dig into this year's Full Gear.
–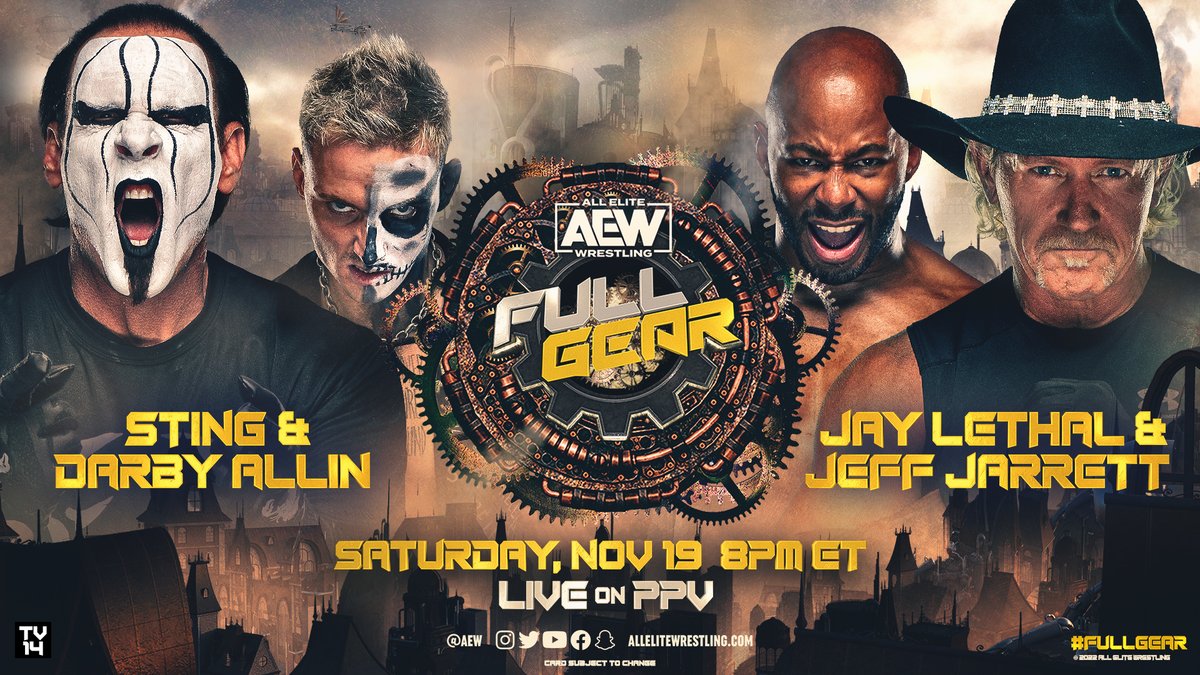 Sting & Darby Allin vs. Jay Lethal and Jeff Jarrett
Jeff Jarrett has been everywhere, hasn't he? Wrestling amateurs might scoff at Jarrett, but the wrestling historians know his importance to the industry. That being said, I'm not sure how I personally feel having this match if it doesn't lead to something bigger. Jarrett seems to be on a warpath to "kill" AEW (whatever that means), and it starts with Sting and Darby.
Everyone expects Sting to turn on Darby, but nothing was ever teased to set up as such. But that doesn't mean it won't happen. It is pro wrestling, after all.
I expect not Sting, but the Great Muta (who recently appeared), to turn on Darby, and for Sting to do nothing about it. He is teaming with Muta in Japan in January, after all. This leaves the door open for Sting to put over Darby in a separate feud on his way out of the business in a legendary career.
-Winners(s): Jay Lethal and Jeff Jarrett via interference from Great Muta
-Facepalm Finish: Sting turns on Darby only to side with Jarrett for no reason. 
-Vince Russo Finish: Darby turns on Sting to help Jarrett and Lethal. It's genius, bro.
-Alternate Finish: Sting and Darby pick up the win via DQ, Jarrett & Co. wreck the faces post-match
Jade Cargill (c) vs. Nyla Rose – TBS Championship
Seeing Nyla Rose finally have some fun is a wonderful site. She's funny as hell. However, this feud will ultimately lead to a Jade Cargill victory. Not that Rose isn't worthy of the title, but you really need someone new that will benefit from defeating Jade for this championship down the road.
Nyla is a former world champion, so she just doesn't need it. Jade picks up the win here.
-Winner: Jade Cargill
-Facepalm Finish: Jade's "baddies" help her win. This would make both competitors look weak.
-Vince Russo Finish: Even though Jade wins, Nyla never had the "real" TBS title at ringside (it's a prop, bro), unbeknownst to Jade, hence, she still has the "real" TBS Championship. Then get this, bro, Nyla then takes on Cargill's character as "That Native Bitch" Nyla Jade, and repackages herself. 
-Alternate Finish: Nyla Rose wins? Not terrible, but a head-scratcher. 
Jungle Boy vs. Luchasaurus – Steel Cage Match
Is anyone else ready for this feud to end? This has gone on forever. I don't even have much to say here — just please end this so Jack Perry can move on to bigger and better things.
-Winner: "Jungle Boy" Jack Perry
-Facepalm Finish: Christian Cage helps Luchasaurus win, meaning this feud will never end…
-Vince Russo Finish: Bro, In a SWERVE, it is now a reverse steel cage match. First wrestler to climb INTO the cage wins.  An injured Christian Cage in the cage is made to sit in the center…of the cage. It's a cage in a cage, bro. If Perry wins, he gets Cage all to himself. If Luchasaurus wins, he is presented with a porterhouse steak. 
-Alternate Finish: Luchasaurus wins clean. The crowd is confused and deflated. 
Wardlow (c) vs. Samoa Joe vs. Powerhouse Hobbs – TNT Championship
This had very little time to build, but who cares? These three big beefy boys will surely have a solid match. Wardlow and Hobbs will only benefit from working with a veteran like Joe. I don't see Joe winning here, as he'll be TV Champion heading into ROH's Final Battle in December (perhaps the "real" final battle if TK doesn't land a TV deal…).
Wardlow isn't dropping this belt anytime soon and it makes no sense for Hobbs to take the pin. A crazy prediction? Jun Akiyama gets in the way of Joe's win to setup a match at Final Battle between the two. Jun is in town, and they have history. Either way, it's smart to have Joe take the pinfall here, and keep a potential Hobbs/Wardlow feud going.
-Winner: Wardlow
-Facepalm Finish: Samoa Joe wins clean, thereby squashing any momentum Wardlow had.
-Vince Russo Finish: SWERVE! Wardlow and Joe team up to take out Hobbs and squash their beef, reuniting WarJoe. Then Bro, Hobbs becomes the face to chase a heel Wardlow. HEEL WARDLOW.
-Alternate Finish: Hobbs pins Joe to win the TNT Championship. This leaves the door open for a Hobbs/Wardlow feud to continue. 
Chris Jericho (c) vs. Bryan Danielson vs. Claudio Castagnoli vs. Sammy Guevara – ROH World Championship
As the BCC/JAS beef continues, color me a little bored with it. Don't get me wrong, these are great wrestlers and we all will be entertained by this match. 
But much like Perry and Cage, I'm ready to close the books on this one. However, this should (in my opinion) come with a finish worthy of the very long build in this faction war. I think you either give it to Sammy, who perhaps picks up a pinfall almost "on accident" — OR, you give it back to Bryan Danielson to carry on the ROH legacy.
Jericho has made a fun champion, but there's little longevity in a Jericho/ROH run without a TV deal. Time to end it and move on…
-Winner: Bryan Danielson
-Facepalm Finish: Jericho wins with predictable heel tactics and a baseball bat. 
-Vince Russo Finish: Bro, Sammy Guevara TURNS on Jericho, uses the bat on Danielson and Claudio and becomes new ROH Champion!
-Alternate Finish: Claudio wins the ROH Championship? It wouldn't make much sense, though…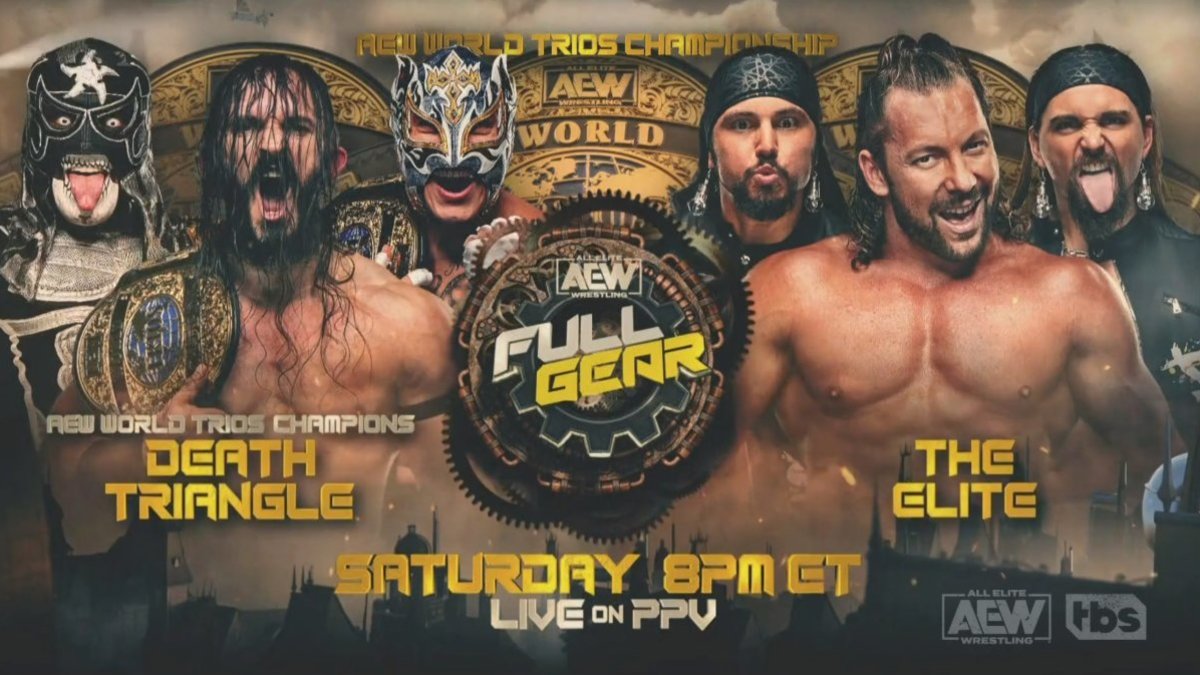 Death Triangle (c) vs. The Elite – AEW Trios Championships
Maybe I'm just a stupid AEW mark, but I am excited for The Elite's return! Kenny Omega is still the best wrestler in the world right now, and I will die on that hill.
That being said, I really hope The Elite lose here. 
Khan's booking style somewhat mirrors traditional puroresu booking, and in most cases, a returning talent from injury loses their first match back. Regardless if PAC has teased a heel turn or not, having Death Triangle lose immediately to The Elite makes their title reign seem very worthless. As if they were just placeholders until the "real" champions return.
There is much more story to tell if Omega and The Bucks have a triumphant return, only to lose their first match back. This is the perfect opportunity to turn heel on AEW itself; holding a level of resentment from ever having to be suspended in the first place — maybe even putting the blame on C.M. Punk and/or Tony Khan.
Please, do NOT hotshot the title back to The Elite. It's just not necessary yet.
-Winner(s): Death Triangle
-Facepalm Finish: The Elite win clean. 
-Vince Russo Finish: Bro, check it out. PAC turns heel and walks out mid-match. He is replaced by a mysterious wrestler in a mask. Who is it? After leading Death Triangle to an unexpected win, it's revealed to be BRANDON CUTLER. What is this betrayal? Bro, are you not entertained? 
-Alternate Finish: The Elite win, BUT, it's by straight CHEATING. This wouldn't be the worst thing to happen.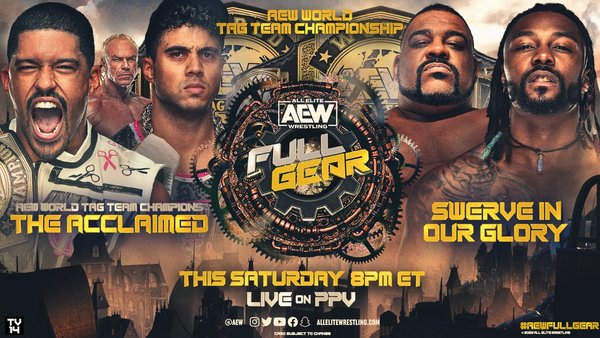 The Acclaimed (c) vs. Swerve in Our Glory – AEW Tag Team Championships
The Acclaimed are the hottest act in all of wresting right now. They aren't dropping the belts anytime soon. The question is how do they retain? Do they do it clean, or does the build of Swerve's slow heel turn cost them the match?
Strickland has a lot of potential as a singles competitor as an elitist rap mogul heel. They have sort of teased this already in weeks past, and they just need to follow through with it.
-Winner(s): The Acclaimed (by way of Swerve's turn on Keith Lee)
-Facepalm Finish: Billy Gunn turns on The Acclaimed to go back to his ass boys, costing them the championships. 
-Vince Russo Finish: Bro, there's a wrestler named Swerve? I don't know what to do with that, I need to go lay down. My head might explode.
-Alternate Finish: The Acclaimed just win clean? It's possible, but I have to believe something with Swerve and Lee is bound to occur. 
Dr. Britt Baker D.M.D. vs. Saraya
This is a legitimate feel-good story with Saraya's return to wrestling. That being said, much like the Elite, I kind of don't want her to win here.
Two things: One, a Saraya win sort of devalues the entire women's division. Baker is still the top dog, title or not, and here comes this veteran who hasn't wrestled in 5 years to beat her. However, booking Baker to go over with help from her friends is also kind of a weak finish.
It's not that a Saraya win would hurt the division, or Baker, but it's almost too predictable. Unless, it's at the hands of accidental interference caused by Rebel and Hayter.
A better finish that would make the wrestling world explode? Mercedes Varnado (Sasha Banks) makes her AEW debut by costing Saraya the match, re-igniting their feud from many years ago, and protecting both Saraya and Baker in the process.
A man can dream…
-Winner: Saraya (via interference by Hayter/Rebel that backfires)
-Facepalm Finish: Baker wins clean. 
-Vince Russo Finish: Bro, have Saraya "fake" her neck injury that temporarily stops the match, and leads to a quick roll-up when Britt is distracted. Saraya turns heel and Baker turns face. Bro, double turn!
-Alternate Finish: Baker simply wins with some help with her friends.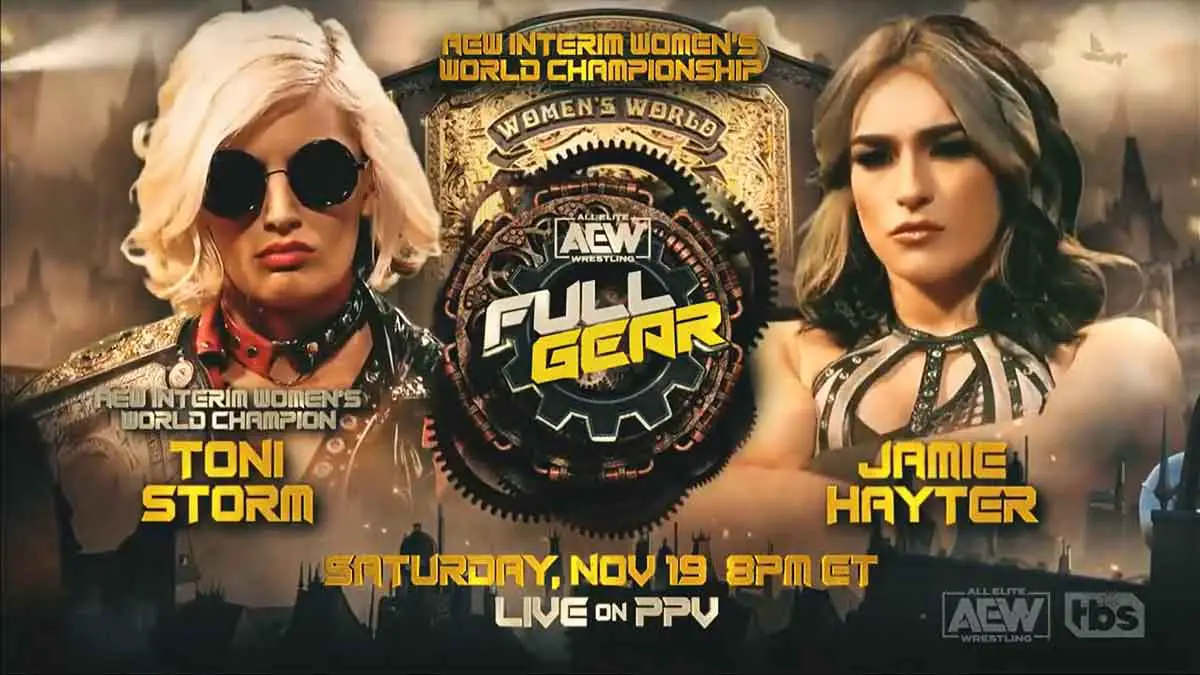 Toni Storm (c) vs. Jamie Hayter – AEW Women's Championship
This will be an interesting one. Jamie Hayter is slowly becoming one of the most over women on the roster. Khan should pull the trigger on Hayter, here.
However, Storm's recent comments have boiled down to the following two points:
-If she loses the interim championship, the title reign was pointless.
-Thunder Rosa should relinquish her championship if her injury persists.
These are two points I agree with.
Now the obvious finish will probably stem from earlier, if Hayter accidentally costs Britt her match, causing Britt to cost Hayter her match against Storm. This is FINE. Not great, but at least it gets the ball rolling on a much anticipated Hayter/Baker feud.
And you really can't book Storm to lose because it really will make her interim reign look a bit weak and hollow. But also, it's not great for optics for what will be a clearly over Hayter to lose to Storm.
What a fucking conundrum.
What would I do? Thunder Rosa comes out right before Hayter and Storm face off. She "relinquishes" her title by knocking out Storm with the belt, but leaving it behind. It's done. This is for the "true" AEW Women's Championship. However, with Storm injured prior, it carves a path for Hayter to win, protects Storm a little, and sets up a feud with Rosa. You can still have Britt enter the world title picture at some point if necessary. While I don't think this will happen, it's intelligent booking, and would go a long way.
-Winner: Toni Storm (via interference from Baker)
-Facepalm Finish: Storm wins clean over Hayter. No interference by Britt or Rebel.
-Vince Russo Finish: Bro, get Thunder Rosa into a match, grab some poles, and make this a "two belts on a pole match". But separate poles. The winner must grab one after the other or else they're reset. It's complicated, bro, but trust me here. The prettiest one wins, of course.
-Alternate Finish: Hayter wins with interference from Baker. The crowd is still happy here.
Jon Moxley (c) vs. MJF – AEW World Championship
Talk about a match with a "big fight" feel to it. There are many ways this could go, and not all of them are wrong. Now that it's announced that the AEW #1 contenders tournament is put on hold due to an injury to Ricky Starks, it almost benefits this match some.
As to say that if Starks went over, it sort of guarantees that MJF somehow wins and remains a heel. If Page wins, I could see The Firm turning on MJF, keeping the belt on Moxley, and having MJF work his way through the faction a la Hulk Hogan vs. Dungeon of Doom.
But seriously, we have a few ways to go with this:
-Moxley wins clean over MJF, who tried, and failed, to win clean himself. Because of this, he turns full on heel.
-The Firm ends up helping MJF win.
-William Regal turns on Moxley and gives MJF the brass knucks for the win.
-MJF wins by stealing Regal's brass knucks since he won't have his diamond ring.
-Jon Moxley is the one who "cheats" to defeat MJF, which disturbs Regal and pushes him to MJF.
…and this goes on and on…
But for the sake of character, MJF needs to remain MJF. His appeal as "The Devil" shouldn't end by turning babyface. It's just not fitting of his evolution. Therefore, I think he DOES win, but by using brass knuckles of his own, be it from Regal or not.
-Winner: MJF (via stolen brass knuckles)
-Facepalm Finish: Moxley wins clean. Nothing else happens. 
-Vince Russo Finish: Bro, William Regal needs to turn on Mox. It doesn't make sense, but NOBODY will see it coming, bro. This BCC he created? Whatever, it's just a faction, bro. MJF is your new champion. 
-Alternate Finish: Moxley wins by The Firm costing MJF the match. This does set up a few months worth of matches for MJF vs. The Firm. It's even possible that The Pinnacle reunites for this one. Not a terrible idea, but we can do better.
–
So there we have it. A packed night that will hopefully deliver some of the best professional wrestling of this year. AEW needs one back from the travesty that was 'Brawl Out'. The card is strong, and the possibilities are endless to setup well into 2023.
Khan may have to get a little tricky with his booking, but I'm confident that he can do it.
On that note, be nice to each other, don't be a dick, and enjoy professional wrestling this weekend.
-T5W