Should AEW Replace the TBS Championship With a Women's Tag Team Championship?
On March 17th, Jade Cargill was introduced to La Wera Loca herself, Taya Valkyrie. Finally, a formidable opponent for Cargill. She almost matches Jade's height; has a similar power moveset, and the experience to believably dethrone That Bitch.
While I'm excited to see Taya in AEW, this lingering part of me has to wonder: Is she just going to be another notch in Jade's belt? If so, can I then turn to the next logical booking scenario: The return of Kris Statlander!
Ah, yes, she should be the one to finally take Cargill out, right? Or perhaps we're not thinking big enough. Perhaps it's too late for this undefeated streak angle to have an appealing ending.
Yes, Jade is extremely impressive and has all the tools to become a megastar. This shouldn't be argued by any reasonable fan. But how many times as fans have we collectively sighed before a Cargill match because we know exactly what will happen? This has occurred so often, and often in lackluster fashion and build, that when the time does come for Jade to lose her first match; will the payoff become overshadowed by the extremely long wait?
Here's why the best move is to retire the TBS Championship, and replace it with AEW Women's Tag Team Championships.
–
She's Outgrown the TBS Championship
It's one thing for a talent to become bigger than the championship they hold. In most cases such a talent would drop their title to an up-and-coming star, and in some cases, move on to a more important championship. However, it's another when it's built into an undefeated streak. In this case, the undefeated streak has become bigger than the championship itself. And while Cargill has had good showings, she's not putting on 5-star classics in her contests to elevate the TBS Championship on match quality (or opponent quality) alone.
In other words, Jade Cargill has become more important than the TBS Championship itself. Through the annals of wrestling history, this is perfectly fine — but the match quality, and quality of wins, has to match the importance of character.
When I think of great championships reigns I think of Okada's IWGP Championship run in 2016-18. Bryan Danielson's ROH World Title reign from 2005-06. The AJPW Tag Team Championship dominance of Mitsiharu Misawa and Kenta Kobashi in 1993-95. Kenny Omega's AEW World Championship run in 2020-21. And of course, the current long-standing reign of Roman Reigns as WWE Universal Champion (as of this article).
These had quality matches and placed extra importance not just on the title, but the title-holder just as evenly, if not more so. Both the title, and the title-holder, need to be equally elevated. But in the case of Jade Cargill, I can't say the same.
In this case, her humdrum TBS Championship reign will automatically take away the magnitude of the moment for when she finally drops the belt and suffers her first loss.
It's almost a lose-lose. Unless…
–
The TBS Championship Becomes "Unsanctioned"
The FTW Championship currently held by HOOK is an "unsanctioned" title. This is similar to the WWF Million Dollar Championship introduced in 1989 by Ted DiBiase. Other examples include Zack Ryder's WWE Internet Championship, and James Storm's Beer Drinking Championship in TNA.
AEW is a young promotion. It's okay to make mistakes and changes here and there. In fact, to me, it seems kind of silly that the current TNT Championship still exists when AEW's flagship show airs on TBS.  But I understand that the TNT Championship has a special history attached to it (R.I.P. Brodie). However, it shouldn't eliminate the room for change entirely.
Example: The AEW International Championship is a huge step up from the All-Atlantic Championship it was before. So in regards to championships, why not keep shuffling the deck until you get a good hand to play with?
I say Cargill refuses to face Valkyrie unless it comes with the stipulation that she never has to challenge for the TBS Championship again if she wins. And then…she wins. She retires the TBS Championship, and perhaps later revived as an unsanctioned belt for future storylines.
So we're back at one women's championship? Well, no, not if you read the headline of this column…
–
Enter the AEW Women's Tag Team Championships
If I put this idea out to the universe over and over, it'll eventually happen, right? Isn't that how it works?
Back to Jade for a second, though. In my opinion, she has better potential matchups with the likes of Jamie Hayter, Kris Statlander, Britt Baker, The Outcasts, etc. — than she does with a rando slew of AEW women's low/mid-carders. It's time to stop protecting Jade. She will only get better when paired with top talents.
In regard to the AEW Women's Tag Team Championships: Yes, you have the numbers now.
Alliances have formed over the months/years, and it wouldn't be hard to create a small division with a handful of women's teams.
-Saraya & Ruby Soho
-Britt Baker & Jamie Hayter (this also serves as a future plot device for tension between the two)
-Anna Jay & Tay Conti (JAS)
-The Bunny & Penelope Ford
-Willow Nightingale & Skye Blue
-Julia Hart & Abadon (sorry — fantasy booking that pair)
And have we forgotten Mercedes Monè and Trinity Fatu are both available to AEW if desired? What better way to come full circle with their departure from WWE than to crown them as first AEW Women's Tag Team Champions?
Now take everything written above and compare it to a random Jade Cargill storyline where she bulldozes another opponent. Which would you rather have? 
–
Going Home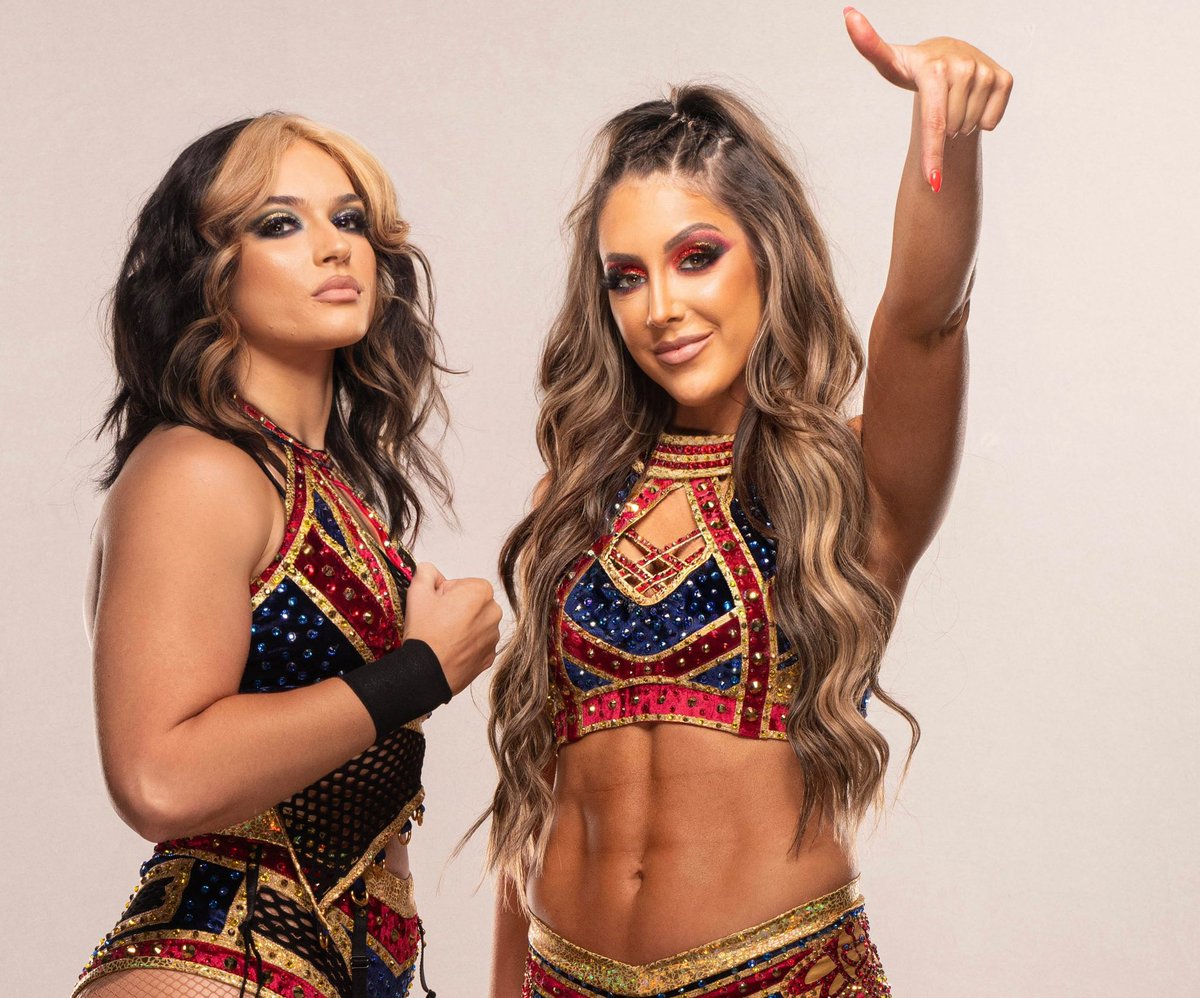 There are more advantages than disadvantages here for a women's tag team division. You give the women more time working with one another, which is much needed. You, by the numbers, put more women on television; and you create opportunities for future storylines with the alliances/teams in the division.
The house show circuit exists to achieve a level of familiarity and in-ring practice with your co-workers. This mentality can be shifted onto television with the right veterans at the helm at the beginning of this division.
It's time for Jade Cargill to step into the main event picture. The TBS Championship simply doesn't mean as much as it did when first introduced. While not entirely her fault, she hasn't elevated the championship enough for it to be a desirable belt in AEW. It's been 14 months and running that Cargill has been champion, and it doesn't seem like fans really care when she loses her belt anymore. Unfortunately, many fans have become indifferent to it.
Retire the TBS Championship. Jade has earned that title as the first and last champion. She has bigger and better things to move onto. All in the same, so would the women's division as a whole with new tag team titles introduced.
-T5W
email: t5wrestling@yahoo.com