ViRTUE's RAGE: In Defense of CM Punk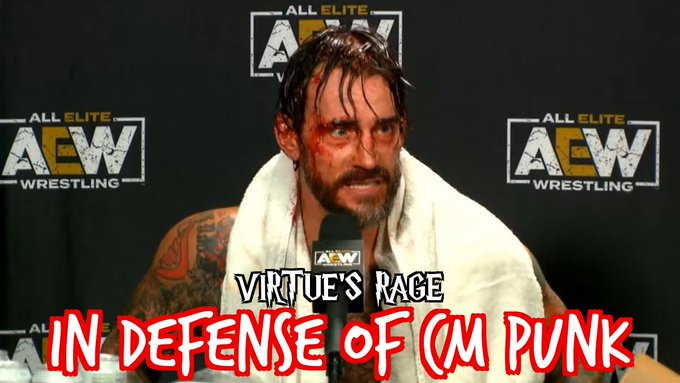 Is CM Punk a perfect human being? Probably not because nobody is. Over the past year, I have been very critical of him since his debut in AEW. I called him a master carny on Twitter when he first debuted in AEW. He had the crowd in the palm of his hand while tears of joy filled the United Center in Chicago. Although I did not directly Tweet him, next thing I know, he had me blocked. Oops! I remember the CM Punk that elevated himself from the watered-down WWE version of ECW to headlining PPVs with the likes of John Cena, Brock Lesnar, the Rock, Chris Jericho, and the Undertaker. CM Punk became a top main eventer because he was able to be himself and say things most wrestlers would not be able to say. The fans ate it up and WWE continued to grow globally and evolve towards the streaming era. Business was good, money was good, but CM Punk became burned out and unhappy. Then abruptly in early 2014, he decided to get out of wrestling. This article is not about what he did outside of wrestling during that time. This is about what went wrong during the last few months of his first year with AEW, and who is really to blame.
It is hard for CM Punk to respect all his peers, especially when Adam Page was the one who started the unprofessionalism in the first place with his promo leading into their match at Double or Nothing. This recent debacle in AEW is hardly just CM Punk's fault. It should be more pinned on the management structure within AEW, which includes Tony Khan and the EVPs in place. By the way, there are multiple people with decades of experience in the business who have pointed out this scenario.
If CM Punk is guilty of anything, it is lowering himself to the likes of Adam Page for retaliating in the same manner while the cameras were on. I do not recall any of the top main event stars CM Punk has worked with calling him out for unprofessionalism over the years, which is a plethora of individuals. The pattern of animosity towards CM Punk always seems to be the younger, underneath talent he works with. He left WWE after working there for eight years because he was burned out and sick of the politics and pay structure change. I find it ironic that wrestlers like Steve Austin, John Cena, Brock Lesnar, Randy Orton, and others have been known to politic their way into staying at the top, but when CM Punk tried and became unhappy, he was considered a disgruntled employee. Get real.
I could be that person that says CM Punk has crossed into the threshold of the AEW cultists' sanctuary and exposed its rotten core. However, I do not think that is fair to AEW and Tony Khan because there actually is some good to come from the company. I understand there will always be growing pains and mistakes that can be learned from. This entire debacle should be one of those learning opportunities. Nobody other than the people involved know if CM Punk tried to handle things privately with Adam Page and the EVPs first before he started shooting in public. Because of this, we need to assume CM Punk tried to handle things privately but was unsuccessful and got beyond frustrated and did what he did. Tony Khan is wealthy enough he can hire professional mediators to come in and sort this all out and then set proper boundaries for everyone involved. However, is Tony Khan smart enough and humble enough to do that? It seems unlikely. If the EVPs and their buddies on the AEW roster became jealous when CM Punk came in to take their spot away, they need to get a reality check because CM Punk is a proven commodity and does help sell tickets and merchandise, ala Bryan Danielson. Its not like we are talking about Bobby Fish or Kyle O'Reilly here.
I find it interesting that some of Cody Rhodes' comments from Rhodes to the Top before his departure from AEW feel like the same vibe as some of CM Punk's recent comments. But since Cody did not air the dirty laundry while the AEW cameras were on, he has seemingly become a hero, while CM Punk has become a villain. Remember Cody Rhodes, a former EVP in AEW who was a major contributor in building up the AEW brand? I remember. His departure from AEW back to WWE was the first major sign that perhaps not all is well with AEW management. In defense of CM Punk, this should not be dismissed.
It was not too long ago that many people said CM Punk would never come back to wrestling. During year seven of his hiatus, I wrote an article on NoDQ about how he was patiently waiting. Later that year, he returned and debuted in AEW. However, shortly after his AEW debut, something just seemed off to me. It was almost like he was already having doubts that he returned. Perhaps he was already smartened up to the potential drama he would eventually have to deal with backstage. The fact some AEW wrestlers have talked about star ratings from Dave Meltzer in their promos on television is even more reason for CM Punk to go rogue. Why would any wrestler do that? Yikes.
A lot of CM Punk detractors are going to point their fingers at how Colt Cabana was weaned off AEW television after CM Punk's arrival, specifically in 2022, and how he was delegated to the Ring of Honor brand. Um, Colt Cabana is a former ROH wrestler, so why would Tony Khan not do that? It makes perfect sense. A job is a job, and Colt Cabana is still working for a billionaire. Anyone blaming CM Punk for trying to get Colt Cabana fired is absolutely eating up dirt sheet inuendo and rumors. If CM Punk really hated Colt Cabana that much that he wanted to get him unemployed, then that is exactly what would have happened. But it did not. Screw that conspiracy. This is ultimately what led to CM Punk legit breaking the fourth wall down in AEW at the All Out scrum. He even briefly mentioned that he attempted to take care of things privately, but to no avail.
As for CM Punk's recent injuries. Well, he seemed to be okay up until midway through 2022 with the freakish foot injury. I would like to point out that AEW has had a rash of injuries ravaging their roster, which is most likely due to the style of wrestling today. Remember, CM Punk often worked hurt and sick in WWE. He seems like a very reliable wrestler since his WWE days. Regarding injuries, he did suffer a serious injury against Jon Moxley at All Out. Since this was the case, why was CM Punk even doing the scrum after the event to begin with? He should have been getting medical treatment and Tony Khan could have covered for him since Tony loves to be in front of the camera. I am pretty sure most doctors would agree that anybody who suffers a major injury would most likely be susceptible to being irritated and could potentially become overly emotional immediately following it. No coincidence we witnessed CM Punk appear to be overly emotional and highly irritated during the scrum. The dude was absolutely spent from his match and thus a perfect storm was created.
In my final defense of CM Punk, the timeline clearly suggests he did not start shooting on camera until after his foot injury, which was after Adam Page cut the promo leading into Double or Nothing. That shows there was more than enough time given to Adam Page for Page to privately clear the air with Punk, but that obviously did not happen. CM Punk detractors would suggest he waited until he held the AEW World Championship because it would put him in a stronger position and give him more leverage to be able to get away with shooting on camera. Those detractors obviously fail to realize that CM Punk is a professional and if he was not, he would have given Adam Page the receipt right in the center of the ring leading up to Double or Nothing, which would have jeopardized that entire PPV. Multiple injuries, lack of professionalism by the EVPs and their friends, and lack of leadership by Tony Khan ultimately led CM Punk to snap at the All Out scrum. Thank you for reading, and I look forward to your engagement with me on this topic. Agree, partially agree, or disagree?
Twitter: @NoDQ_Virtue