Hey TK; Get Your Ducks in a Row
Writer's note: This is my last article for quite some time. From Going Broadway, to THS and OMC — I've had a few 'gimmick' changes. It's all been me; the long jaded wrestling fan that looks for gold in the alternatives.
 But in short, my personal life (in a good way) has taken away some of the time I would normally contribute to this hobby. So trolls will just have to get their final shots in now…
This is a lengthy article, so let's dig in.
–
All Elite Wrestling is still pretty good. However, the writing is on the wall for their inevitable decline if Tony Khan doesn't act soon. There has been a bit of a shift in the wrestling world. McMahon's retirement, Levesque's ascent, and the return of some familiar names to WWE's second biggest show of the year.
AEW isn't in any trouble, by any means; but Khan needs to open his eyes a little. There are three reasons why, simply put, AEW needs to watch their asses.  I AM going somewhere with the first reason — just bear with me…
–
#1 Vince McMahon (kind of) Ruined Pro Wrestling
"The other promoters made fortunes in their own areas, but they didn't want wrestling to be that big, to be publicly traded, to be on the 6 o'clock news every night and on the cover of every magazine, because that would have exposed the business, brought scrutiny. Everybody would know, especially with social media in the modern day, what the f*ck was going on. They weren't going to do that, because they wanted to keep their ability to make their money in their territory for the next 20 f*cking years." – Jim Cornette
As Cornette alluded to, McMahon took professional wrestling out of the territory system. He created competition when there didn't need to be competition. When McMahon raided the territories in the early 80s which ultimately led to 'Black Saturday', he began the process of sullying the industry.
He would then take over the WTBS Superstation timeslot and replaced longstanding favorite, Georgia Championship Wrestling, with uninteresting squash matches featuring WWF superstars from his own promotion.
Ratings tanked.
While Jim Crockett would eventually buy back the timeslot from McMahon (which would become World Championship Wrestling after being bought buy Ted Turner), the damage was already done.  McMahon created this competition when nobody wanted it, and in doing so, created a target on his back.
Imagine if McMahon never made this greedy move? Perhaps smaller promotions such as WCCW or AWA never end up folding due to mounting competition from McMahon's WWF? Nobody can be as big as McMahon, so why try? He essentially cornered the wrestling market.
Food for thought, what if McMahon never bought WCW in 2001? He didn't need to…
But what ended up happening? McMahon conditioned mainstream fans for nearly two decades that wrestling was supposed to "look" a certain way. He was able to do so because WWE was literally the only mainstream show on television. This is what happens when you have a monopoly over the industry.
When no viable alternatives exist, it spits in the face of what professional wrestling was supposed to be, and glosses over the many different forms that pro wrestling can take.
If you think about it — if McMahon never creates competition when nobody asked for it, and never buys WCW in 2001; perhaps AEW doesn't even get to exist…
–
So what does this have to do with Tony Khan?
Everything. But first, it's time to play the game…
#2  Time to Create The Game
NXT was really, really good. In fact, we are already seeing noticeable changes on Raw under Paul's creative direction, and fans are responding well. Unlike Vince, Mr. Levesque still has a good pulse on the modern wrestling industry.
Combine that with high production values and a still loaded roster, and WWE could again become something great. Even though I'm ultimately skeptical, as he still has a network, shareholders, advertisers, and his more powerful wife to answer to.
Time will tell if he can turn the ship around…
From this, we must agree on something: AEW benefited from WWE's poor creative direction over the last decade. Raw and Smackdown had become so bad that thousands of fans continued to find alternatives in New Japan, Ring of Honor, Impact, and the Indies. These jaded fans (including myself) would eventually become diehard AEW fans.
But these jaded fans, while loyal, still want great wrestling at the end of the day. If they can get it from WWE on a greater level than one weekly Wednesday show (Rampage still doesn't feel big), fans might slowly tune out of AEW — diehard or not.
In other words, McMahon's product was never going to be legitimate in the eyes of pure, diehard, wresting fans. However, Levesque's version of WWE might just be. All of those former WWE fans who were jaded might just start to take interest in this new direction.
Are you paying attention, TK? This means you actually have competition now…
#3 A(imless) Elite Wrestling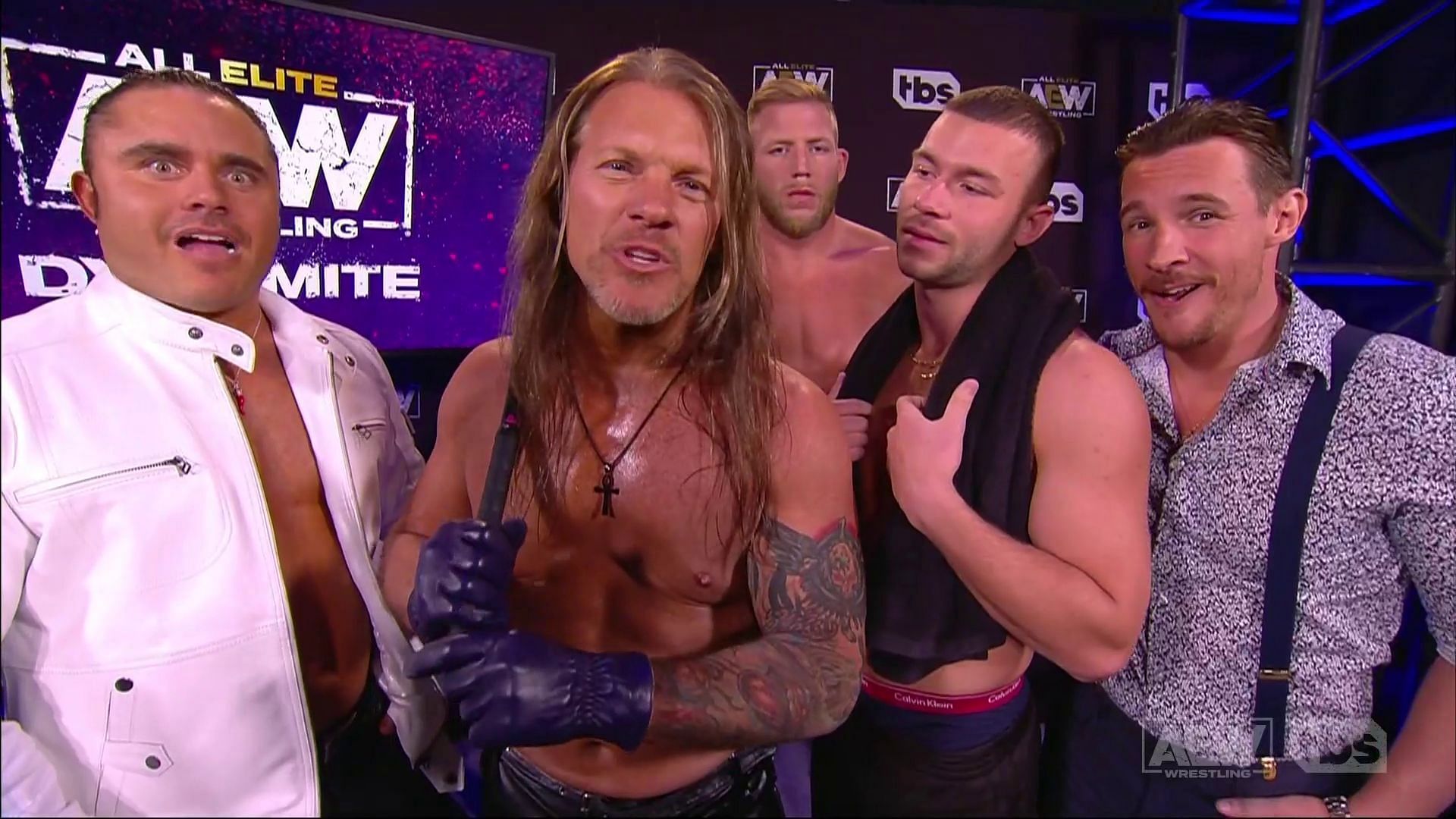 AEW is Adrift…
Chris Jericho is a legend. His JAS stable is fun, and Daniel Garcia, Sammy Guevara, and Anna Jay should be major players in the future. That being said, I was kind of over JAS a week or so after it formed. I can't really decide whether to take it seriously or not, and they take up a LOT of TV time right now.
C.M. Punk (THE WORLD CHAMPION)  is still out, and we don't know what his status is just a month out from AEW's biggest show of the year. The Jericho/Moxley feud feels a little forced because nobody else seems available in Khan's eyes, perhaps?
Unfortunately, some of the biggest and most over stars in AEW right now are not really even being used right now.
Why?
"Hangman" Adam Page is now adrift again, and this MJF worked shoot story needs to have a pay off SOON. Eddie Kingston is insanely over right now, and isn't currently in any programs. Wardlow has been oddly absent. We've seen flashes of Miro, but it seems like once a month at best.
The best tag team in the world (literally) FTR — hasn't challenged for the AEW Tag Team Championships for some reason — even though they are over like rover right now, and ranked #1 in the division. Swerve Strickland and Keith Lee deserve their belts, and they're great, but FTR is on another level right now.
Kris Statlander still gets widely cheered, but we never see her on television all that much. Willow Nightingale remains unsigned, and Julia Hart has become a gem to watch (IF YOU WATCH DARK). Both receive sizable reactions  from the live audience and have tons of momentum which is being wasted…
–
Speaking of the women…
Thunder Rosa has had banger after banger during her championship reign, but almost zero story to make many fans invest in it. The same can sort of be said with Jade Cargill, but along with zero story, she's had zero legitimate competitors. Toni Storm, Hikaru Shida, Britt Baker, Jamie Hayter, Serena Deeb, and The Bunny are all really over — yet are doing little to nothing right now.
Unless you consider the piecemealed Anna Jay/Ruby Soho mini-program (their match on Rampage was great, by the way); I'm going to write this in CAPS…
THERE IS (STILL) NOTHING HAPPENING IN THE AEW WOMEN'S DIVISION RIGHT NOW.
No major storylines, no proper challengers for either champion, nothing that makes me go "Man, I can't wait to see what happens on Dynamite in the women's division."
I can only hope the Baker/Hayter/ThunderStorm match leads to SOMETHING. Perhaps Jade Cargill finally gets a LEGITIMATE challenger. MAYBE TayJay is the start of a women's tag division that will force alliances and more storytelling…
But I'm at the point of nearly giving up and just keeping an eye on what the WWE women are doing…
–
Thumbs Up…
The only saving graces in AEW when it comes to must-see storylines has been Hook's rise, the Hobbs' heel turn on Starks, and what's brewing with Jungle Boy and Christian Cage. The Blackpool Combat Club is based as hell, but also stand without a fierce opponent and feud. As mentioned, I just don't take JAS seriously…
(A BCC/House of Black feud seems more realistic in my eyes.)
Danielson is back, but at what cost? Omega, Punk, MJF, Cole — All Out (but not in the way we want) And this this is the point:
Nothing feels big in AEW right now. They need a major storyline.
This is a huge problem for AEW's future if Levesque's WWE is as good as what fans think it could become. AEW is still very watchable from a purist standpoint. Every week fans are treated to great wrestlers having some really good television matches.
But in this day and age, good wrestling alone isn't enough. And it's not as if many AEW fans are likely to stop watching just because WWE has a new creative direction. I randomly tuned into Raw last night and almost had a seizure during the Styles/Ciampa match due to the incessant quick camera cuts (and then turned it off).
But the more "nothing major" continues to happen in AEW, the more fans are likely to see what's going on under the Levesque reign.
GOING HOME
AEW is still really good. Please don't get that twisted. I still think it's the best wrestling promotion on the planet, and the future is still very bright.
But it's as if the AEW ghost of Cody Rhodes is currently haunting the promotion.
Not that Rhodes was a major player. In comparison, Moxley, Danielson, Omega, Punk, MJF, Cole, and even arguably Page (for the AEW crowd) were more over than Rhodes ever was. But in 2022, AEW's biggest storyline (aside from MJF/Punk) has been Cody Rhodes leaving for WWE.
That's not good.
I hope I'm wrong. Deadass wrong. I wish this week's Dynamite to be this amazing program filled with major storylines that perfectly setup All Out and beyond. Regardless, I'm still likely going to enjoy it no matter what, and I've still got my tickets for All Out in Chicago this year.
But as WWE starts to gain momentum, AEW needs to deliver a few major storylines to cement their place in the current landscape.
TK, PUSH YOUR DARLINGS. GET YOUR DUCKS IN A ROW.
Take your most over talents and feature them in every segment and match. Create a major storyline(s) within the women's division worth talking about. Let's generate that AEW buzz again that will get fans talking.
Or please just hire a booking committee, eh?