Debunking 7 Common Misconceptions About AEW
While this isn't the only "AEW Myths" article in existence, I feel like there needs to be an updated version.
So let's debunk some common misconceptions about All Elite Wrestling. I will do this through the wonderful use of logic, facts, and numbers. For the sake of this article, I will aim to stay as neutral as humanly possible. ( As most readers can judge my wrestling taste on the very logo I use for my articles.)
Yes, I am an AEW/Stardom/New Japan nerd. 
But it isn't hard to explain away some of these weird, and quite frankly, untrue narratives about AEW. I won't get to all of them; but if folks want to see a part 2 — I would be happy to provide as such. With that, let's dig in…
–
Misconception: Tony Khan Makes Too Many Announcements
"Jacksonville Dixie" some have called him. There is a narrative that Khan simply makes too many announcements — which by default are hit and miss. His most recent being the announcement of AEW's first U.K. show to be held at none other than Wembley Stadium in London. All In will no doubt become bigger than its predecessor, 2018's All In from Chicago.
I think most reasonable people can agree that for a young company, this announcement is a big deal. AEW does well in the U.K. in TV ratings,  and while I'm not expecting a sell out of a stadium that can seat 90,000; the show should draw in really good numbers. This is their first-ever show outside of the United States.
But here's the larger point: 
For a young company that is immediately seen as the #2 to WWE; you need to celebrate your milestones. While you risk letting down a number of fans if the "huge announcements" don't deliver; I think most reasonable people won't lose sleep — or even feel the need to cause a stir — if it didn't live up to expectations.
Major Announcements have been a part of wrestling since Wrestling From Marigold back in 1949. Sure, WWE would have likely sent out a press release or had Corey Graves announce a Wembley show in between matches.  But AEW simply isn't the 60-year-old, publicly traded, corporate conglomerate that WWE is.
Khan is simply doing what many wrestling promoters have done since its very inception: hype the product — and a still very young product at that.
And if we check the numbers, Khan makes maybe a handful of announcements in any given year. It's not really that much in comparison to a 52-week calendar year. It's just that a lot of naysayers make more of a big deal out of the announcement (mostly in a negative way) than need be.
Most of his announcements deliver; (Ring of Honor purchase, Forbidden Door announcement, All In at Wembley). And some don't. It's life — you can't please everyone. But I appreciate Khan's announcements because that means something quite noteworthy is happening in the wrestling promotion I enjoy. So if you're a fan, this is pretty cool to see such growth.
But can we stop acting like Khan is out there literally every week making a "huge" announcement? He's really not, and the narrative is getting blown way out of proportion.
–
Misconception: AEW Signs Too Many Ex-WWE Talents
I want to remind everyone that McMahon and WWE has had a monopoly on the business up until late 2019 for over 20 years. By default, WWE was the only place to work for top talents. So yes, when AEW came around, it's natural that they would swipe up talents that used to work for Titan Towers.
That being said, let's check the numbers…
The current official AEW roster has 143 wrestlers listed on it. 36 of those talents are talents that have worked in WWE prior to AEW. That equals roughly 25%. (If my math is correct)
25 percent. That's all. 
And out of the 10 current title holders, only 4 (FTR/Black/Murphy) are former WWE employees. And with that, those 4 are in trios/tag teams. There are no current singles champions that were former WWE talents. So that should settle that false narrative, right?
But what about how former talents have been used?
–
Misconception: Ex-WWE Talents Have Been Wasted
Well seeing that FTR just won their second AEW Tag Team Championship last night, you can tell where this is going. The House of Black have been dominant as Trios Champions so far. Jon Moxley, Chris Jericho, and Bryan Danielson have either held championship gold — or have been highly featured in marquee matchups in AEW's short history.
Moxley is currently in a high profile angle with his BCC mates against "Hangman" Adam Page and (eventually) Kenny Omega + The Elite. Jericho looks to have started beef with Adam Cole. Christian Cage is managing Luchasaurus. Saraya has started The Outcasts stable in AEW, and Toni Storm is a former AEW Women's World Champion. Ruby Soho has had a handful of high profile matches. Athena is current Ring of Honor Women's Champion.
On the flipside…
Miro has been offered an angle as of recent, but turned it down. Andrade was given plenty of chances on TV, and received a mostly "meh" response from fans. That's not Tony's fault. Big Bill has been underwhelming, and Swerve Strickland needs more to do to reach his potential. I won't go into detail of every ex-WWE star, but suffice it to say, many have found success in AEW, even if some haven't.
Larger point: Not everyone can be world champion at once. Not everyone can have top-tier feuds all of the time. Not everyone can be utilized to the best of their potential. This happens historically in all wresting promotions. 
Besides, if Khan only featured ex-WWE talents, wouldn't he be then accused of not pushing his originals? You can't have it both ways.
Regardless, let's put this misconception to rest. These are simply pro wrestlers that want a place to work where they can be paid well and have creative fulfillment. We don't need to use an "ex-WWE" label. It's honestly just a regressive black and white mindset to exist in.
–
Misconception: AEW Has an Unsafe Working Environment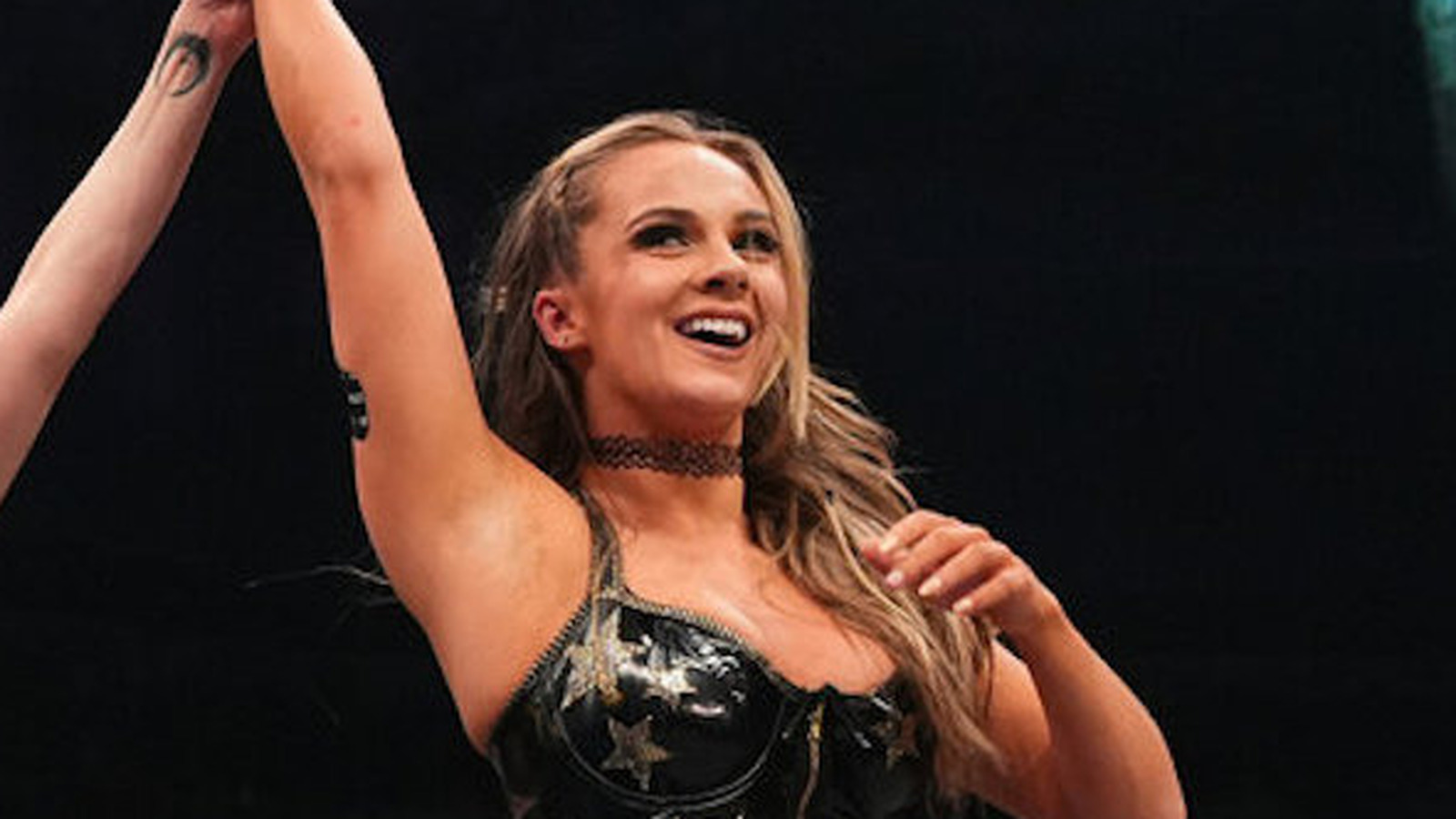 Anna Jay is healthy again, by the way…
Let's jump right into this by looking at the numbers…
Current number of WWE injuries: 17
Current number of AEW injuries: 15
Well, then. It seems like more wrestlers are out of action in WWE than AEW right now.
It's easy to accuse AEW of being an unsafe place to work because Khan isn't afraid to go there with blood and guts. But as Scott Steiner has said: "The Numbers don't lie."
I find it amusing that so many who accuse AEW of an unsafe working environment still applaud the equally as violent Attitude Era during the 90s, into the early 2000s. Measurably, yes, AEW talents take more risky bumps than WWE talents. I won't deny this at all. But does that make it "unsafe"?
Accidents happen, as we saw with Edge and Finn Balor at Heck in a Cell at WrestleMania. And that was a simple ladder to the face, which Finn simply didn't protect himself well enough for. We've seen much crazier bumps in AEW with zero injuries from it at all.
WWE has a very formulaic style of in-ring wrestling, which is generally safer. AEW combines multiple styles that often results in a higher-risk and often stiffer in-ring product. So while it may seem unsafe — most spots aren't detrimental to the performer's safety. Again, accidents happen; be it a concussion during a match to the likes of Adam Cole and Adam Page — or tragic landings that result in a broken bone as is the case recently with Dante Martin in Ring of Honor.
But it's not like AEW wrestlers are getting injured in droves. Both AEW and WWE talents work through nagging injuries and appear on and off the injury report from time to time. Judging by the numbers, nobody can reasonably make a determination that AEW has an unsafe working environment. "high-risk" doesn't mean "unsafe"; and at all times, these are calculated risks taken by professionals.
–
Misconception: They're in Ratings Trouble
Let's take a look at TV ratings in any given date in 1998: (Week of November 8th, to be exact)
ER, Friends, Touched by an Angel, Frasier, and The X-Files — nostalgia. Combined, they were viewed by nearly 100 million people. ER topped the week off with over 28 million viewers. And while Monday Night Raw pulled in a healthy 5.9 million viewers, Nickelodeons' Rugrats raked in 5.1 million viewers that same week.
Do you know what the highest rated network television show was on the week of Monday, March 27th, 2023? Young Sheldon at a whopping 7.1 million viewers.
Let that sink in.
The top rated shows in 1998 were pulling in massive TV ratings. The top show in 2023 would be ranked over 40 rows from the top in 1998, nestled in between Dawson's Creek and Charmed. What does this mean?
In 1998, more people were watching television with less channels available (when accounting for cable). In 2023, less people are watching television with more channels available. Not to mention cord cutting services like Sling and Fubo, DVR, YouTube, and the dominance of subscription streaming services.
Of course ratings across the board will be lower. How Americans watch television has drastically changed over 20+ years. So what I find amusing is that folks often hold AEW to this weird arbitrary "1 million threshhold" — as if that's the pinnacle. Most Top 50 cable shows don't crack over 1 million these days — and many of those are from cable news programs. Many don't even crack above 500k.
So is AEW's average 800-900k per week measurably good in today's television climate? It 100% is. Nobody should expect them to compete ratings-wise with WWE's average of 1.4-2 million per week. So wait, is Warner Brothers Discovery happy with AEW?
–
Misconception:  AEW is on Thin Ice With Warner Bros./Discovery
Let me ask you this:
Warner Bros. Discovery has been cutting programs left and right since their merger. Shows are getting cancelled, HBO Max is losing content, greenlit projects are getting axed.
So how does it make any sense that WDB is unhappy with AEW when they've just given them a new reality show (All-Access) after Dynamite; AND a coming Saturday show as well? Clearly, WBD is happy with AEW's current product, as well as their current TV ratings.
If they weren't happy with their ratings or output, would they be giving them more airtime?
I don't even have anything else to add to this one. C'mon people, use your brains.
–
Misconception: All Flips, No Fists, No Psychology
The numbers don't lie: 7 out of the 10 current title holders in AEW are either technical or power wrestlers. 
I have no problem saying that AEW performs a lot more high spots than their competition. Sometimes these high-risk maneuvers can be unnecessary. But do you know what? It's not that important. 
At the end of the day, I just want to see cool wrestlers do cool shit. Sometimes that comes in form of super-duper high spots, but sometimes it comes in-form of just hard-hitting old-school wrestling. We tend to see all of it in AEW on a weekly basis. Is it just a hyper-focus on the "flippy" stuff that creates this weird narrative?
And as I've mentioned before — there are many different ways across many wrestling cultures to tell a story. No one right way is "correct". Style has no influence on the story in a match, and how the story is told may look different to multiple viewers. There are plenty of examples in AEW of good in-ring psychology, and it happens more than one would think. But if the focus is only on the style and the high spots — then you're watching for the wrong reasons.
But you would actually have to watch. I reckon that a large number of those creating these false narratives aren't watching the product on a weekly basis, and definitely aren't invested in it. It's hard to take their "criticism" seriously when the ones making it have an inherit bias against it.
–
Going Home
How does one define success? For many wrestlers it's the ability to perform their craft with a certain level of creative fulfillment and freedom. This is the larger appeal of what brings a lot of talent to AEW in the first place.
AEW is successful. The TV ratings, the new programs, the continued financial success — they are a successful company. But it seems like those who simply don't like AEW try to pick at it and find things wrong with it — which leads to a LOT of misconceptions.
Like what you like — I won't lose sleep if a wrestling fan doesn't like AEW. However, when false narratives are created from that dislike, it does becomes potentially damaging to the AEW product, and the overall sport of pro wrestling — and its fan base.
So please, let these false narratives go. They aren't correct, and they just add unnecessary fuel to the ongoing tribal flame wars between fan bases.
-T5W
t5wrestling@yahoo.com