AEW All Out 2022: Matches and Predictions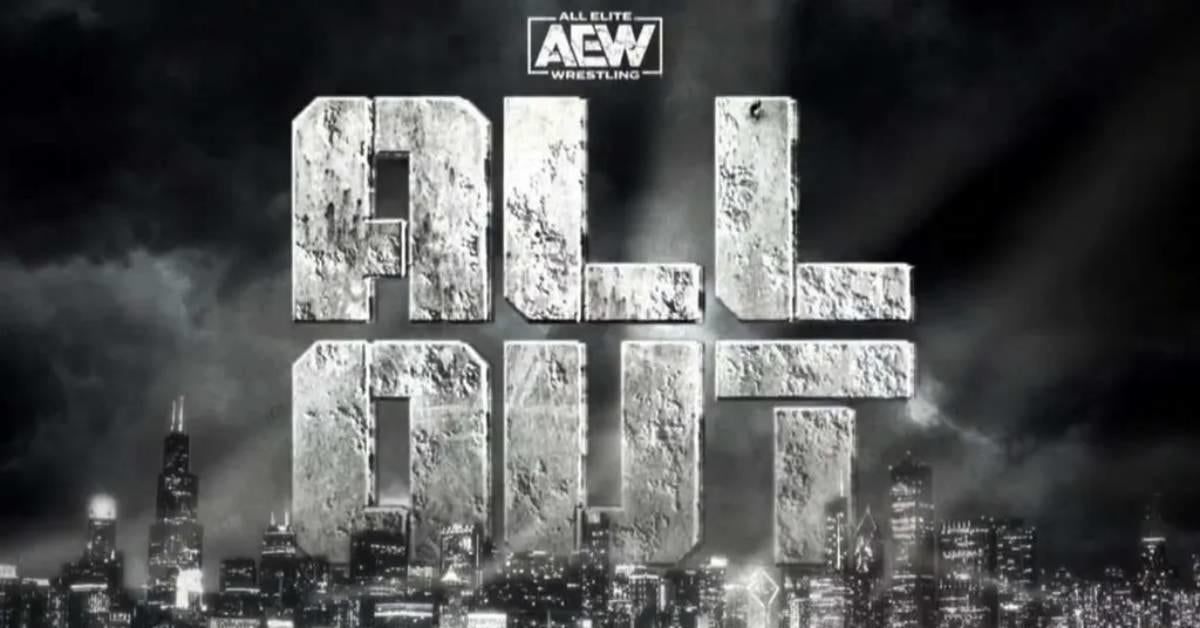 AEW All Out 2022 will be…interesting.
While I can admit that the show hasn't had the greatest build-up compared to prior years, the event still has the ability to be one of the best of the year. As with any new company (yes, compared to WWE and many others, AEW is still pretty brand-new), there will be growing pains. This has led many to believe that for some reason, AEW is on a downward spiral to the end.
They said the same thing about TNA nearly 20 years ago, and they nowhere near had the star-power, finances, exposure, and TV deals that AEW currently has.
However, with the backstage changes implemented by Tony Khan, some beefs being squashed, and a stupidly full card, AEW has the opportunity to get back on track after Sunday.  With that, let's dig in.
–
Pre-Show Matches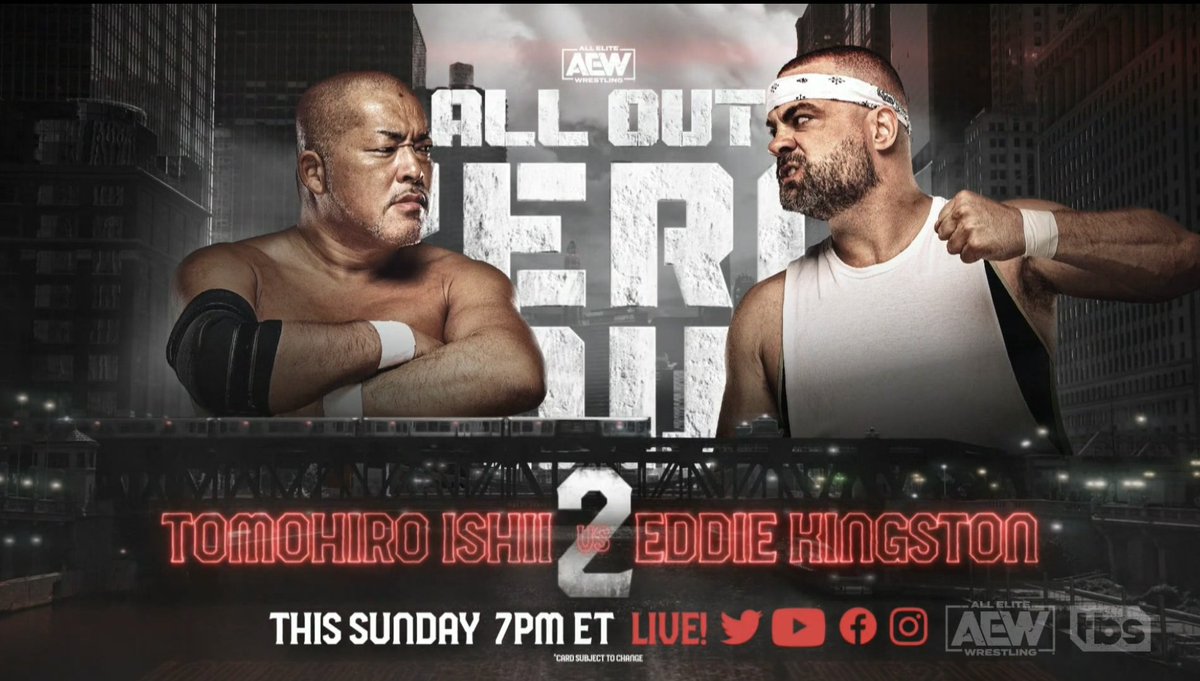 Tomohiro Ishii vs. Eddie Kingston
Who will win: Eddie Kingston
Who should win: Eddie Kingston
History: Ishii and Kingston first squared off at New Japan's Capitol Collision on May 14th, 2022 in Washington D.C. After a hard-hitting affair with LOTS of chops, Ishii came out victorious.
If you like classic Puroresu, you're going to like this match. I can see these two square off for a third time either on Dynamite, or in Japan for a future NJPW event. Don't sleep on this match; for anyone fans who don't know who Ishii is, they're in for a treat.
---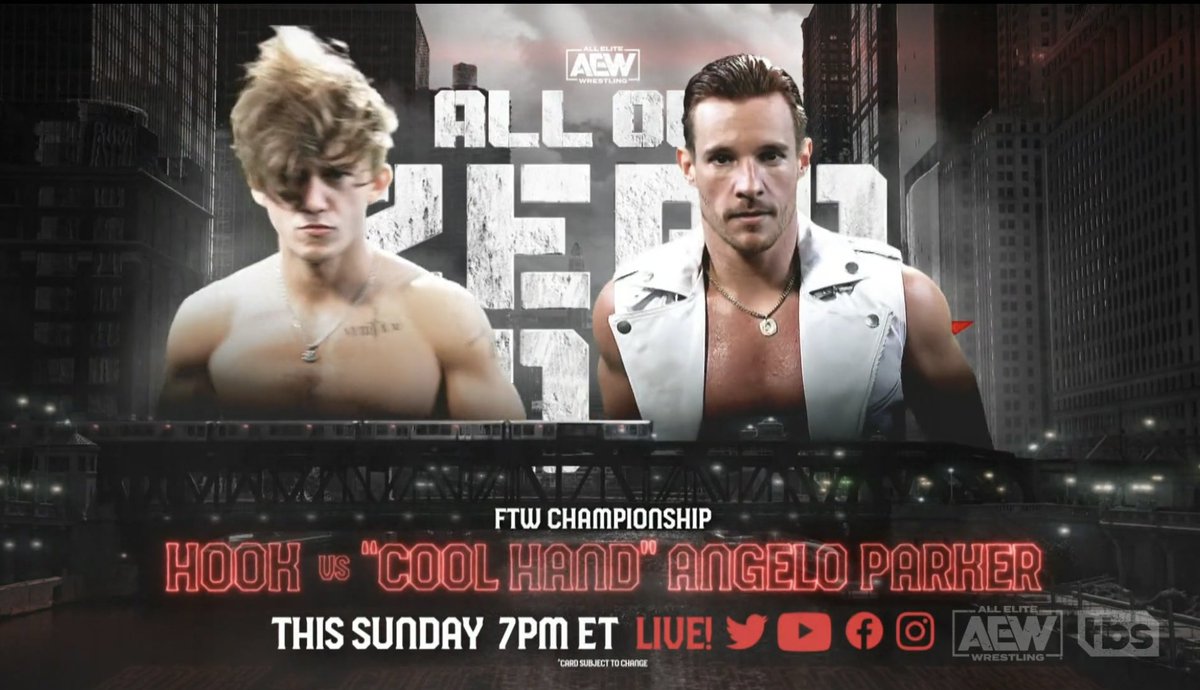 Hook (c) vs. "Cool Hand" Angelo Parker – FTW Championship
Who will win: Hook
Who should win: Hook
History: Parker and Menard have been an annoyance to Hook over the past few weeks, and well, that's really it. Which is fine; Hook is still in the stage of being well protected while still looking very dominant over his opponents.
Expect a very quick, yet enjoyable, Hook victory here.
---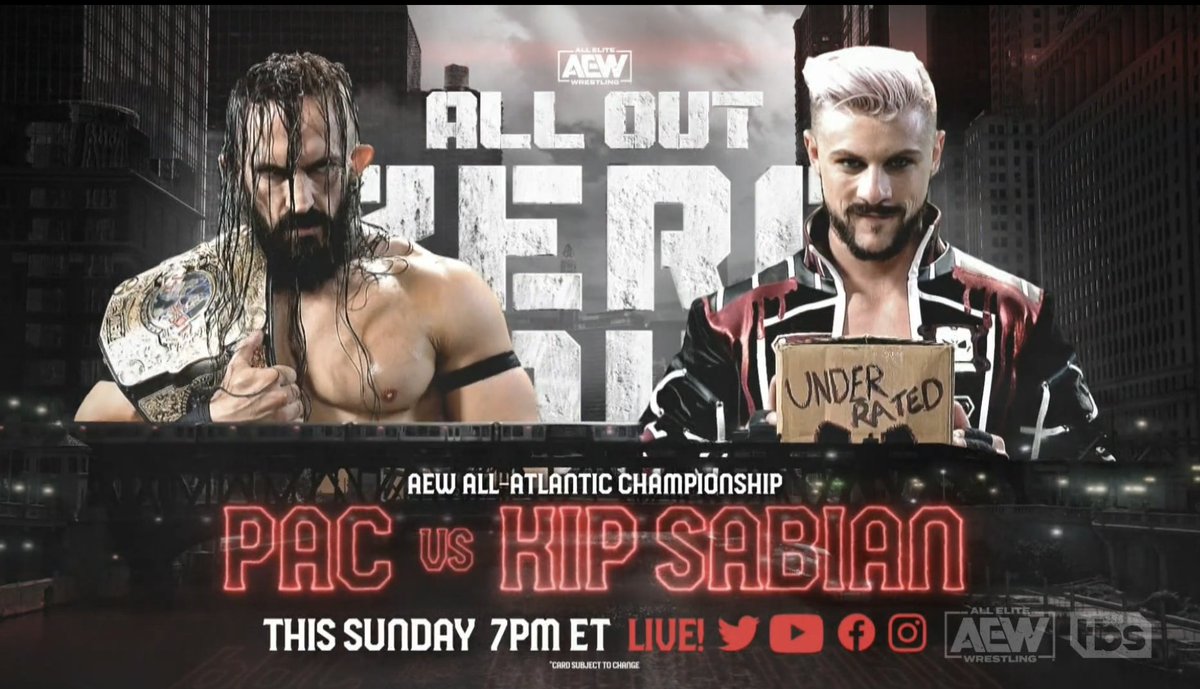 PAC (C) vs. Kip Sabian – AEW All Atlantic Championship
Who will win: PAC
Who should win: Kip Sabian
History: Sabian has been wearing the "Underrated, Over it" box on his head for nearly a year now after being wrecked by Miro in April of 2021. As of recent, Sabian had been following PAC around and showing up in-person (in-box) for his title defenses. On the 8/24 Dynamite, Sabian revealed himself and attacked PAC, thereby setting this match up.
Lest we forget, Kip Sabian is very, very good in the ring. While I don't think TK will take the title off of PAC so quickly, I don't believe it would hurt him if he lost to Sabian.  Even if through heelish and dastardly tactics, Sabian returning with a championship victory would be a greater benefit than losing his first match back.
–
Main Show
---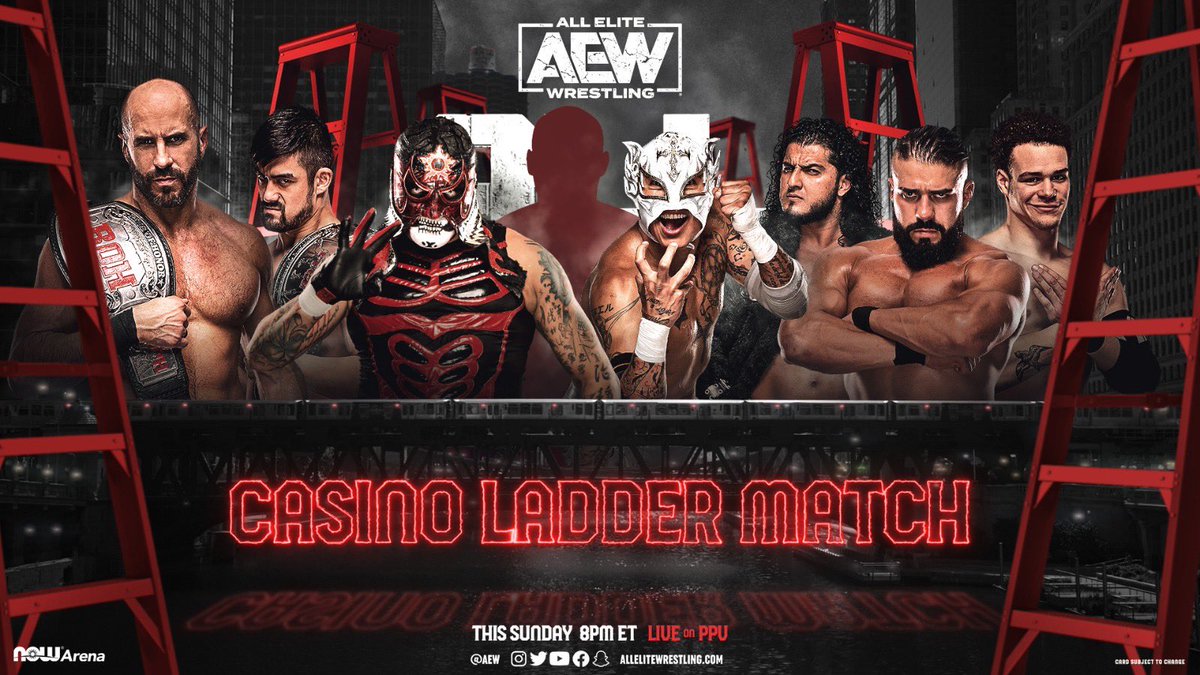 Ladder Match for AEW Championship shot: Claudio Castagnoli vs. Rey Fenix vs. Rush vs. Dante Martin vs. Andrade El Idolo vs. Penta vs. Wheeler Yuta vs. a mystery entrant.
Who will win: Dante Martin or Adam Cole (mystery entrant)
Who should win: MJF
History: None. It's a #1 contenders match.
Yes, everyone might THINK MJF is going to be the mystery participant. In a booking sense, this would be fantastic. MJF wins a future championship shot to either cash in the very same night, or hold it over everyone's head in his return. But my gut tells me that this simply won't happen.
That being said, Dante Martin is a solid choice to win if not the mystery opponent. While he's not ready to win a major championship yet, it only keeps his momentum going to face an opponent like Moxley or Punk in a future show. Martin is one of many young stars this company will need to build moving forward.
But in all reality, I think it will be a returning Adam Cole. he's due for a return, and SHOULD be in the world title picture anyway. He's my pick outside of announced participants.
---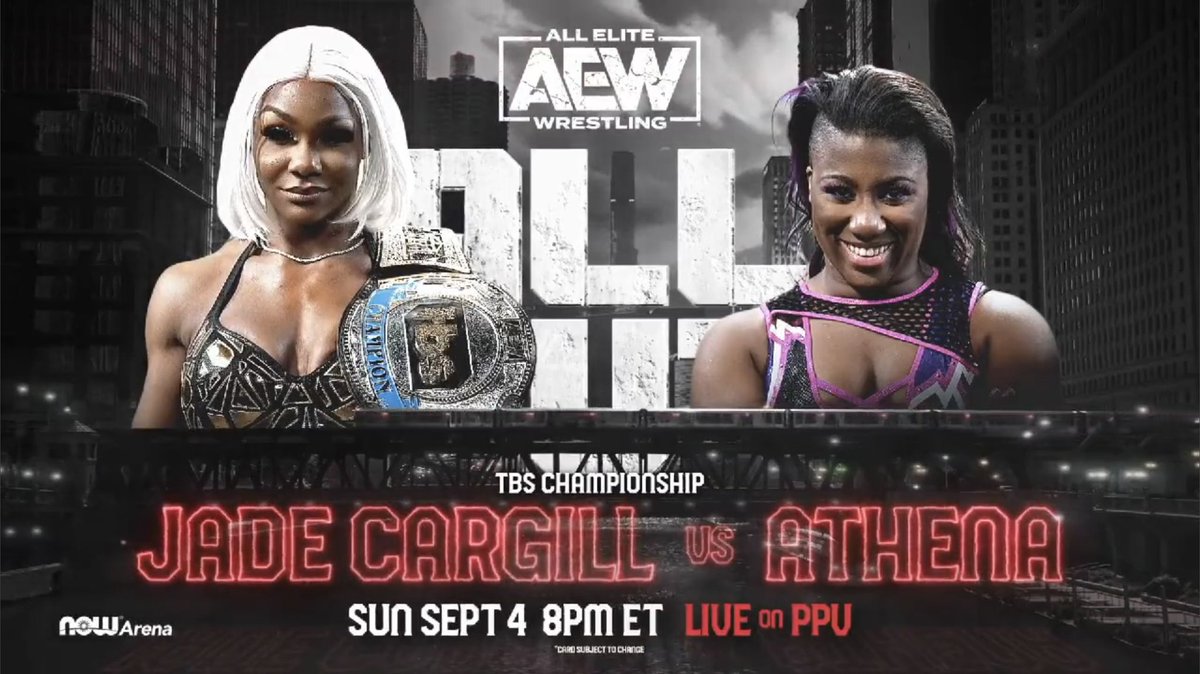 Jade Cargill (c) vs. Athena – TBS Championship
Who will win: Jade Cargill
Who should win: Athena
History: For months now, Athena and Kris Statlander have been in a feud with Jade's "baddies". With Statlander now out due to injury, as well as Red Velvet, this match sets itself up.
It's not that I think Athena SHOULD win the match, but rather, who is left for Jade to defeat? Yes, you want someone Jade can drop the title to that will give said young talent a boost. However, nobody in the women's division really fits that bill at the moment. Athena's win leaves a fresh set of opponents to challenge for the TBS Championship, and frees up Cargill for a future AEW Women's Championship feud down the road. But something tells me this simply won't happen yet.
---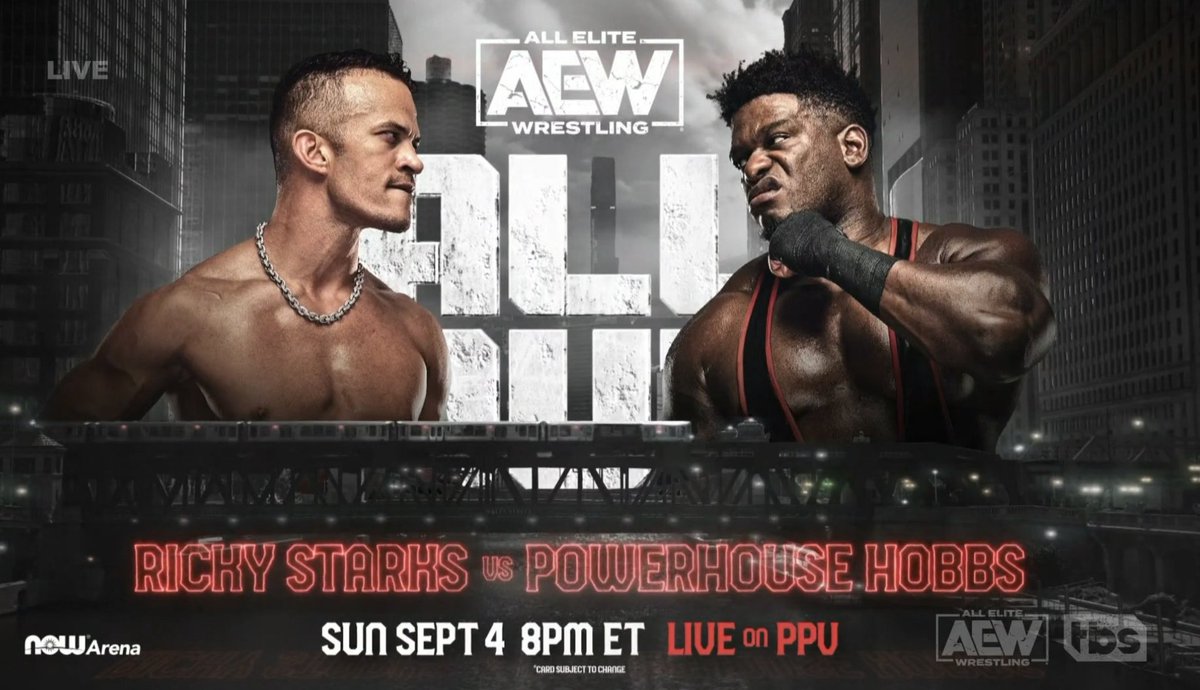 Powerhouse Hobbs vs. Ricky Starks
Who will win: Powerhouse Hobbs
Who should win: Powerhouse Hobbs
History: After literal years together as a part of Team Taz, Hobbs hit his breaking point after Starks lost the FTW championship to Hook. In a surprise betrayal, Hobbs clobbered Starks in the back of his (once injured) neck a few weeks ago on Dynamite. This sets up this grudge match between two former friends.
Let's be honest — both of these dudes could be future main eventers; sooner than later. Let's also be clear: Starks doesn't need to win this match. This is a case where the heel needs to go over and look strong. AEW needs good heels to give Wardlow some legitimate competition for his TNT Championship; and a monster Powerhouse Hobbs vs. Wardlow at Full Gear could tear the house down.
Future booking aside, creating sympathy for a babyface Ricky Starks in a loss with a 'powerful' performance by Hobbs will only strengthen both competitors in the end.
---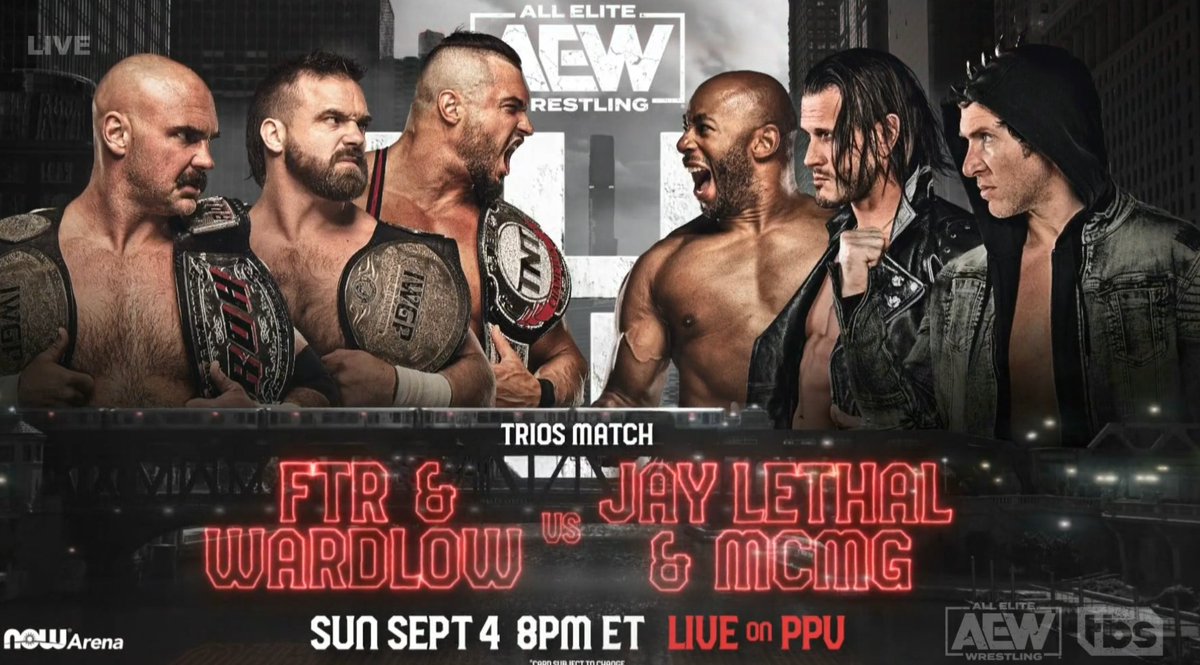 FTR & Wardlow vs. Jay Lethal & Motor City Machine Guns
Who will win: FTR & Wardlow
Who should win: FTR & Wardlow
History: None. ¯\_(ツ)_/¯
Let's face it; Khan dropped the ball a little here with FTR and Wardlow. You have three of your most over faces and you have basically nothing to do with them. Don't get me wrong; I love the Motor City Machine Guns in this match, and I think they're one of the best tag teams in the last decade. An FTR/MCMG match down the road would be nothing short of incredible.
But with that, this was pretty hastily thrown together. I don't expect anything more than the faces to come out victorious in a match to appease the live crowd.
---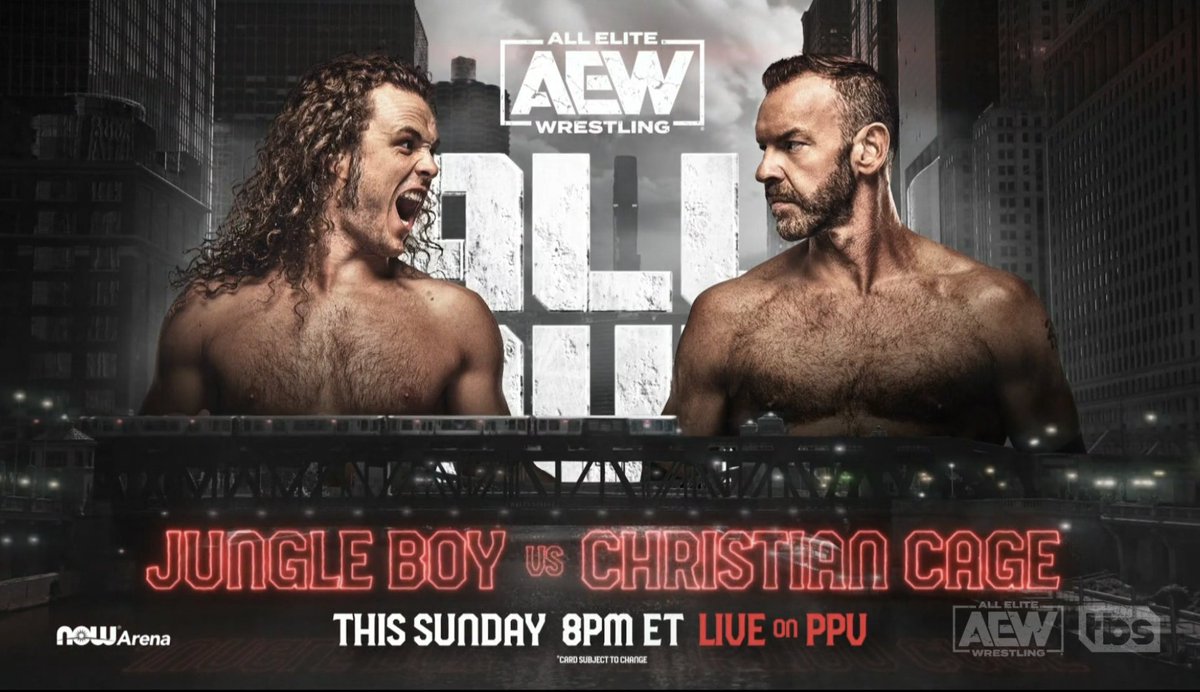 Jungle Boy vs. Christian Cage
Who will win: Christian Cage
Who should win: Jungle Boy
History: After long managing the former AEW Tag Team Champions in Jungle Boy and Luchasaurus, Cage would turn his back on "Jungle Boy" Jack Perry on a June 15th episode of Dynamite. After Luchasaurus seemingly sided with Christian in Perry's absence, it would be revealed that in the end, Luchasaurus is still loyal to Jungle Boy. After Christian Cage and Jungle Boy have now publicly traded a slew of personal potshots, this match promises to be one of the more emotionally driven contests of the night.
I want this feud to end, and for Jungle Boy to pick up the W, and move on to bigger and better things. This is a future star in the works. However, I don't think we're getting that at All Out. I think we're getting the Luchasaurus double-turn, as he will finally reveal his ultimate true colors and cost Jungle Boy the match setting up a long-winded road to redemption for Jungle Boy culminating at Full Gear. This wouldn't be a bad story, and I support the storyline overall — I'm a sucker for long-term booking —  but more of me feels that Perry just needs to move on as a future major player.
---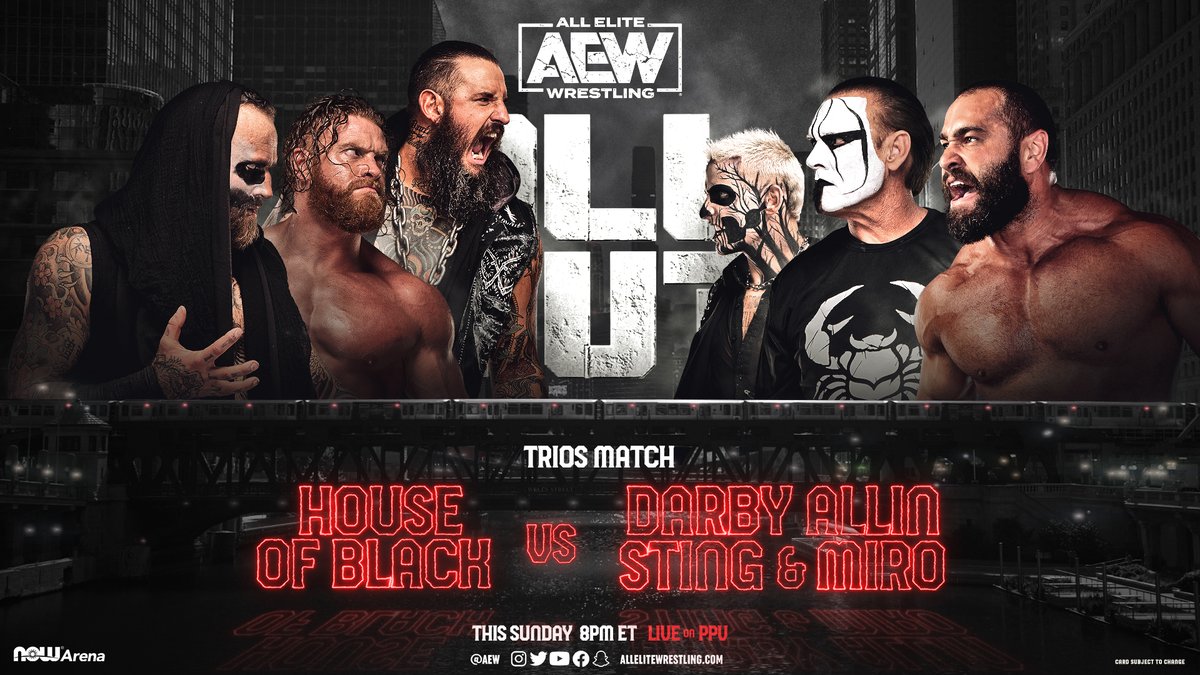 House of Black vs. Darby Allin, Sting and Miro
Who will win: Allin, Sting, & Miro
Who should win: House of Black
History: This has been a feud months in the making from multiple mini-feuds. From Brody King's 7/2 victory over Allin in a Battle Royal, to their coffin match — to Black's black mist spat into the face of Miro in late June – to the same black mist spit into to the face of Sting. Sting now wears a dark spot on his face paint similar to what Julia Hart had for some time. These six are all very talented, and should put on a hell of a match.
So why do I think House of Black should get the W? I'm biased, and Malaki Black is my personal favorite. Other than that, I just want this stable to gain some momentum moving into 2023. While it's possible Sting "turns" on his teammates due to Black's mist; it's also a bit late in his career for character change. Miro and Black need wins more than anyone, and as long both look strong, perhaps a clear-cut winner isn't as important here.
---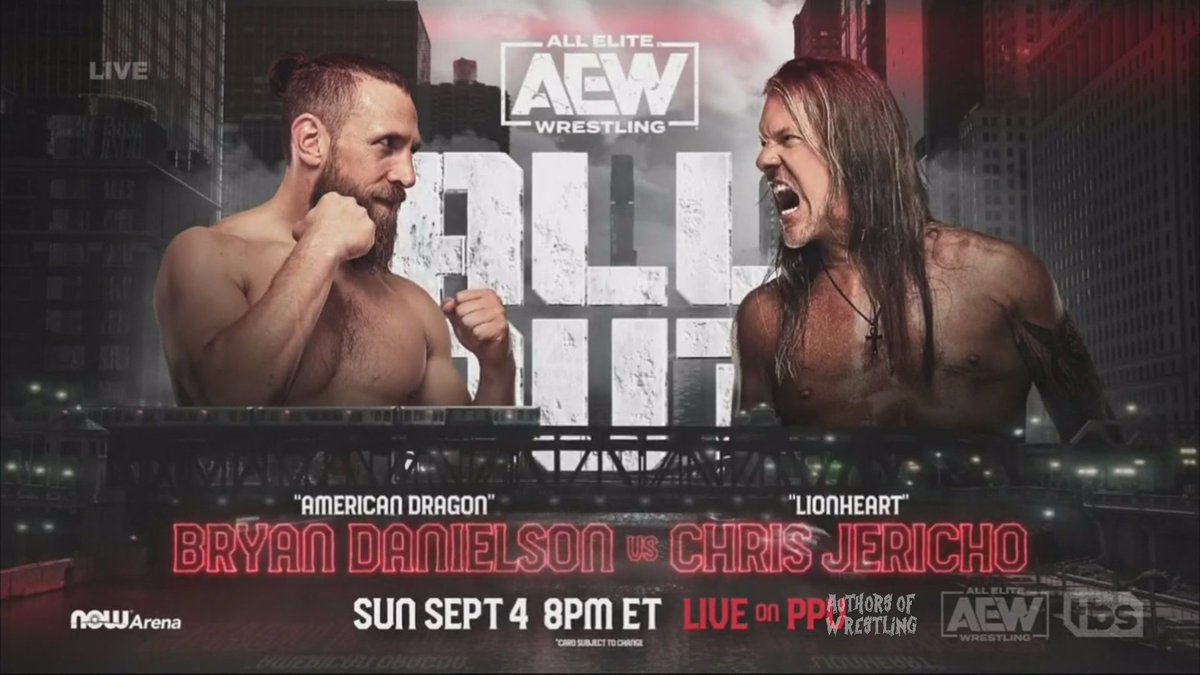 Chris Jericho vs. Bryan Danielson
Who will win: Chris Jericho
Who should win: Chris Jericho
History: Danielson's Blackpool Combat Club and Jericho's Jericho Appreciation Society haven't been getting along for months now. This match stems from their Blood and Guts match on the June 29th Dynamite. After Danielson took some time off due to the match itself, he faced JAS's Daniel Garcia in his return match. Garcia surprisingly defeated Danielson, which setup a second match between the two, which resulted in a loss for Garcia.
However, after gaining the respect of Danielson, the "American Dragon" referred to Garcia a "wrestler" and not a "sports entertainer". Garcia's loyalty between Jericho and Danielson has been teased for weeks now going into this match.
The bottom line is this: Daniel Garcia makes a better heel than a face. Like many young stars in AEW (Starks, Perry, Allin, Hobbs, Guevara, Wardlow, Hook, etc.), Garcia has a spot in the same conversation. But he's just a natural heel; at least in this point in his career; which is why he will cost Danielson the match in the end and remain a heel.
---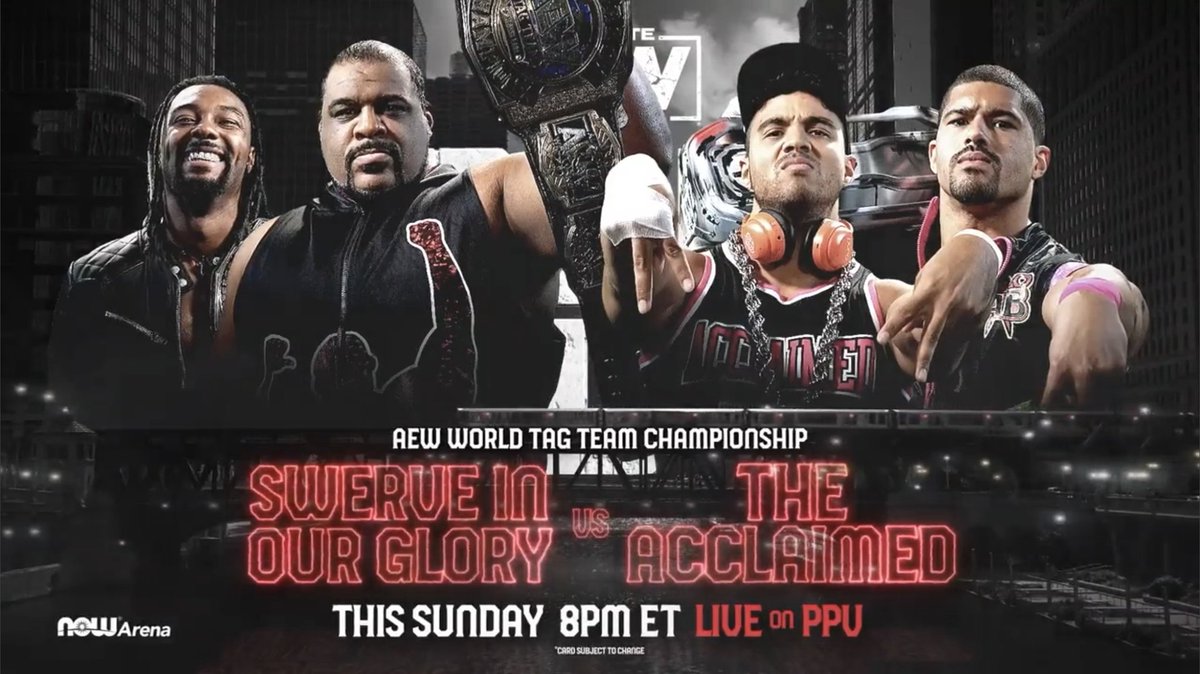 Swerve in Our Glory (c) vs. The Acclaimed – AEW World Tag Team Championship
Who will win: Swerve in Our Glory
Who should: Swerve in Our Glory
History: Lee and Strickland likes The Acclaimed, so they offered them tag team title shots.
Yeah, not great. However, with so much story being played out in other contests, it's not so bad to just turn up the fun factor and enjoy this match for just that — FUN. These are four great talents, and while it's not The Acclaimed's time yet, they aren't that far away. Their stock is only growing in AEW, and i could see them holding gold by the end of 2023 at the rate they're going.
---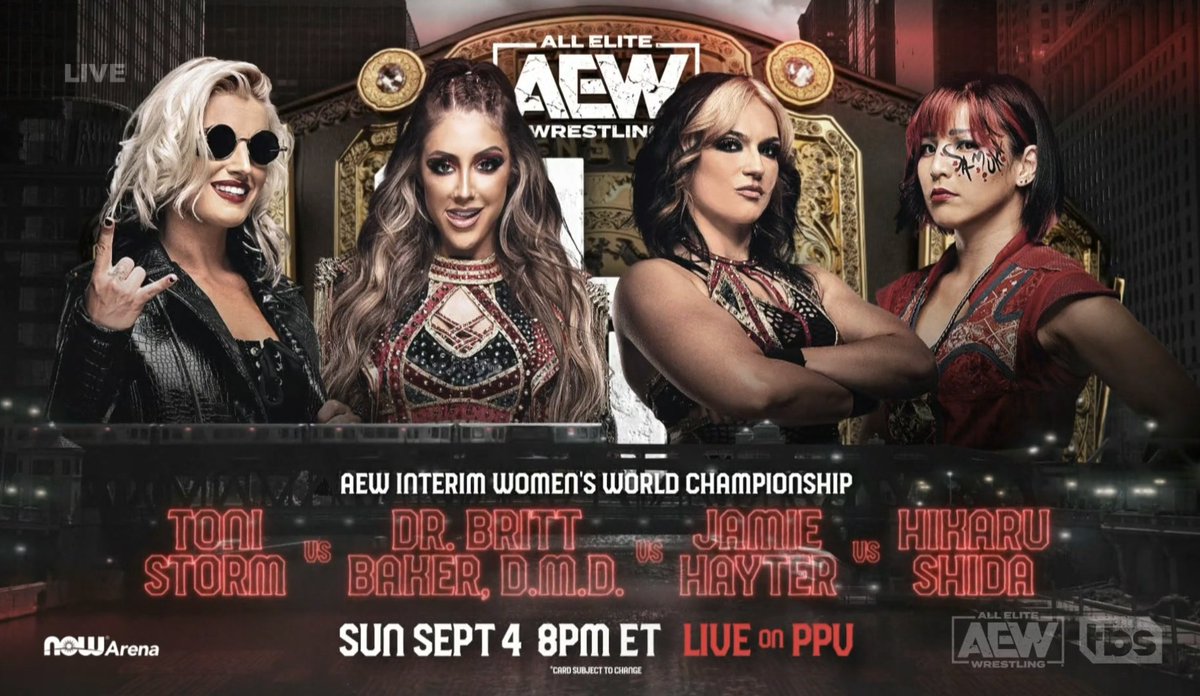 Toni Storm vs. Dr. Britt Baker vs. Jamie Hayter vs. Hikaru Shida – AEW Interim Women's World Championship
Who will win: Toni Storm
Who should win: Jamie Hayter
History: Thunder Rosa and Britt Baker do not like each other. Whether or not this beef is based in reality is irrelevant, but is the base for this match in some ways. At Forbidden Door, Rosa would defeat Storm in a banger of a match. From this, a respectful alliance formed between Storm and Rosa, and they started to team together. However, Baker and Hayter soon became involved with the duo, and shenanigans ensued, leading to the four to feud with each other. With Rosa's sudden injury, this four-way presents itself in what should be a pretty damn good match. Baker and Storm are real life good friends, and Storm, Hayter, and Shida, have all worked in Stardom in Japan.
Stardom is simply amazing, but that's besides the point…
With the injury to Kris Statlander seemingly taking her out of title contention in a match with Thunder Rosa (rumored original plans), Storm was put in her place instead. Originally, Storm was allegedly slated to pick up the win here. However Rosa's injury now gives ample opportunity to change course.
Storm doesn't need to win this title — not yet. Why not have Hayter win it in a total upset? In case you didn't know, Jamie Hayter is actually great on the mic, and is proven to be great in-ring. She can easily carry a world championship.
There is a built-in story here with Hayter's win, as a win will instantly create conflict between her and Baker. This also sets up future world title bangers between challengers for Hayter, including Storm and Shida separately. If anything, friction between her and Britt could lead to Hayter joining the Blackpool Combat Club, as she has mentioned in past non-AEW interviews.
But my faith in Khan booking women is next to non-existent. So he'll do the easy thing here and just give it to Toni Storm. :/
---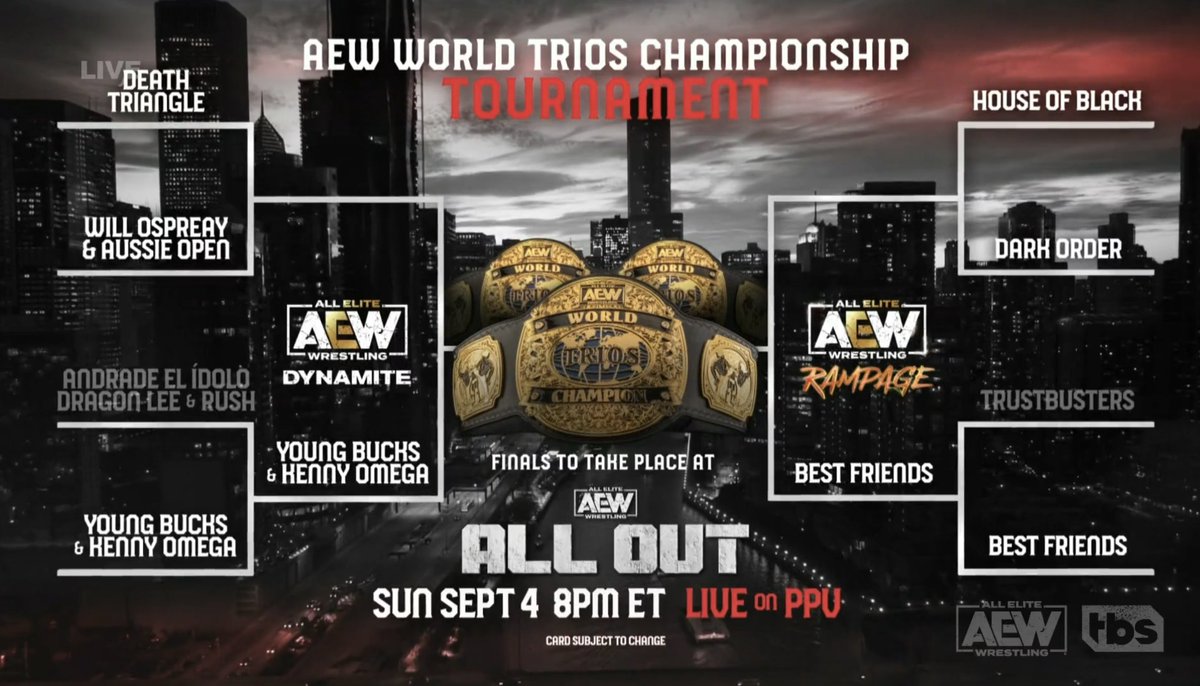 AEW World Trios Championship: Kenny Omega and The Young Bucks vs. The Dark Order
Who will win: The Dark Order
Who should win: The Dark Order
Now I am assuming that The Dark Order, now with "Hangman" Adam Page as their partner, wins their match on Rampage to advance to the finals. I will re-write this section if wrong…
History: Where do I begin?
The Elite have consisted of The Young Bucks, Kenny Omega, and Adam Page long before AEW ever came to fruition. Page and Omega held the tag team titles throughout 2020, which would lead to Omega's eventual heel turn. After Omega defeated Page at a Full Gear eliminator in late 2020, he would go one to have a hell of a run as AEW World Champion.
However, Page would return the favor on Omega in their match at Full Gear 2021, capturing the AEW World Championship. Throughout this entire ordeal, Page was in and out of The Elite; but consistently befriended by The Dark Order. Page and The Dark Order have had an alliance now for well over a year. So when the Bucks approached Page to be their third partner before their first round trios match on a recent Dynamite, Page politely declined, as he didn't plan to be in the tournament at all.
Enter a returning Kenny Omega to partner with the Bucks, and now they find themselves in the finals to face the winners of The Best Friends and The Dark Order on Friday's Rampage. But with "10" and Evil Uno now out, this left John Silver and Alex Reynolds without a third partner.
Enter Adam Page, who agreed to be their third on this week's Dynamite…
LONG-TERM BOOKING.
There is so much history here between Page's former group and his current one, including the quiet tension between himself and Kenny Omega. This WILL be a hell of a wrestling match. However, Kenny Omega (in-story) is still not 100%, as alluded to by Don Callis this week. This will leave the trio just vulnerable enough for the Dark Order to pick up the win here.
This not only gives Silver and Reynolds a much deserved championship, but gives a respectful bow to Brodie Lee and The Dark Order as an AEW mainstay. Unless for some reason Khan has the Dark Order lose their match on Rampage, then clearly, The Elite will become the first ever Trios Champions — but I simply do not see that happening.
---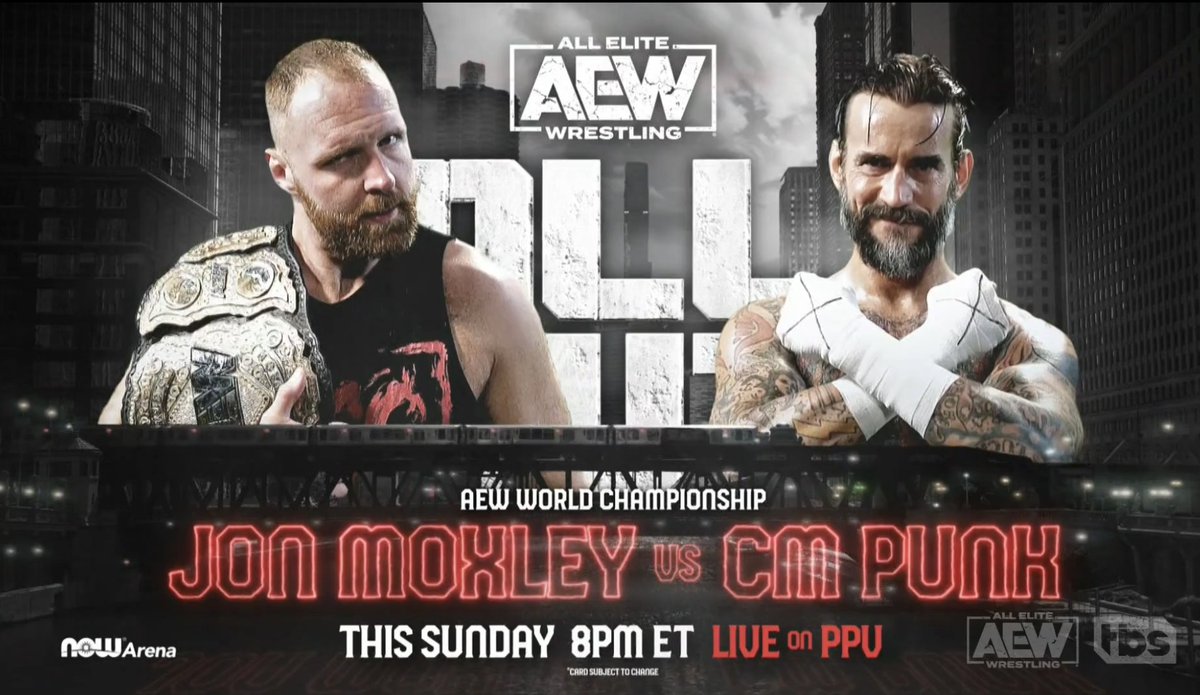 Jon Moxley (c) vs. CM Punk – AEW World Championship
Who will win: C.M. Punk
Who should win: C.M. Punk
History: Again, where to start? Between the dirtsheets losing their shit over whether or not Punk is causing chaos backstage and causing division, to potential real-life heat between Moxley and Punk, there are many interlacing stories here.
When Punk returned to face Moxley to unify the AEW World Championship on Dynamite a week ago, the world was shocked that it was a mere squash match after a worked injury by Punk. An open challenge by Moxley on this week's Dynamite led to a fiery, yet emotional segment between Punk and trainer Ace Steel, where Punk accepted the challenge, even if not his usual "100%".
So how do you book this match?
If Moxley wins, Punk ends up looking like a bit of a loser who came (again) too early, and was out-wrestled by a hot, and forever pissed off, Jon Moxley. You can't book Punk to lose (clean) in his hometown on the biggest night of the year for AEW.
But context is king. 
In my mind, this goes one of two ways, and both involve a returning MJF. Because at this point, a result from this match where either one or the other win/lose and nothing more, leaves this entire feud with an unsatisfactory result. There needs to be a giant payoff.
MJF returns to help an injured, and barely surviving, C.M. Punk WIN his match against Moxley.
MJF returns after winning the Casino Battle Royal, challenges the winner on-the-spot, and WINS.
The first one makes the most sense. MJF not only helps turn C.M. Punk heel, but he can do so in the context that he was "helping his hero" overcome Jon Moxley — who MJF has a past history with. Of course, MJF is full of shit here, and does so do undermine the Chicago crowd and now holds Punk forever in his debt; leading to an eventual title match anyway.
And yes, MJF can still win the Casino Battle Royal with #1 applied as well.
If the match doesn't end in this, or any variation of, then the main event risks being a semi-failure.
–
Going Home
What a night this will be for AEW, the fans, the talent, and most importantly, Tony Khan.
This is his chance to "set things right" in his locker room. While I don't believe there is complete chaos backstage, there is likely some truth to issues behind-the-scenes. As many AEW talent have alluded to, it's not as bad a the internet makes it out to be, and AEW will certainly be around for quite some time. Any new company has growing pains.
But Khan can't afford to keep losing momentum. Injuries have plagued his roster, and with WWE starting to (finally) improve under the helm of Helmsley, AEW doesn't need a misstep.
AEW Out 2022 can still shape up to be the best PPV of the year so far — but it needs to get everything right. With that, it's still an amazing time to be wrestling fan. Enjoy your Labor Day Weekend! Lets. Fucking. Go!